This is a massive picture dump, and you should look at it because I really like these photos and I haven't said that in a while. Also, I've taken some texture images and will put the high res versions up for other photographers and photo enthusiasts to download and use. Feel free to share with friends or anyone else who likes textures, just please link back to this entry so they know where to get them. The first set are un-cut, but the majority are under a link to save loading time.
I haven't taken any real pictures since before Zephyra's birthday. I'm getting really bad at this. On her birthday we bought a small organic cake from the bakery down the road. They only use good quality ingredients and we wanted something the whole family could enjoy, so we were comfortable with it. Oh, fourth child, you get so many things the first ones didn't.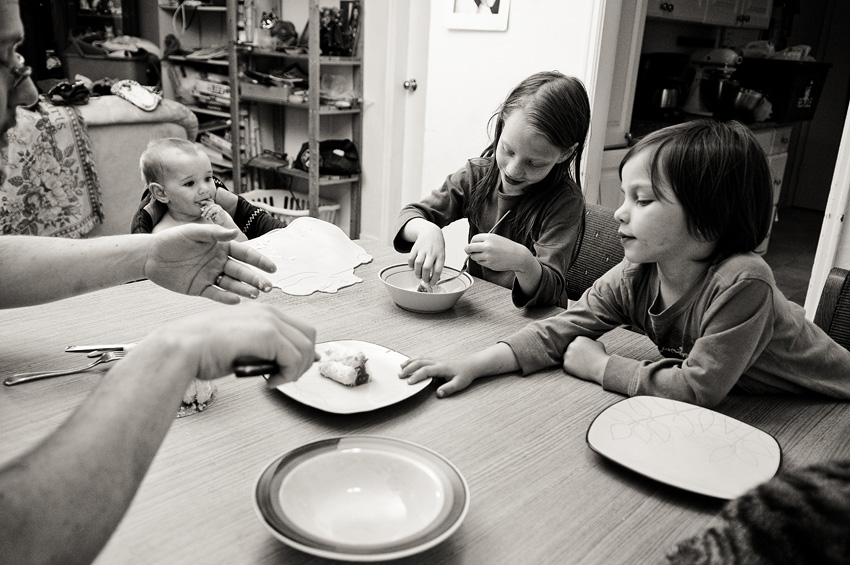 Unfortunately Zephyra hated it.


So we all ate her piece instead and she just nursed.
We gave her a pretend cell phone for her to play with since she's always going after ours. This worked for exactly three days.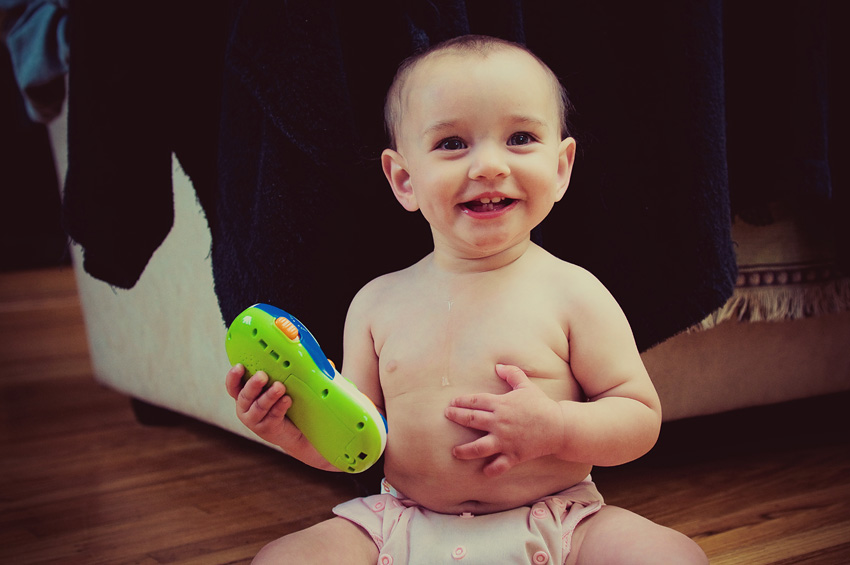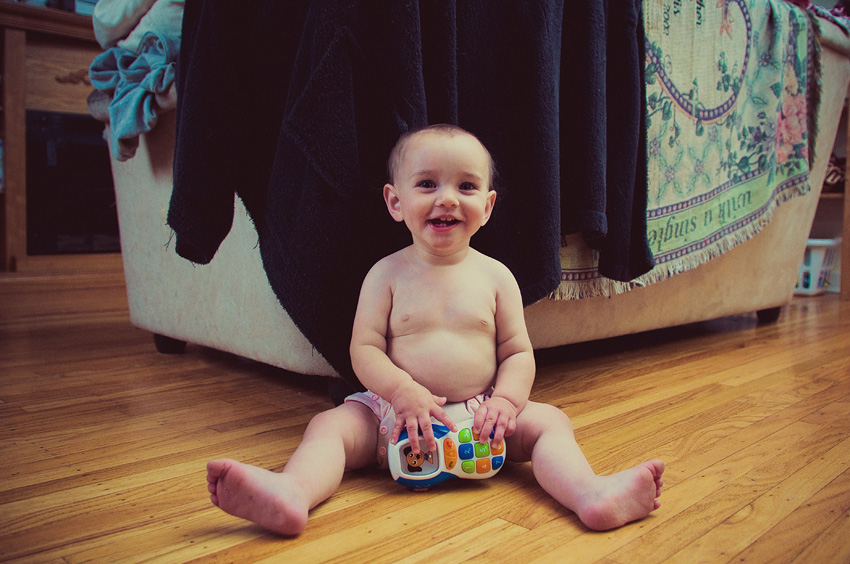 Her birthday fell on the same day as a big celebration with midway rides and everything. The kids look forward to it ever year. Last year Tempest was in the parade and I walked in it with her very briefly with my cane and 2 day old baby. I felt pretty badass, although I regretted it later when I was intensely sore.
This year was much better. I wrote briefly about it back in June when it actually happened, along with Z's intense choking incident that almost ended in a 911 call, but for some reason didn't post the pictures back then. That entry [ is here ] if you missed it.
Xan had a fucking amazing time, he was talking all day about how it was the best afternoon of his whole life.
Curtis and him rode on bumper cars.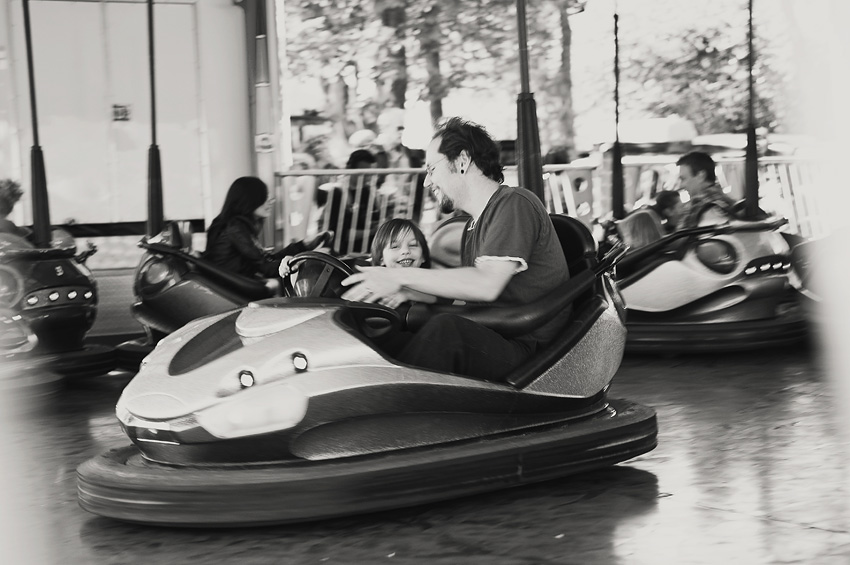 And the mini-roller-coaster.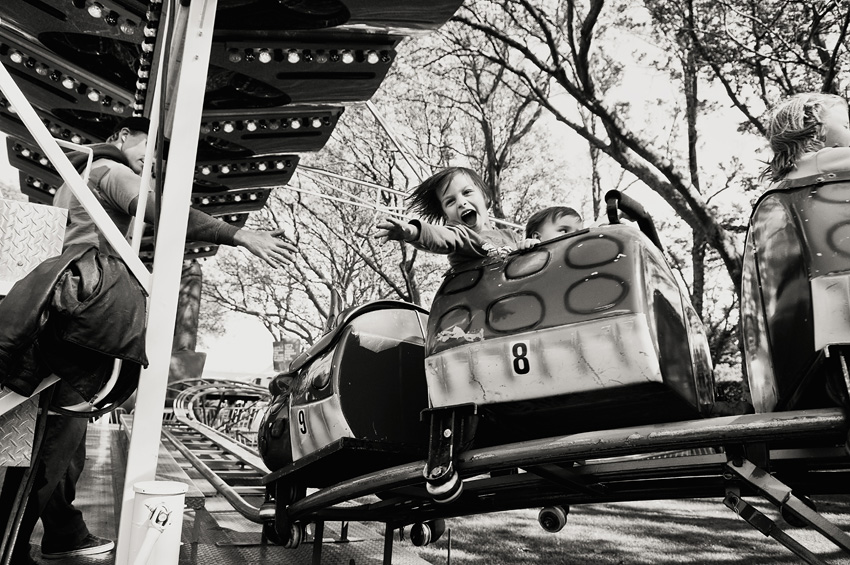 Starting to get a little on the fussy side by the end of the afternoon.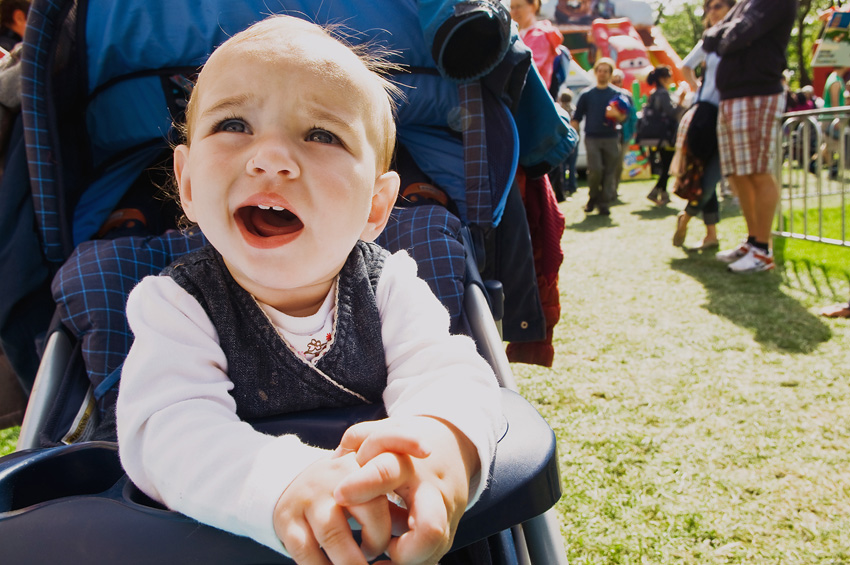 I didn't get as many photos that day as I'd have liked to; I was way too tired.
This last weekend, however, I got tons. We'd been wanting to go out somewhere with amazing tide pools for a while, and all of our friends recommended this beach. It's over two hours of driving to get there, but it was worth it. The beach is called "Botanical Beach" near a very small community called Port Renfrew. None of us have ever been out that way before, or even to that side of the island (it's largely reservation land) so it was quite an adventure.
Curtis packed a large picnic lunch with veggie and ham wraps, fruit slices, mini bananas and a huge jug of water and we all took off at around noon. While we'd originally intended to stay for about two hours, everyone had such a good time that we didn't end up leaving until closer to four… we also stopped by a little road-side restaurant for dinner before leaving the area. That was… interesting. The food was alright, the service was terrible, and there were weird fishing nets hanging from the ceiling. We were the only people in the building not wearing flannel shirts and fishing caps, and people stared at us a lot.
The beach, however, was incredible. It really was like Narnia.
These first two images are panoramas stitched from multiple shots.
This one is from 16 images.


(See higher resolutions here).
And this one is from 25 + the 16 in the previous image.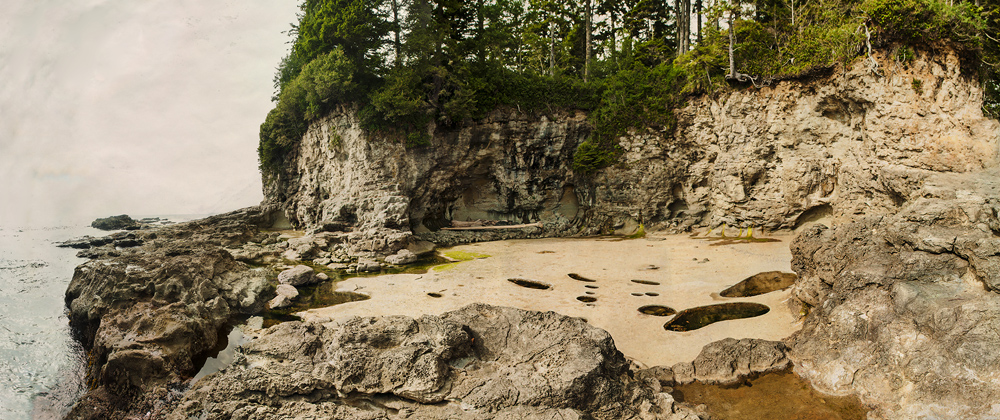 (See higher resolutions here).
I highly recommend looking at the high resolution versions that I uploaded to Flickr.
To get an idea of just how huge that area is, look at this next photo of Xan running across the sandstone flats.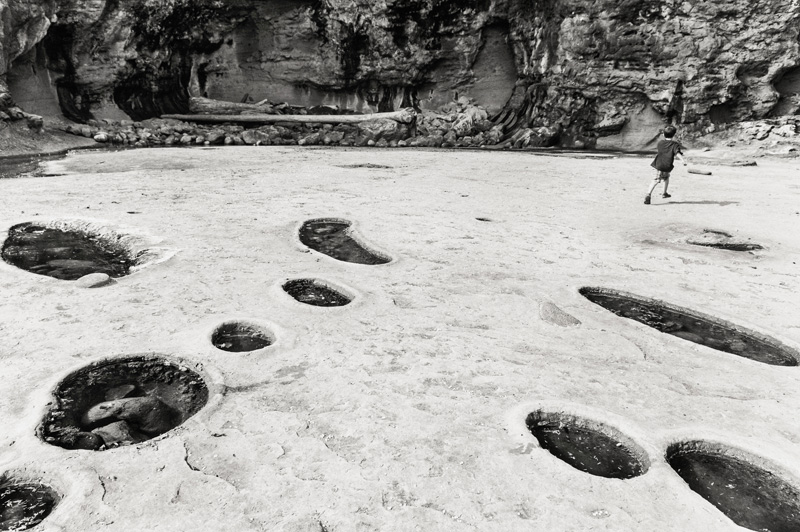 Shale stone.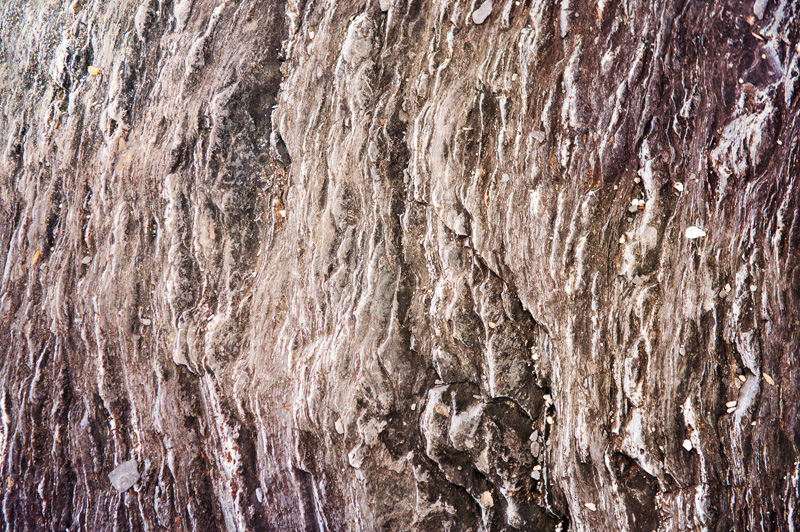 This one is available as a texture [ for download ].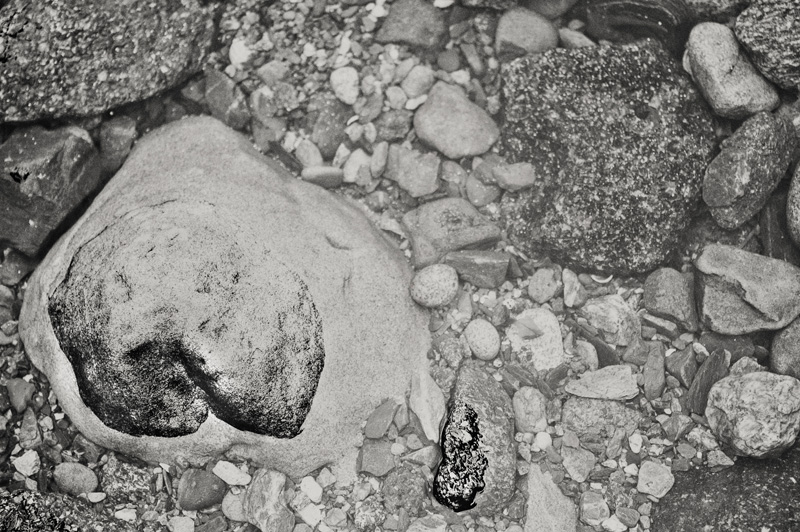 This one is available as a texture [ for download ].
Tide pools.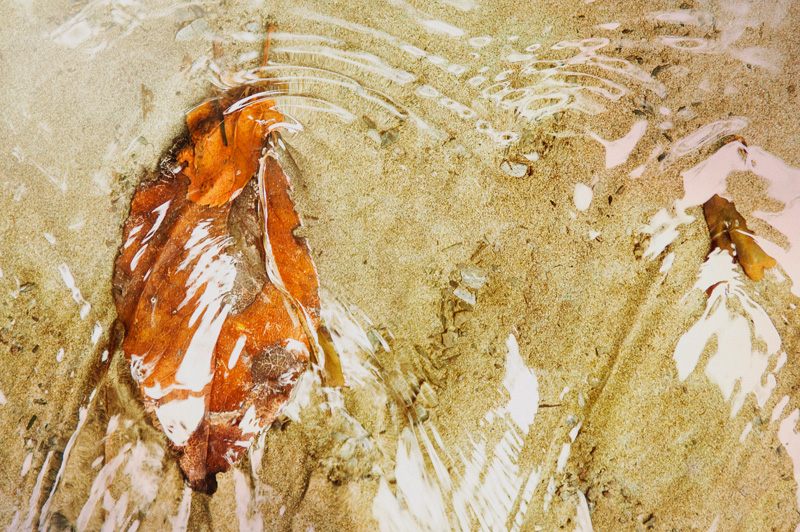 Curtis kept baby on his back through most of the adventure while we explored the natural sandstone formations and climbing rocks. This area had a formation that looked just like a giant foot with five toes – they were even rounded at the ends and their sizes arranged in descending order. You can see several of them just ahead and to the right of Curtis.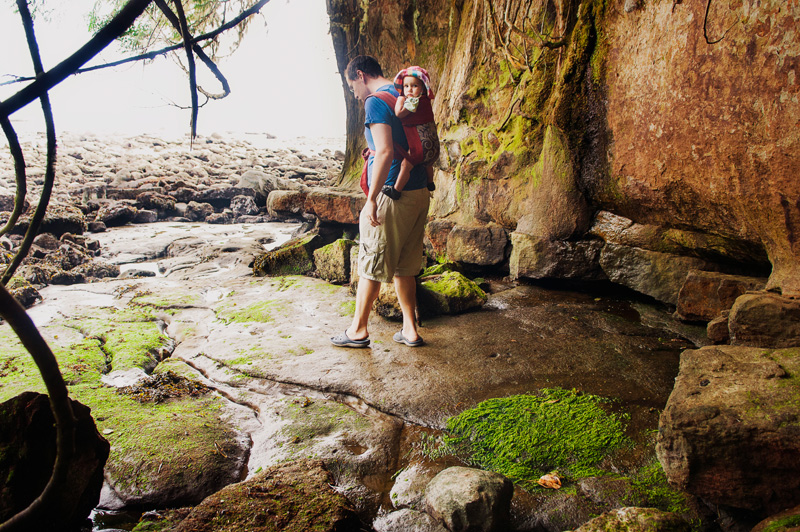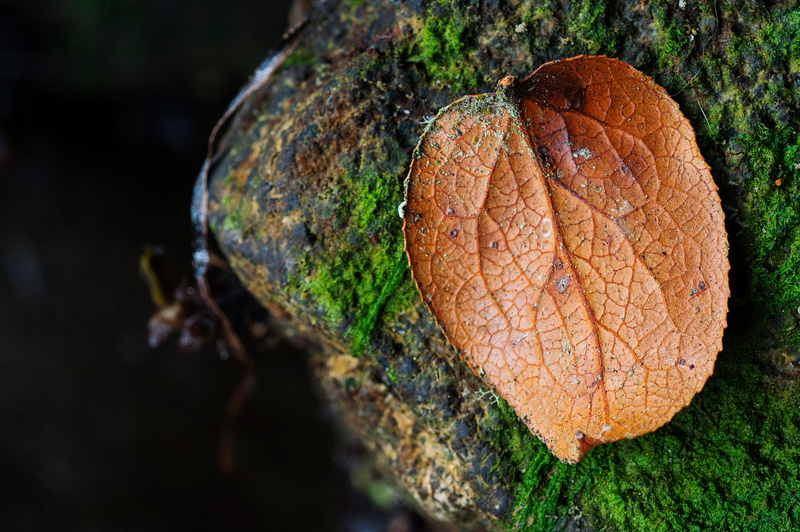 This is one of my favourite images of the day: Curtis and Tempest poke at tide pools to check their depth. Other travellers left large, polished walking sticks at the head of the trail that we all picked up and took with us. When we were done we set them back against the same tree, and just as we exited into the parking lot we saw another family take advantage of the gift.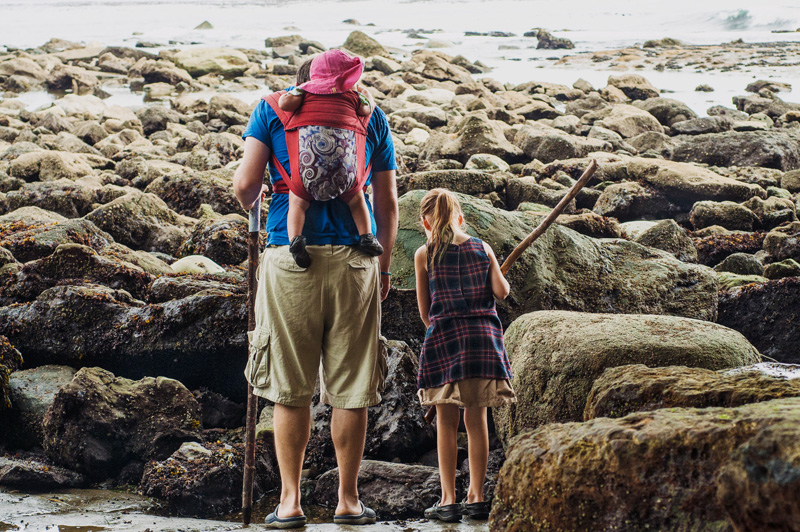 This shell was the size of the tip of my pinky.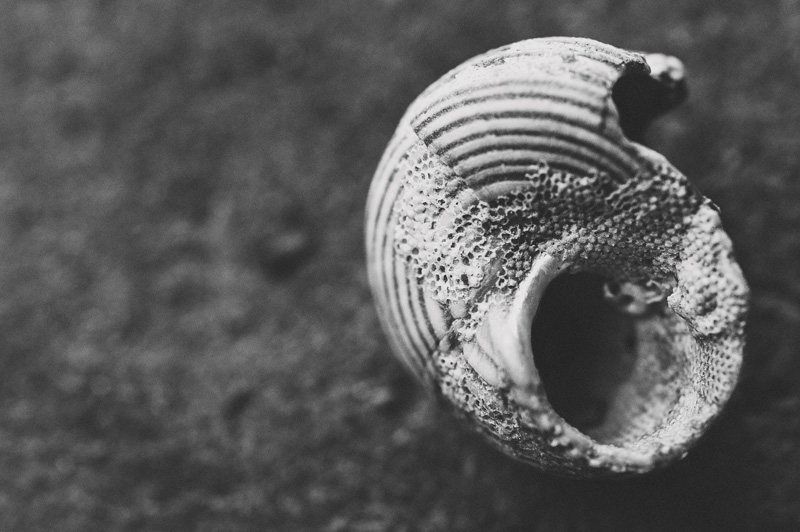 And in colour. I normally wouldn't post both versions, but I love the black and white too much and I wanted to show the deep pink and purples on the shell.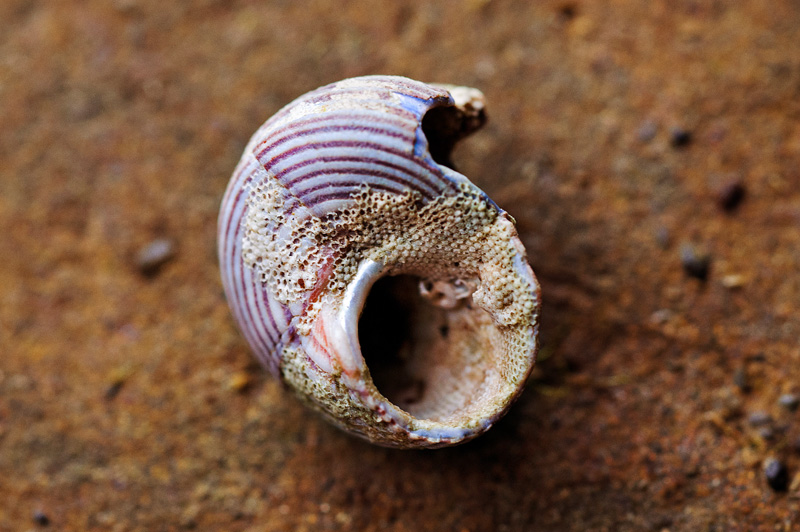 A hermit crab unfolding in my palm. We found tons of these.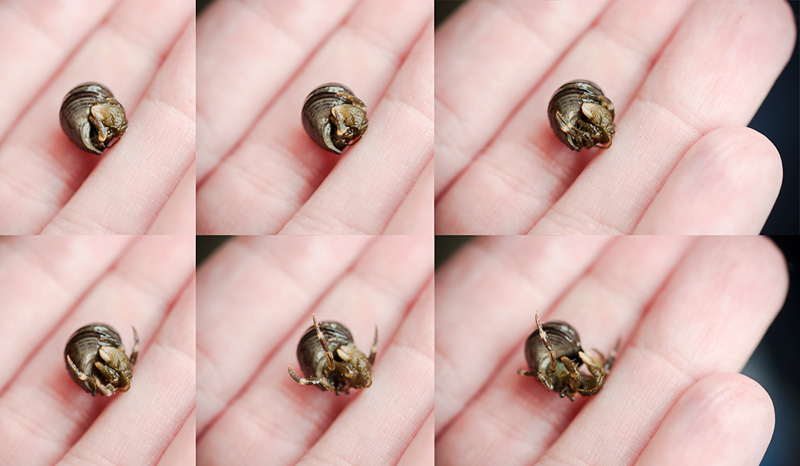 This one is available as a texture [ for download ]
Sandstone formations.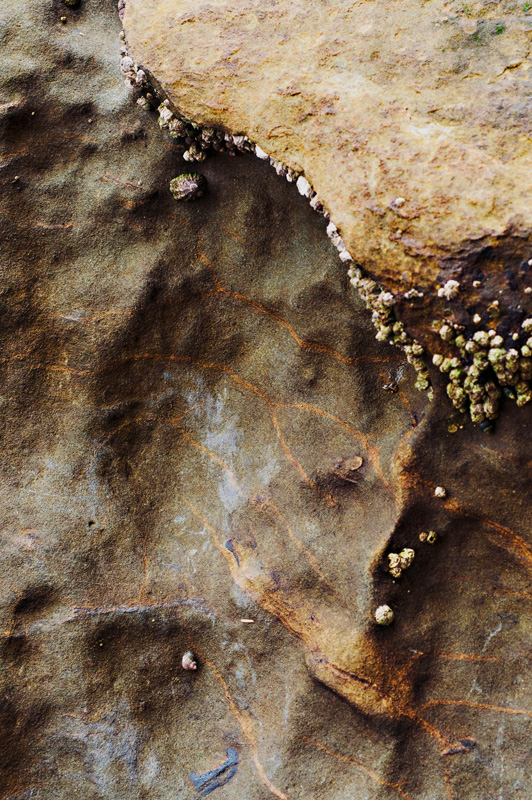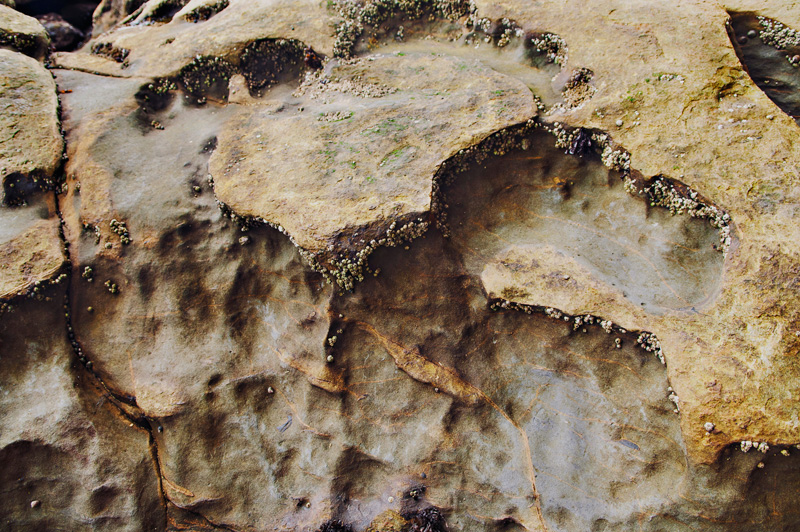 Tide pools in sandstone. The tide was quite low when we arrived.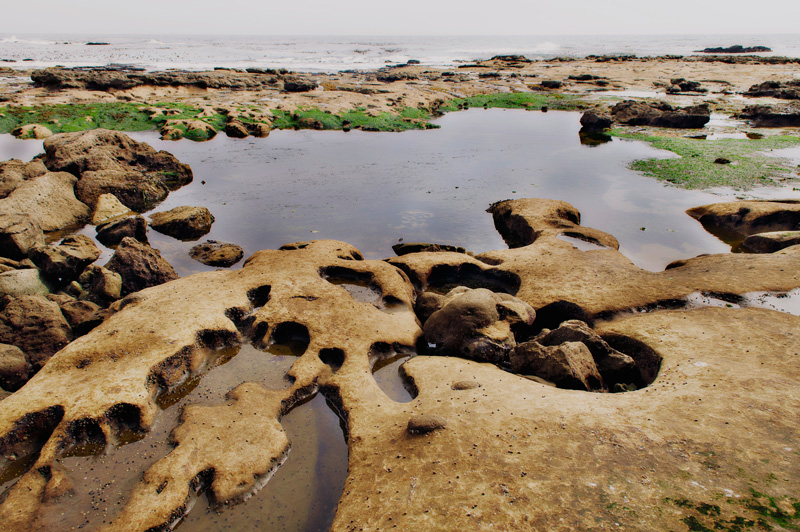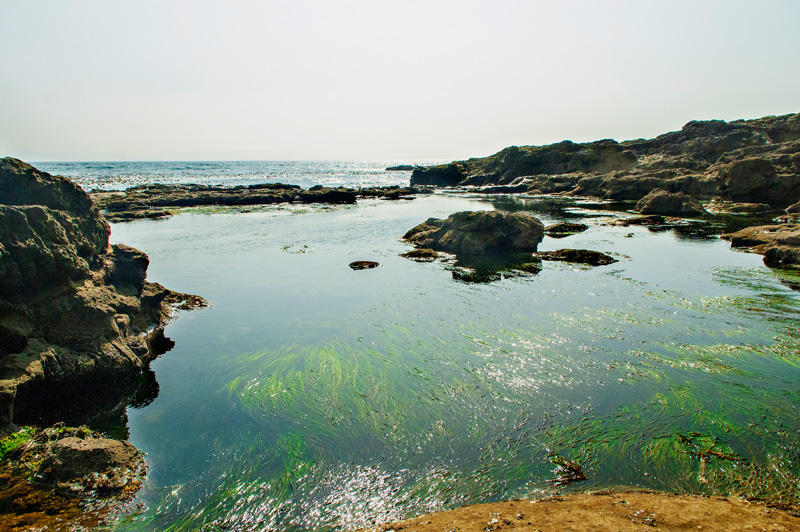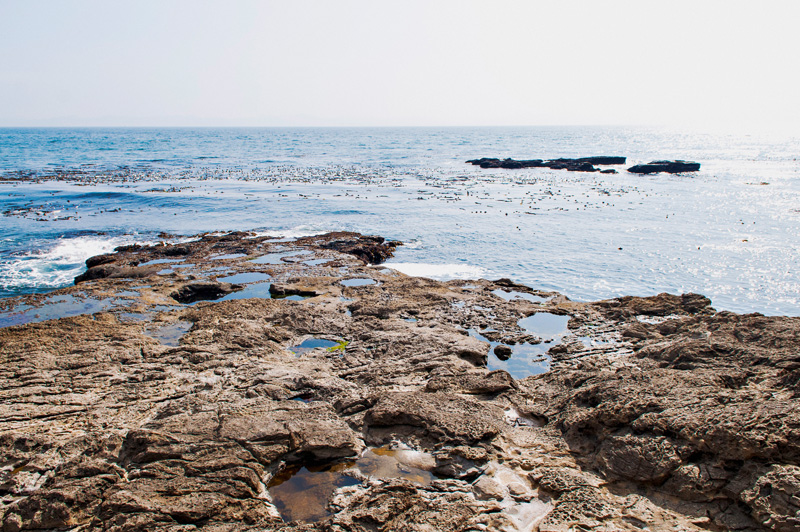 The kids climbing around in the sandstone. These little caves were about 15-20 feet above the ground, but there were so many little hand and foot holds on the wall that it was easy for them to climb everywhere.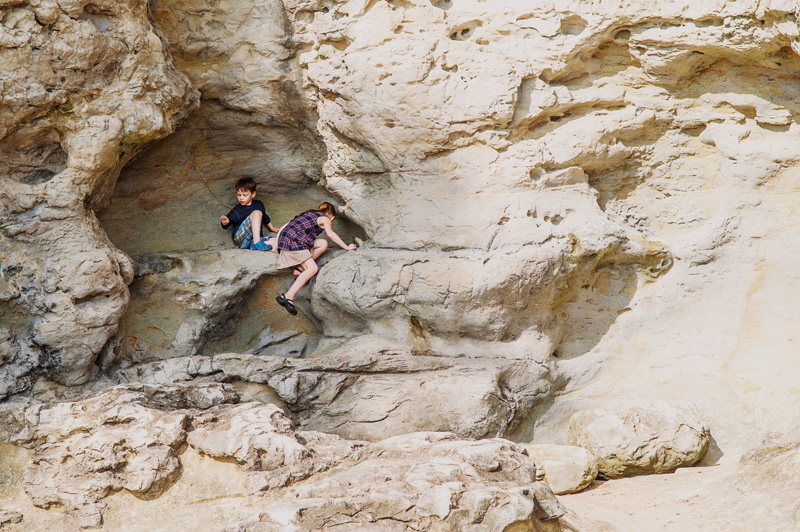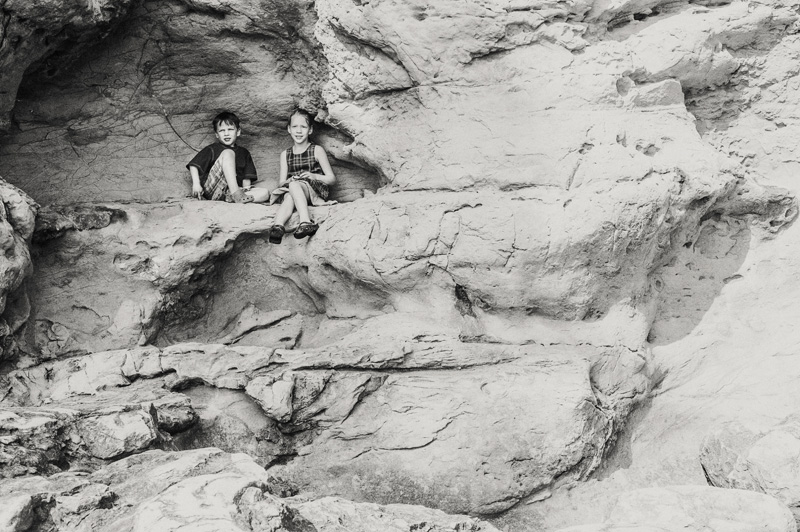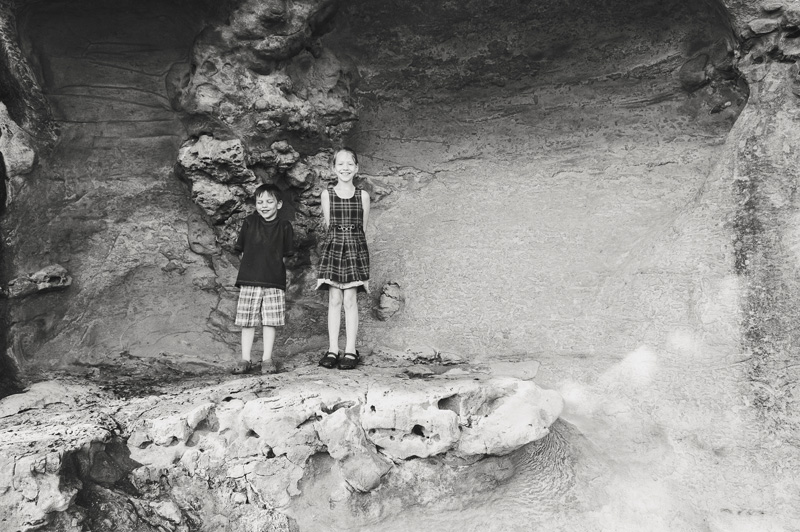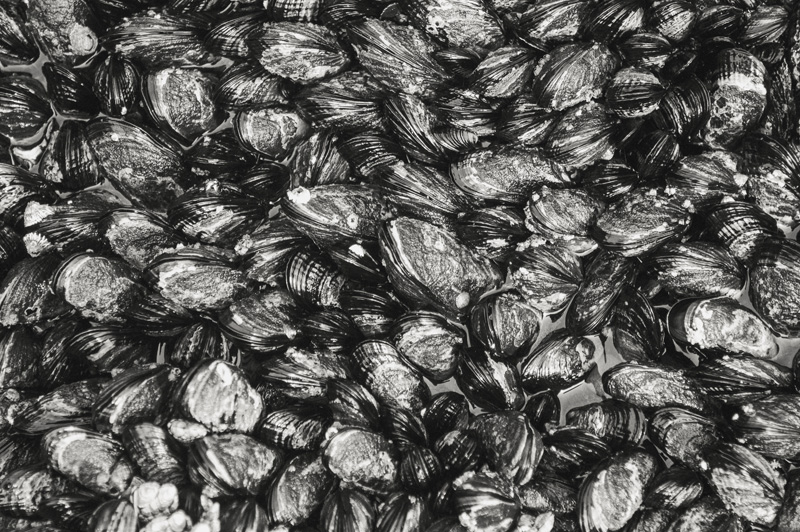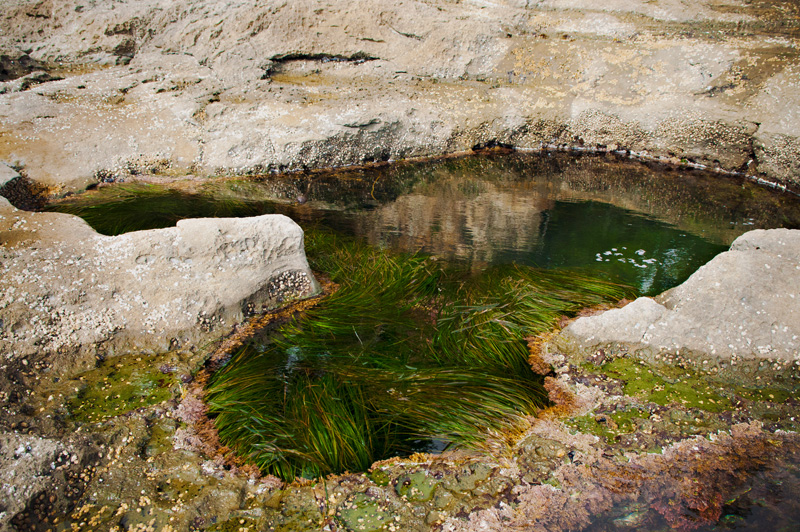 The beach was covered in huts like this one made of driftwood.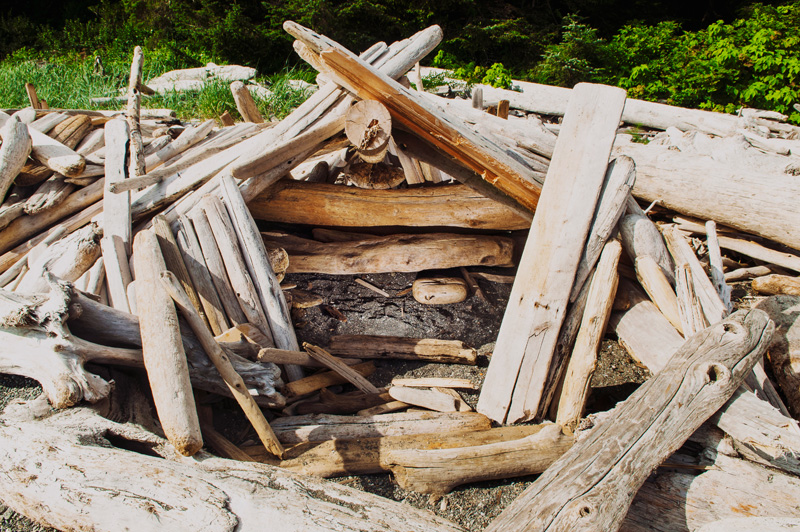 The above one was large enough that Xan and I both could get inside and walk around. He asked that I take his picture in it.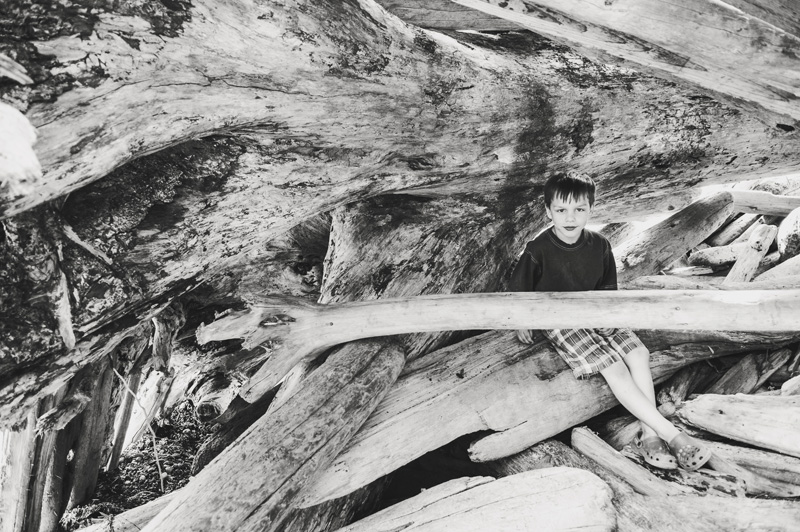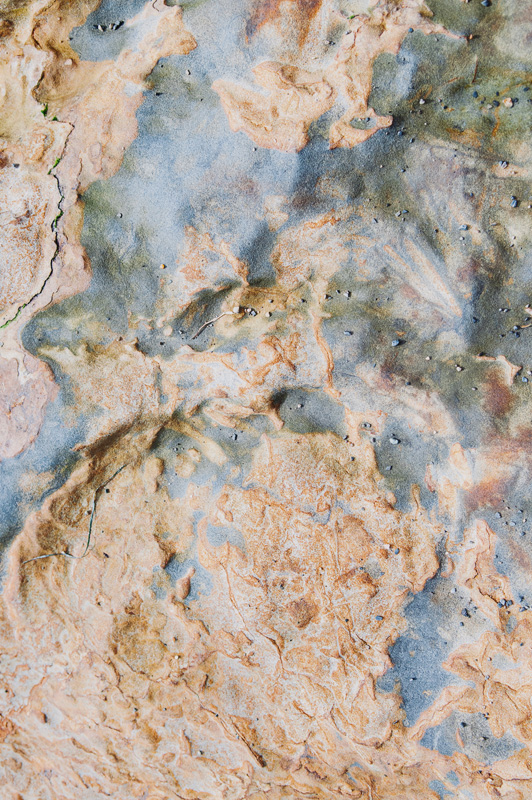 This one is available as a texture [ for download ].
Xan and Tempest poke at sea creatures in the tide pools. These were all crystal clear, you could see straight to the bottom even though most were 4+ feet deep. They were lined with brightly coloured anemones in shades of green and purple. We also saw a great big purple sea urchin walking around. I've never seen one move before.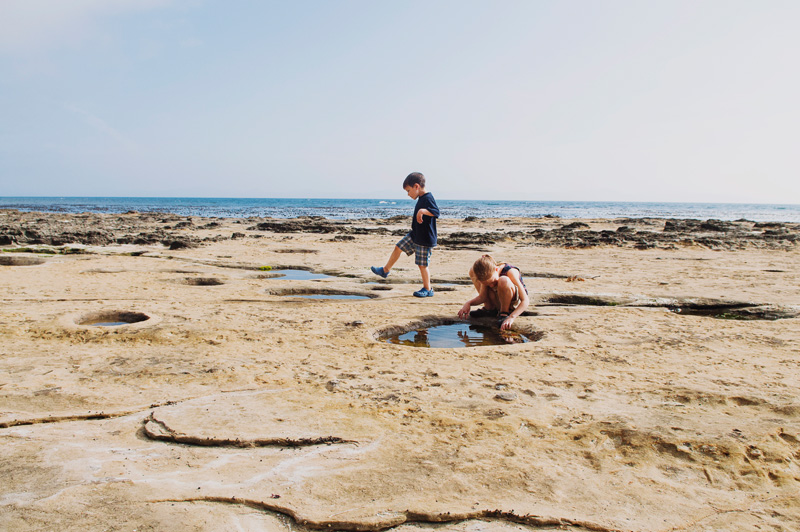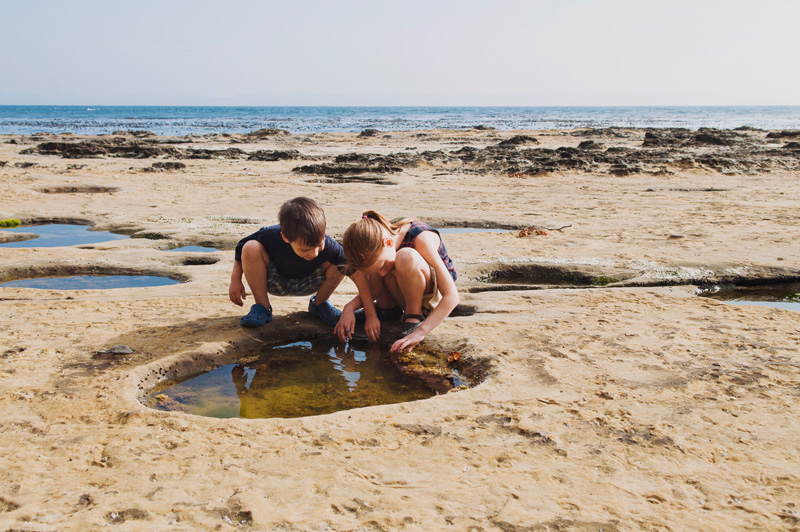 Kelp drying in the sun.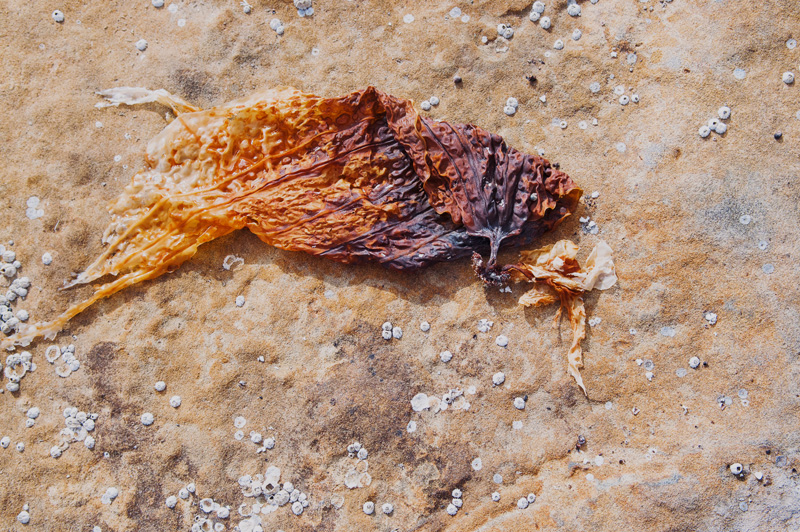 Baby was like this pretty much the entire day. And every day. Molars.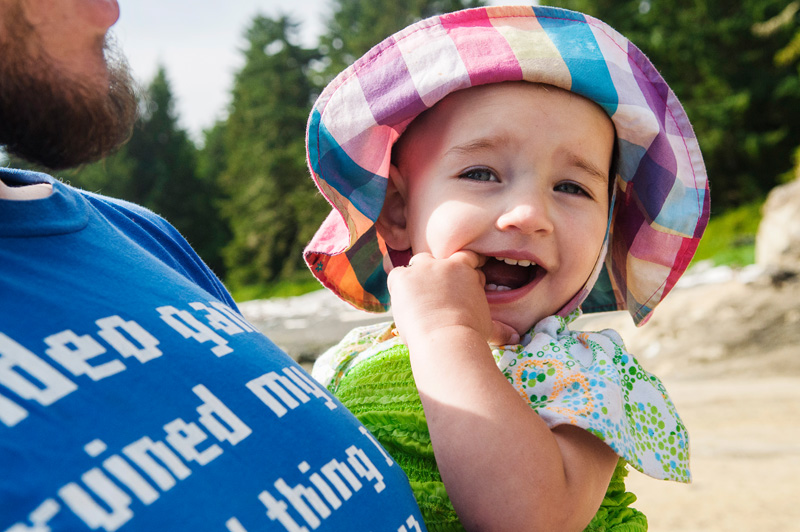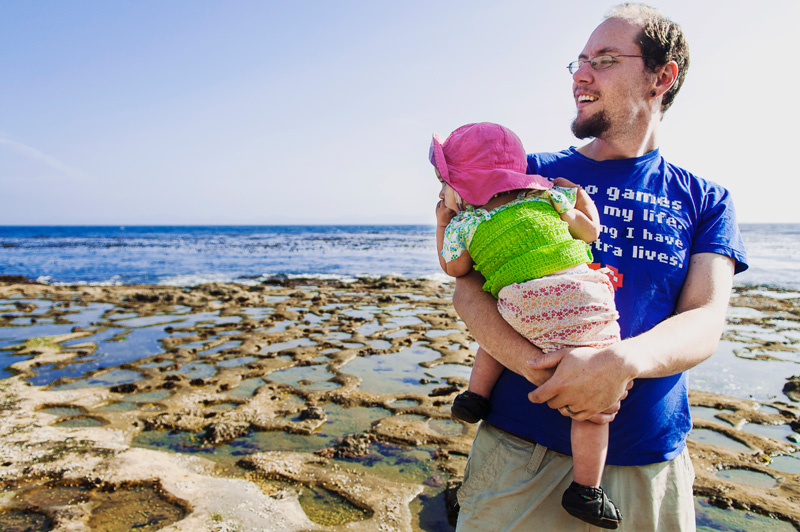 Eventually we stripped off all her clothes and let her run naked on the flats, rubbing her fruit snacks into rocks and eating it. Mm-mmm good.
Natural rock formation in the sandstone. It looks like a sea turtle!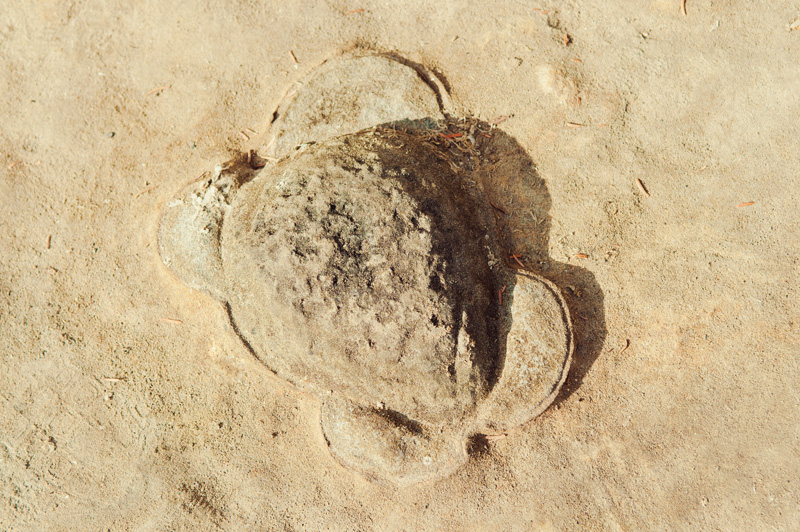 One of my absolute favourite images: Curtis, baby and Xan watch the waves explode upwards as they hit a tunnel of stone.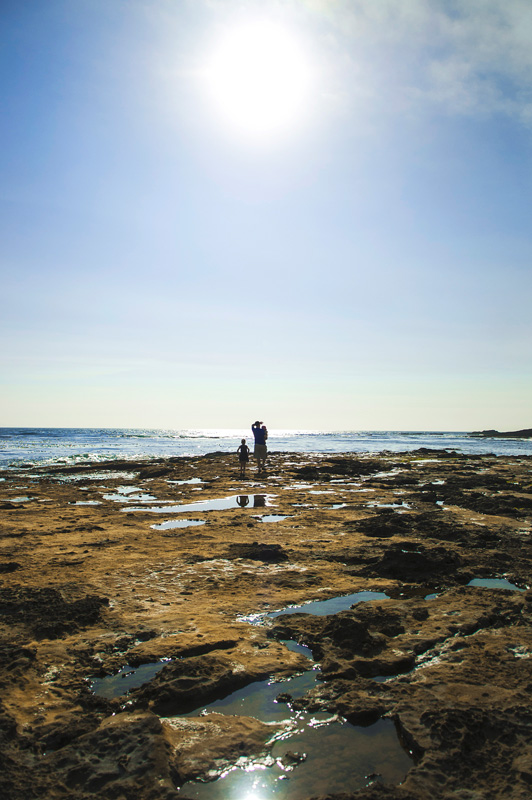 Like this: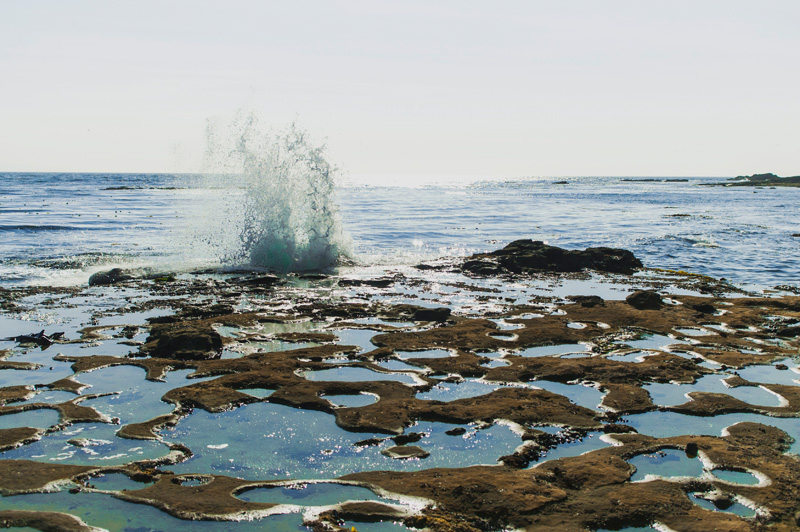 These last few weeks have been punctuated record-breaking heat. It has been amazing and wonderful. I've been waiting for a summer like this since we moved down here from the horrible, freezing North, and finally we got one. It's been as hot as 37 to 39 some days and I absolutely love it. I mean yes it's totally miserable when it gets up that high because we live in a rainforest climate and the humidity is killer, but still it's so awesome.
Part of the reason I love this weather so much is that the kids will shut off a movie or a video game on their own to go outside for hours. I don't even have to bug them. They run in the sprinkler, they pull each other in the wagon, they spray each other with hoses and squirt guns and throw frisbees back and forth. They also beg for baby to come out every afternoon so she can play naked in the sunshine. They've all become so tanned it's like they're covered in cinnamon sugar.
We went berry picking just after Marika arrived here in the first week of July, and went through every single one in less than a months' time. Clearly, we need to go back and get approximately 50lbs to hold us over until school starts.
GIANT BEANS.

Tempest picking raspberries.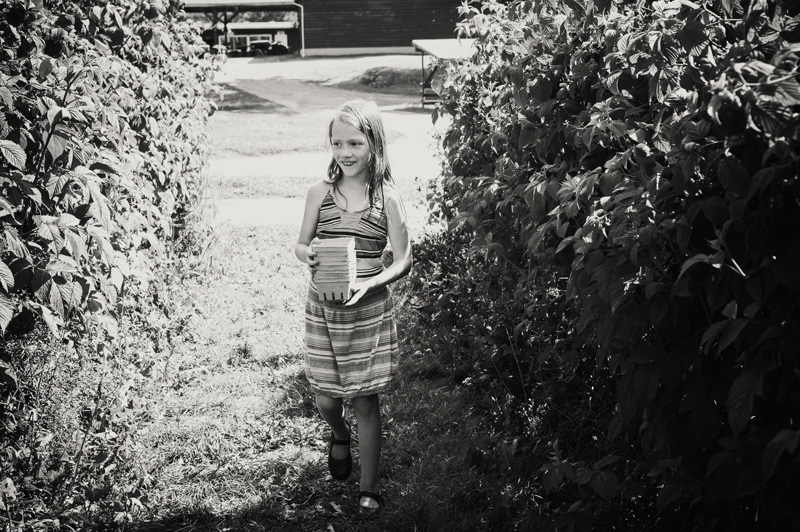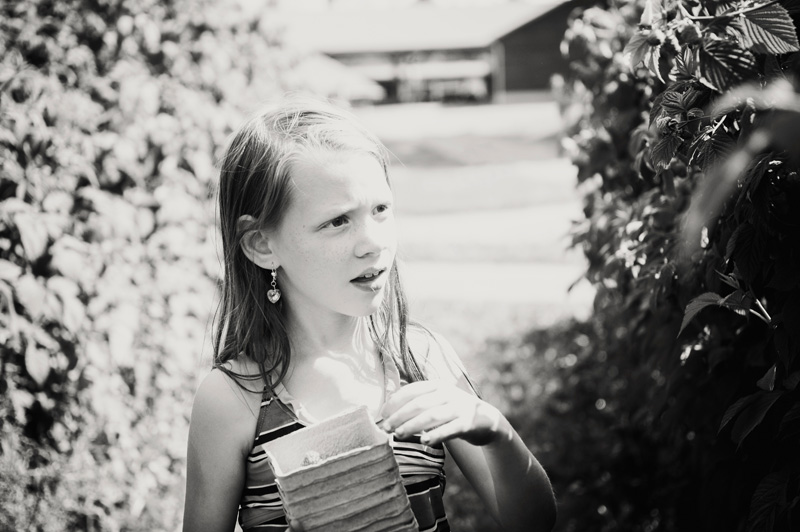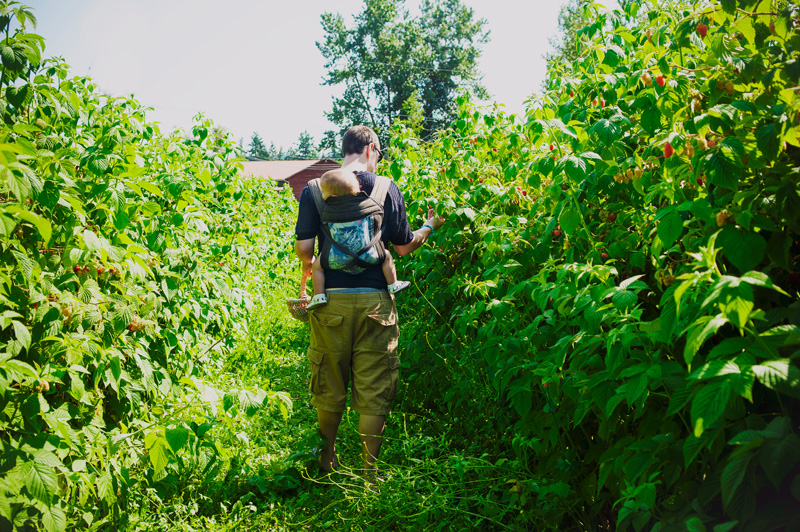 Xan goes deep into the briars to find the best, plumpest raspberries.

We came home with about 10 of those berry boxes of raspberries and these two massive baskets of strawberries.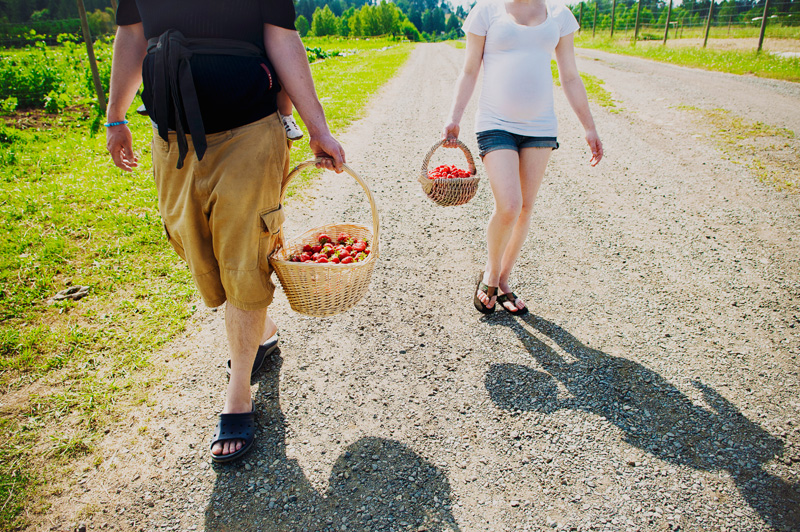 The kids made sure to check out the piggies on their way back to the car.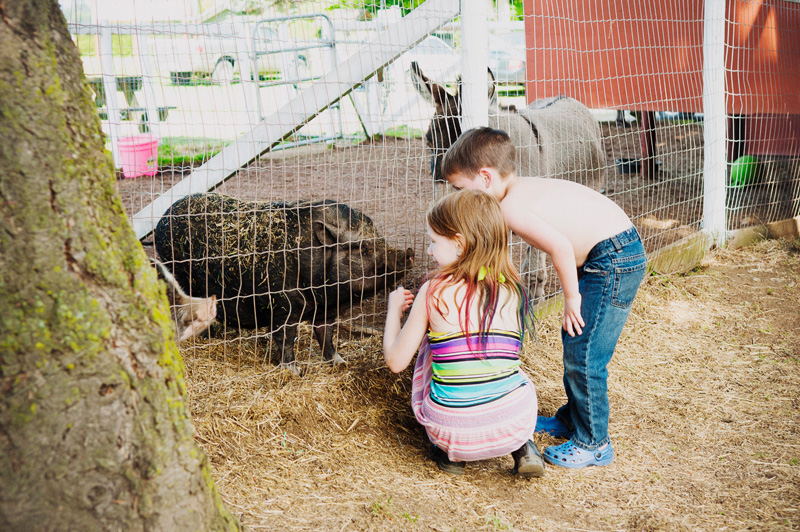 Outside wet spray fun time!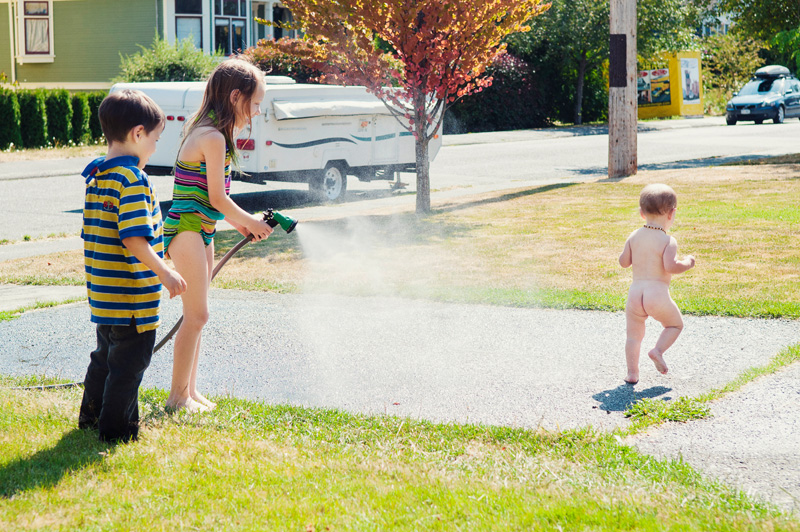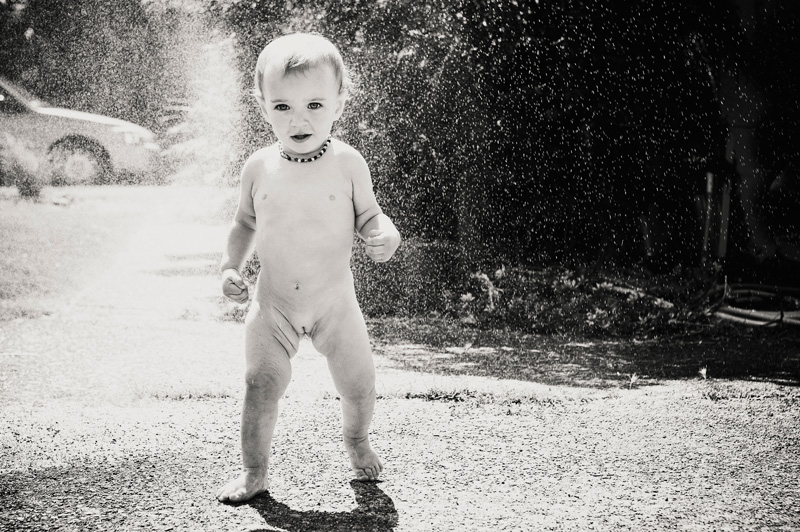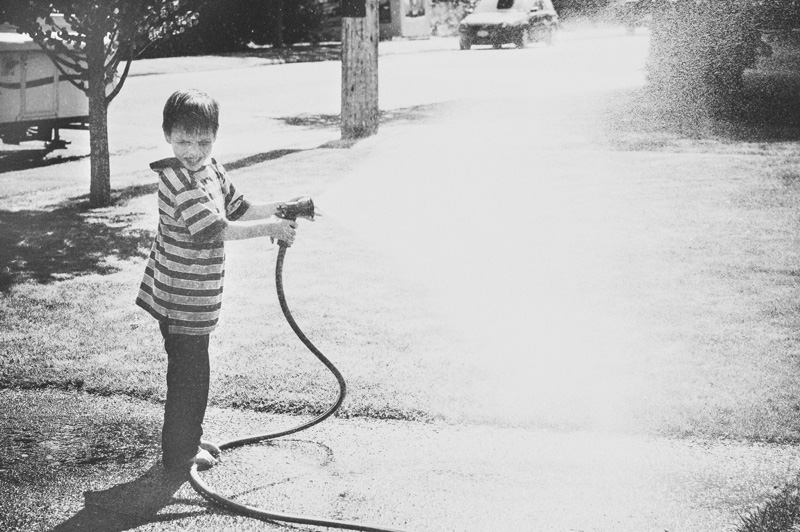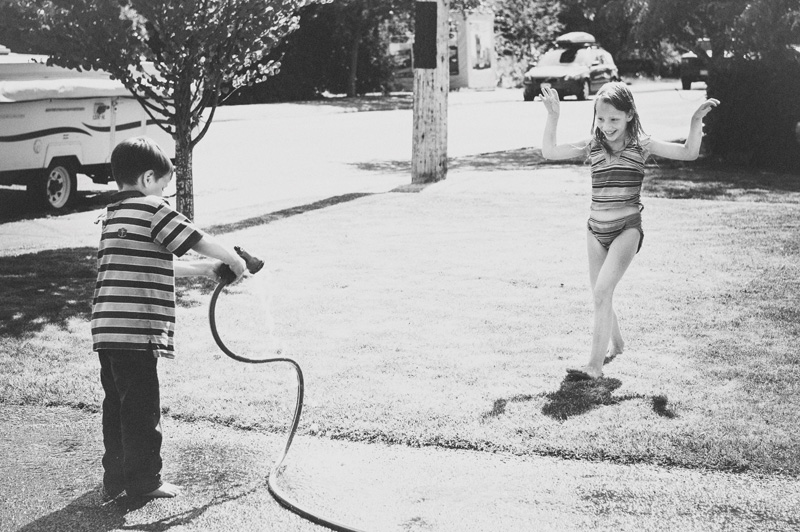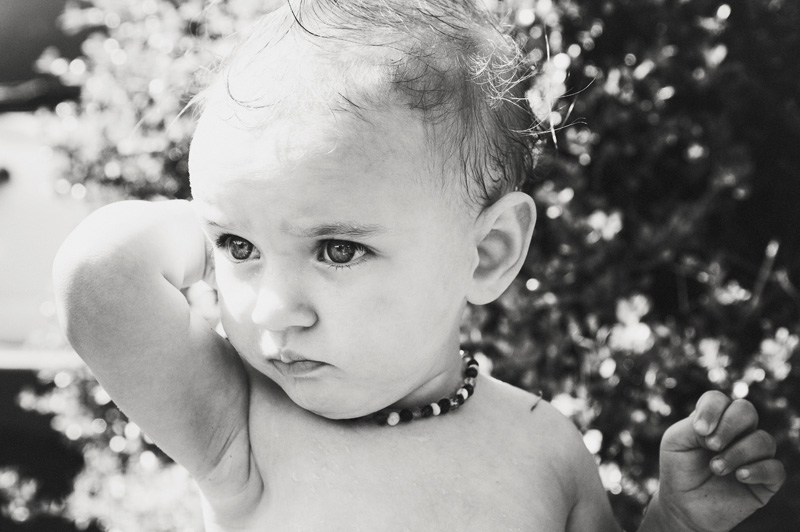 Making mud puddles.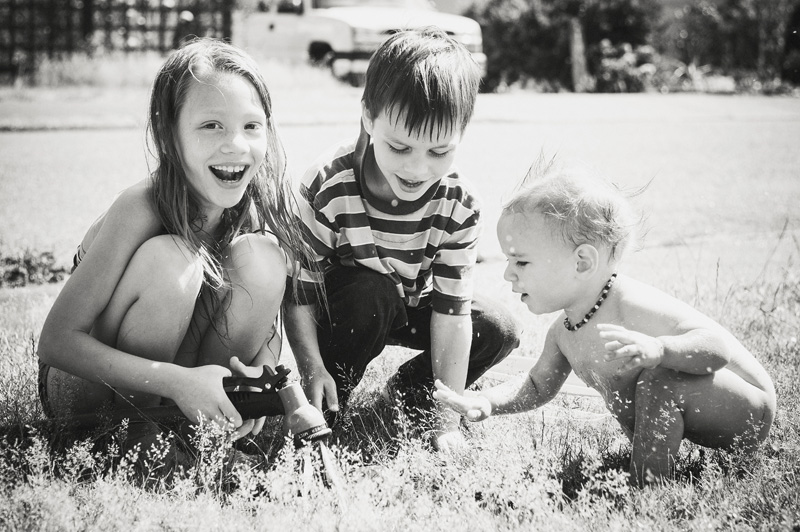 Unaware of the chaos behind her, baby looks for a good spot to pee in the front yard.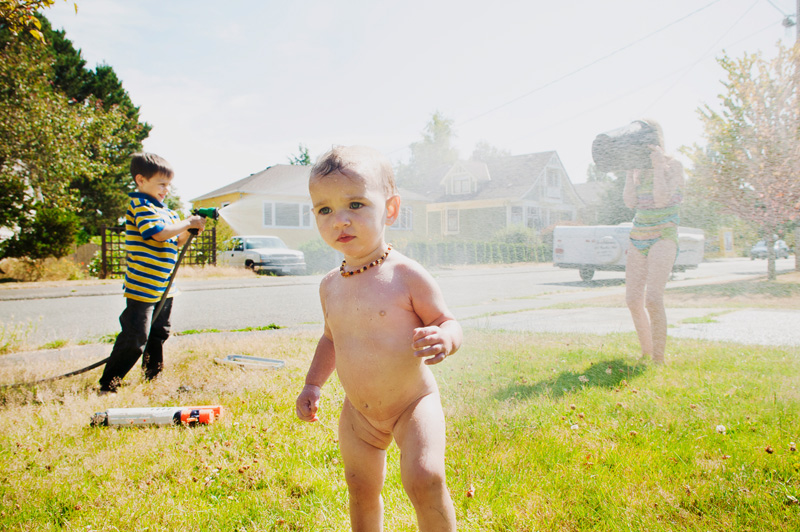 Peek-a-boo!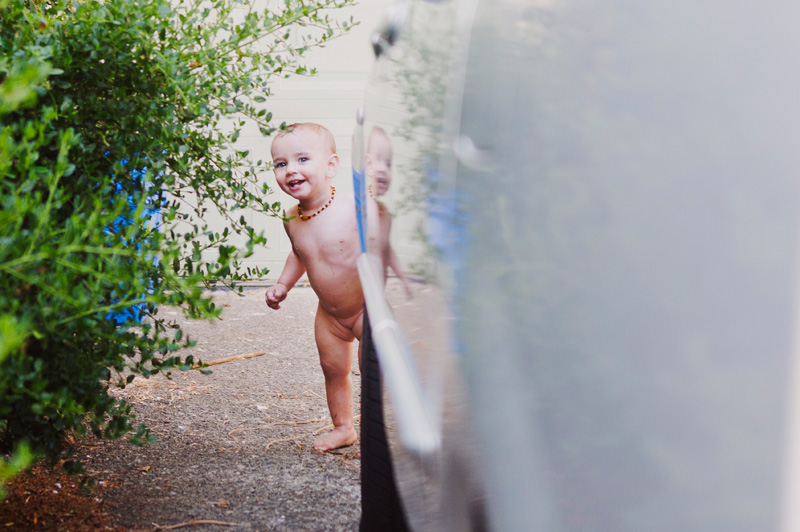 Our friends Marian and Kyla got a Groupon for this discovery centre out in the boonies where we never, ever go, and they offered to gift us the afternoon with them. This was the day before we went to the beach, I think. It's quite small: I really wish it was larger and worth the admission fee… but it's not too bad to spend half an hour.
Jellies at the ocean discovery centre.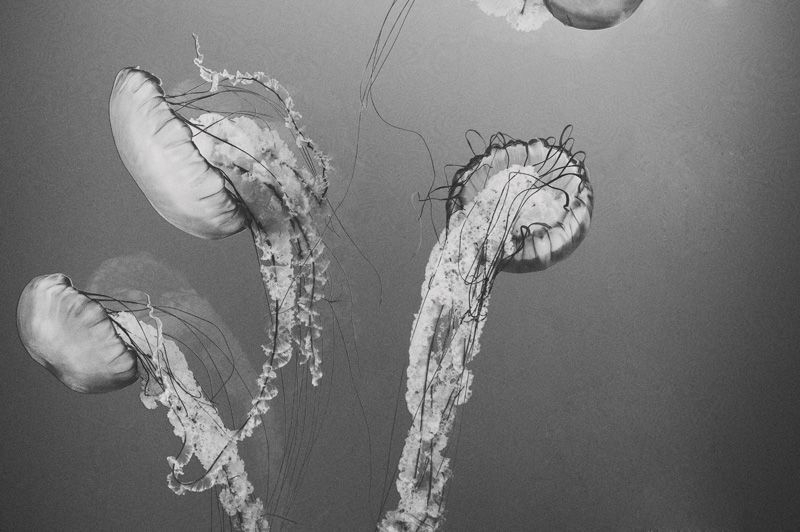 A field of [ brittle stars ].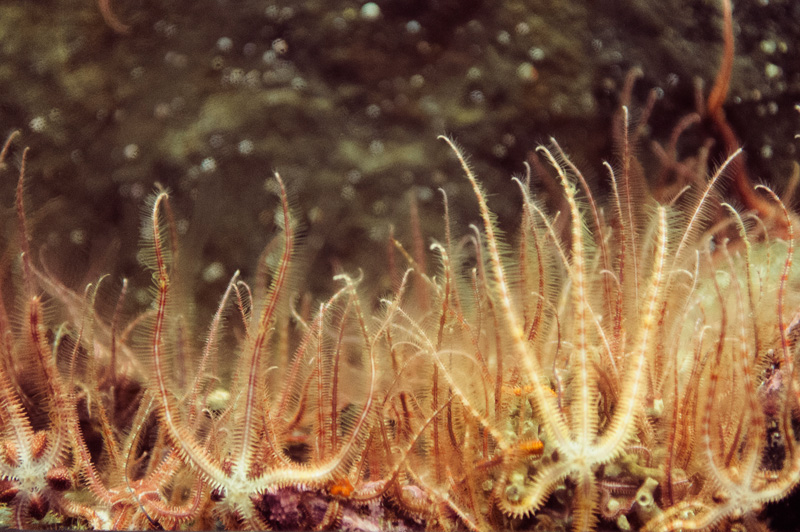 Marian and Xan investigate the touch pool.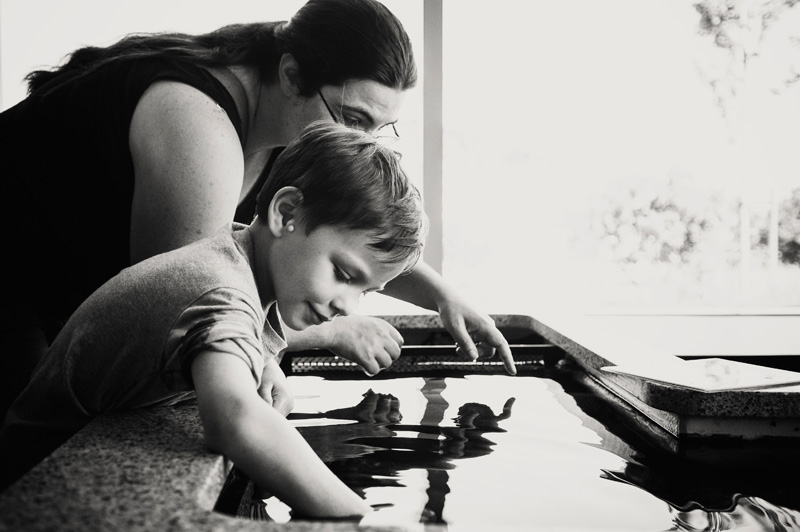 The younger two play with the toys in the gift shop while Tempest tries to negotiate for the right to buy stuff.

srs bns.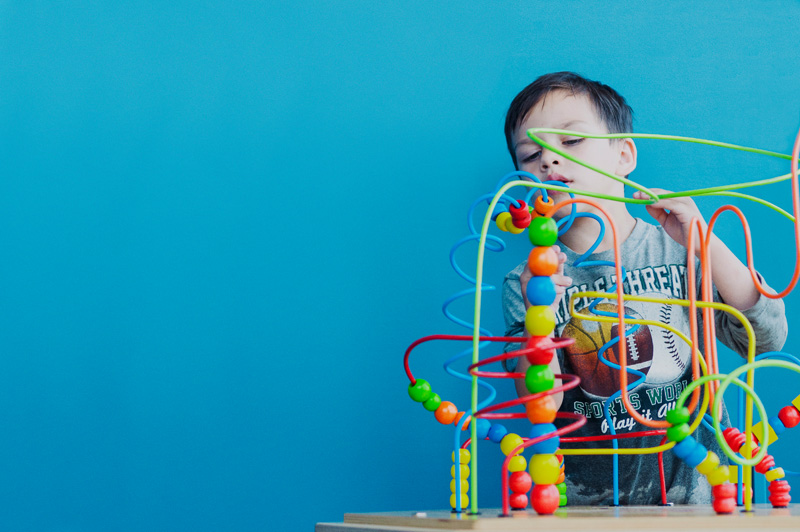 Comments
comments