You know, when you have big milky breasts you can't win in the "professionalism" department. It's just never going to work. Not unless you can shell out a million dollars for custom-tailored suits or some shit. I spent two solid days going through my wardrobe trying to find something to wear that :
1. Is not too fancy.
2. Is not too casual.
3. Is appropriate for sweltering heat and humidity.
4. Allows me ease of movement.
5. Will easily expand through a 7-hour work day as my breasts fill up with milk.
6. Is easy to breastfeed/pump in without having to disrobe completely, given that I may not be able to find a place private enough to not risk being walked in on. And having wedding guests come in while I'm half naked with my tits out probably wouldn't bode well for positive referrals. Not the kind of referrals I want, anyway.
I finally found something that matched all of these things AND was flattering: a lovely black cross-front shirt that's a little loose-fitting but has a V-neck that will allow me to pump and breastfeed without issue.
I dropped my baby off with my friend and arrived at the wedding venue by 3:45pm. By 5:30pm I looked like Dolly Parton and was becoming self-conscious. I spent some time discreetly looking for more safety pins, but I came up empty. The one I was using popped off and got lost somewhere. Awesome. The bride later told me that everyone thought I was cool, so I'm hoping this is due to my winning charm and charisma and everyone conveniently overlooked the fact that I arrived on the scene as a pair of tits with a camera.
I'm at a point now where I'm giving up on that shit. Screw "professionalism" being synonymous with, "Flat-chested". I am an H-cup right now, there is nothing I can do to H-cup breasts that will make them appear to be B-cup breasts (aka. "flattering breasts").
I have large breasts, they will never not be large breasts, and I will never find clothes that do not give me ample cleavage. I am just going to have to accept this and move on with life. I don't want to die of heatstroke and have my husband and children crying over a tombstone and howling, "If only she hadn't worn a turtleneck!"
I'm going to have to rename my business, "Photography by Tits McGee". I'm not even kidding. Here's my new business logo.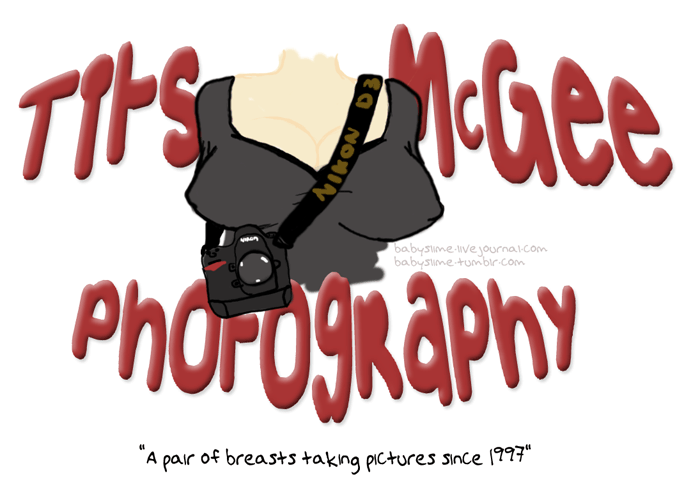 Comments
comments