I will never understand the selling of used baby clothes as a regular thing. I totally get it if you're in need of money and have friends/others who want to help you out, that makes total sense… but as a regular thing? Like a, "my friend is having a baby, let me sell her my used baby clothes" thing? I don't get that.
I see it on Facebook a lot. Mostly from the more… shall we say upper class moms who buy from haute couture places and try their best to ensure their baby looks like Baby Beckham or or Baby Brangelina (you know the type). An entire album gets filled with images of individual articles of baby clothing lying on an unvacuumed carpeted floor, photographed with bad flash and weird light, selling at prices nearly the same as what they bought them for last year. I always like to assume this is because they believe the other types of moms will foam at the mouth for them and therefore pay any price, you know, because they wouldn't normally be able to get such beautiful things*. After somewhere between two weeks and two months of no response, the albums get taken down and the clothes quietly given away, or wrapped and re-gifted for someone's birthday party.
The hand-me-down cycle has been a key part of my life since childhood, and regardless of your income bracket it's probably been at least a small part of yours too. When I was growing up, "new clothes shopping" meant getting black Hefty bags of random clothes from random people that we pick through to find the best stuff. It was like getting one of those mystery prize boxes at the store: some items were good, some bad, some you didn't know what to do with or how they got there, but regardless of the contents you always came out feeling like you'd scored something awesome.
I remember a few times when my mother and her best friend chipped in with a few other local women and purchased these seamless (or covered seam, at least, and tagless) tie-dye clothes from a European co-op for all their super-sensitive kids. Keep in mind this is the 80's so seamless and tagless clothes barely existed. I was somewhere around 8 when they arrived and I loved them to death. They were good quality too; some of the only clothes my mom ever bought brand new.
When I was 18 I was walking through the village and saw a little girl wearing those same tie-dye seamless pants. I didn't even know her. The hand-me-down cycle had grown far beyond our friends and acquaintances and moved onto total strangers. The next stage past that is trans-national; when someone sends them by mail to a friend in another part of the country.
These were definitely my old pants, and remember this is an area with less than 8k people at the time so we tended to share (even the stuff you didn't want to share got shared).
The trade wasn't just limited to baby clothes, of course. Swings, playpens, walkers (before they were illegal), toys, little pedal cars and dolls… everything got passed around. The baby clothes circuit could make a new mom go from zero to hero in two weeks flat and by the end of it she'd have enough clothes to dress triplets.
I see some people talk about the hand-me-down idea as if it's a terrible shame, or even something to hide. While I can understand it's relationship to poverty, it's far from exclusive to the poor. For instance when Z was born we could afford to buy her a wardrobe of new clothes if we'd wanted to, but didn't see the reason for it when we have so many friends in our immediate (and even secondary) circles who have had little girls. Before we knew it we were receiving offers for clothes on a regular basis, even by random people standing on the playground at my kids' school.
It isn't just a random free for all though. There are rules to the trade. No one has them written on the boxes and bags, but we all know and abide by them.
The "Golden Rule" of hand-me-downs is that if you get clothes you don't need, or don't like, you give them away to someone else (breaking the cycle by trying to sell them is considered rather shitty, unless it's clear you're in dire need and have few options).
Other rules include :
1. Everything must be washed and folded.
2. Everything must be organized by size (a few stragglers in the next size up or down are fine so long as they generally match the size of the main batch).
3. If you give away heavily stained, torn or worn clothes, you're a dick and no one wants your smelly clothes anyway.
4. The clothes should be free of excess pet hair or cigarette stench.
5. Take good care of them and do your best to keep them in good health as long as you reasonably can.
6. When you're done with the items, and if they're still in wearable condition, give them away to someone else in need.
People who break these rules are bad, and they should feel bad, and you should not trade with or accept clothes from them ever again.
People who follow the rules faithfully are good and should feel good about themselves. You should treat them to a cup of coffee or a knitted hat.
Speaking of knitting (see that? I had a seamless segue) I went out and found this amazing little yarn store in the corner of a quiet neighbourhood and spent over an hour walking through and touching things. I eventually settled on buying a shitload of this beautiful hand-dyed merino in these lovely olive/green tones. I really want to make this jacket for myself with it, but the wool is a size too small. The pattern wants worsted and I have DK. I did a few swatches in varying needle sizes, and can't come up with the gauge it wants.. but I love the yarn so much. What I love about Ravelry is the ability to see how other people made the project with various yarns and weights and such, and I can see that half a dozen others made this project with fingerling or DK weight yarn and it worked well for them. They seemed to make the largest size and adjust on the fly, which is what I figure I'll try doing. I think I know enough about knitting now to manage that. At least I hope I do. If there's one thing the Helldress taught me, it was how to unfuck shit.
PS. Pictures.
Z's 7 month portraits.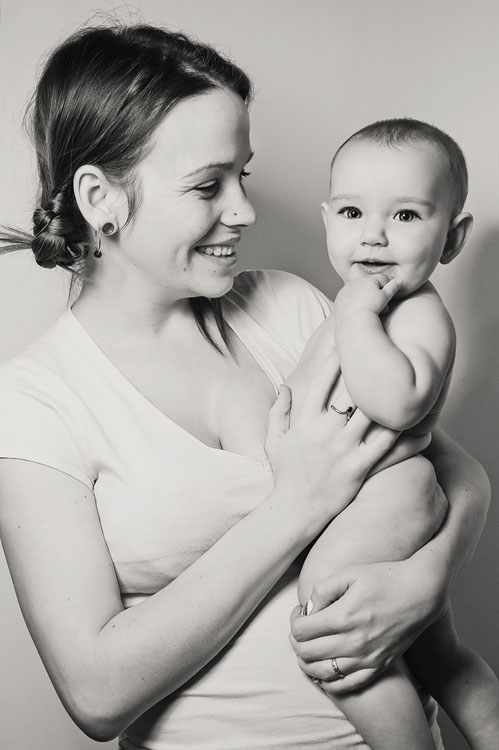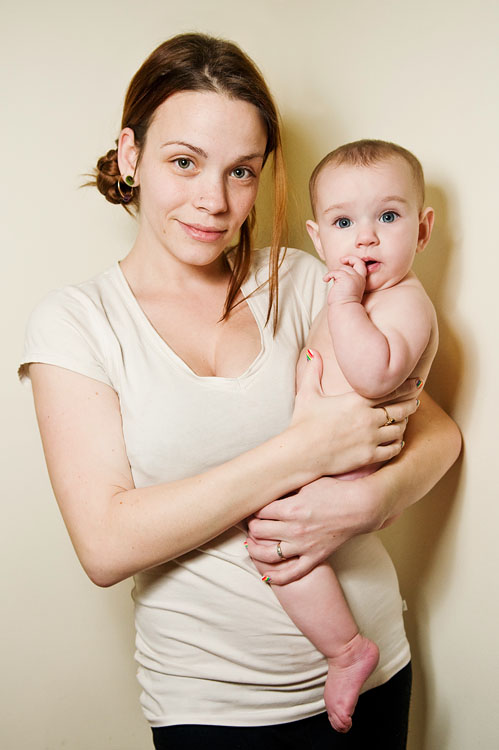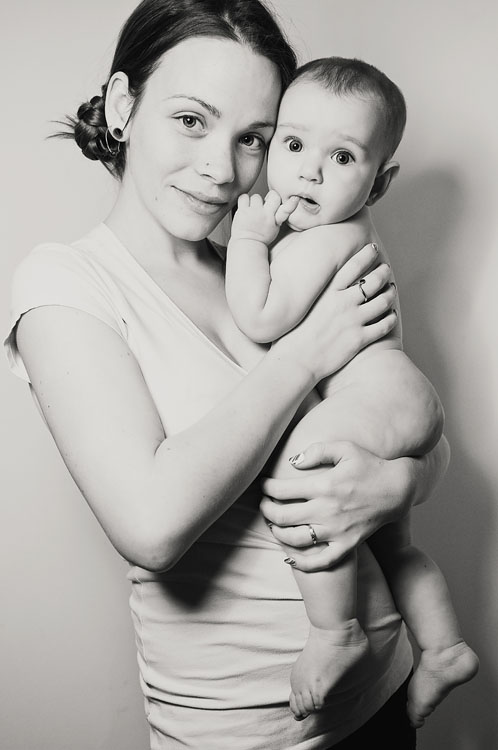 And some from yesterday when she was being cute for no reason whatsoever.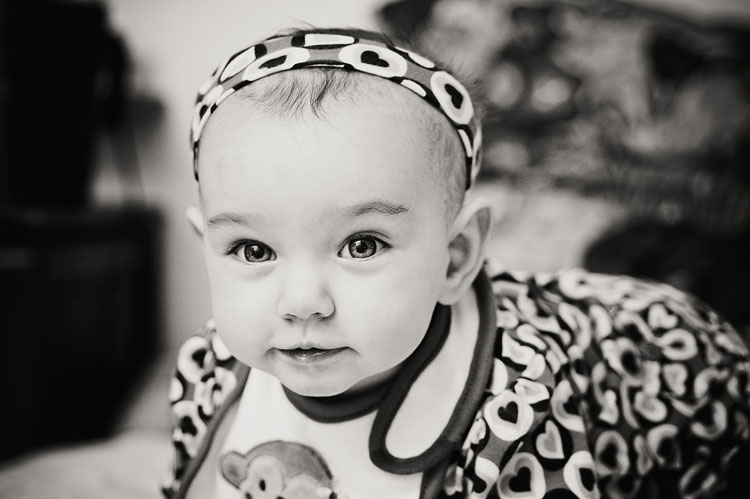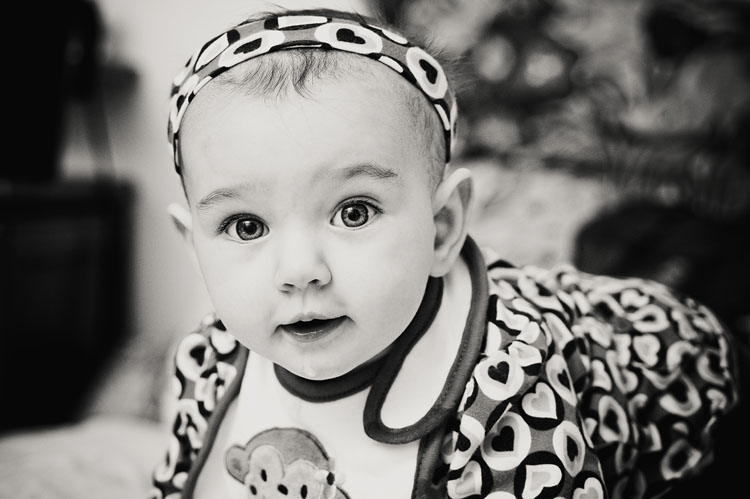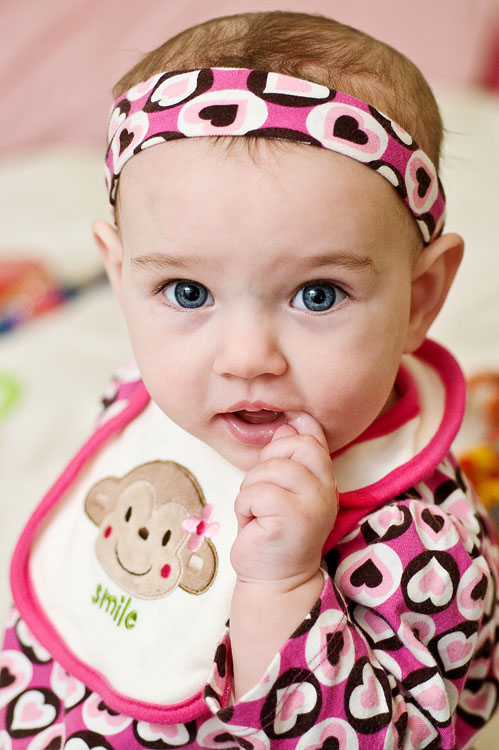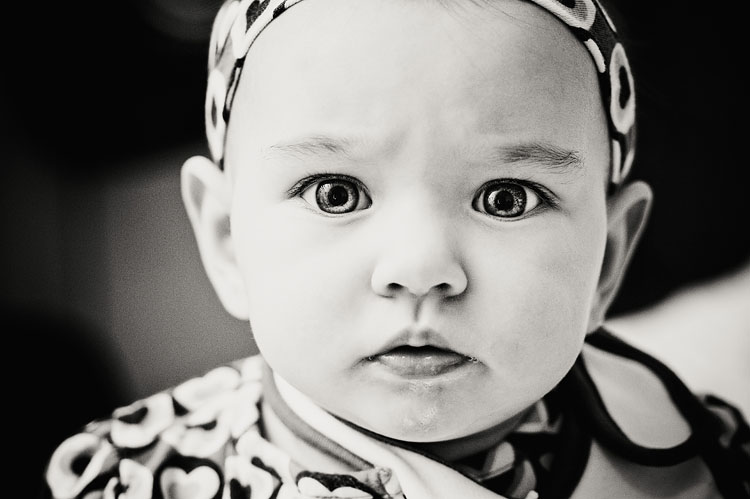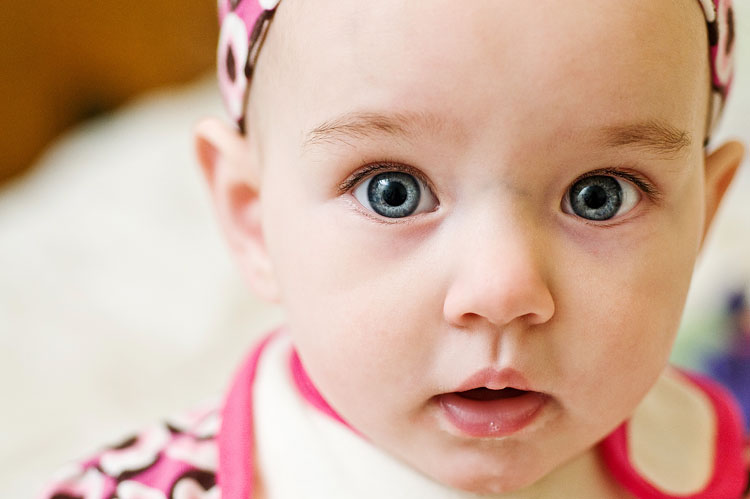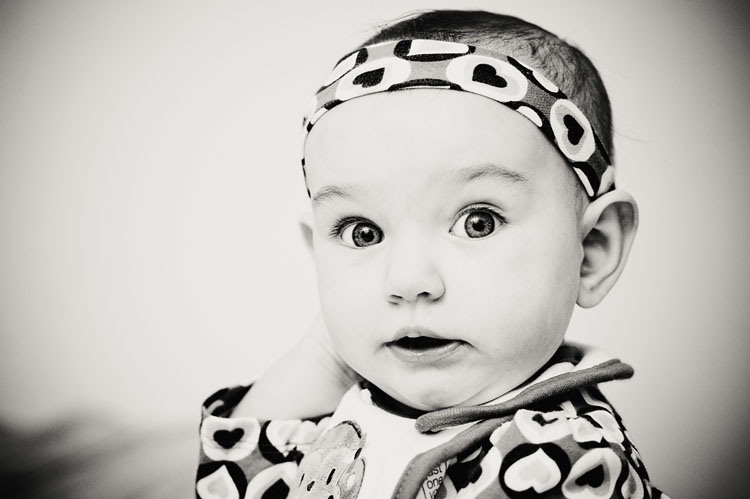 Also this, because it's cute. And naked babies are extra cute.

Links of the Day:
Marble Hornets – A 'found footage' style horror flick, made by a small group of newbies utilizing YouTube to host pieces of clips and tapes that the main character discovers or records himself during a year long investigation into what happened to his friend. In some cases over seven months go by between uploads, adding to the realism and sense of desperation the characters convey. It's not exactly Hollywood, and the pacing can be slow and the acting cheesy at times, but it's surprisingly suspenseful and I'd love to see it get made into a proper movie.
Oglaf – An extremely clever, funny, sexy webcomic for porny geeks – written by a brilliantly hilarious woman. Curtis' coworker turned us onto it and we're completely hooked. It is extremely NSFW and very explicit at times, so don't read around kids or at work.
Slut-shaming and why it's wrong – This one is making the rounds, so you may have seen it. If you haven't, it's worth a watch. A precocious 13 year old explains what slut shaming is, why it's wrong, and how it contributes to sexism and rape culture. I promise you'll learn something from this girl.
* It's sarcasm, people. Don't take it too seriously.
Comments
comments