Well, Yule was uneventful. As a was the new year. I just wasn't feeling the holiday spirit. I can't tell if I'm depressed or ill, or perhaps a combination of both. The last few days I've felt like absolute shit and have wavered between a terrible migraine and wanting to throw up. I'm restless and exhausted and having strange dreams every time I lay down. I really don't feel like doing anything other than laying in bed and knitting or watching TV or something. I'm just not up for celebrations.
We went out for a New Years party with one of Curtis' co-workers, the same one we've been going with every Sunday to play "Call of Cthulhu". By 10pm it split into two main groups: crafters and gamers. We rang in the new year with a combination of wet felting and Munchkin.
I was moderately pissy because I had a horrible headache the whole time I was there and couldn't partake in any of the wonderful food and drink until the last hour, at which point I stuffed my face and took down several heavy drinks inside a short period so I could try and catch up. It sort of sucked up until around ten to midnight, and I felt like the third wheel in a gathering of 20 people. I'm not very good at being social and I'm very much out of my element in an event filled with childless twenty-somethings. We were the only people who brought a baby, let alone had one, and everyone acted shocked that she was our fourth and not our first.
I miss my friends, but I haven't seen them in a long time, they're all celebrating elsewhere and many haven't even asked to hang out since Zephyra was born. Babies have that affect on people sometimes.
---
I do not understand how Xan became such a drama queen, when Tempest can be so gracious. How is it that you can raise two kids exactly the same way, with all the same rules, with all the same surroundings, lectures, lessons and instructions… and yet they can turn out so completely different in situations that people normally attribute to parenting? Like gift-receiving, for example. Tempest was gracious and polite with all her gifts, while Xan complained about nearly every last one. SOMETHING was wrong with each of them, including the baby doll that he initially loved to death. Now he hates it because it has a button on its chest. I refuse to raise ungracious, selfish children.
After unsuccessful coaxing and explaining, I finally put my foot down about his whining and told Xan that he has to be gracious with every gift he receives, no matter what, and can privately hate on it later. He reluctantly agreed and decided he liked his gifts after all. Ugh.
Tempest was kind and gracious throughout the holidays and honestly didn't complain at all. Maybe it's just a reflection of her growing maturity. She seems to be very old to me all of a sudden.
In the last few months she's become body shy, but only at certain times. When her medication is in effect, for instance, she won't change in front of me and will walk out of the room if I start changing. If she wants a bath with Xan she'll put on her bathing suit and refuses to let anyone in the bathroom if she has to go (this includes if someone is in the shower and she has to go… she'll either wait or use the upstairs one in mom's house). At night she'll happily walk around without a shirt on, but only when she's getting ready for bed. The other night she came in to give me a kiss goodnight and I realized her whole upper body just looked different. Like, her collarbone and shoulders area. It's like she suddenly started getting clavicles, and her neck and face had started lengthening. It took me by surprise, as though it had happened overnight. I told Curtis about it and he agreed that she did look a little different… but we can't really put our finger on why.
The following evening she came out crying, saying that a dress she wanted to wear was hurting her chest. The thick material was too rough for her nipples, she said, which had suddenly become sensitive. I asked if I could see and feel briefly to make sure she didn't have a cut or a rash, and she was okay with that… and I felt a little tiny bump under one of them. Holy shit, she has a breast bud.
I'm not sure how I feel about this, because in spite of the fact that she's brilliant, her emotional maturity has not caught up by any means. Sometimes it's like she's still four or five in a social/emotional way, even though her brain is working at this level far into her teens. I worry that an early puberty will seriously screw her up. She'll have this grown up body and a little girl's brain until (and unless) they catch up to each other. Maybe puberty will make her emotional brain catch up very suddenly and it won't be so bad… but what if it doesn't? I have this deep fear that she'll be one of those Aspergers kids who stays "little" forever… just a little bit too far behind the social curve to fit in properly. I know it seems premature, she's only eight and that's very much still "little" in a lot of ways… but it freaks me out. I can't tell if it's genuine worry or if it's general mom-style paranoia. She's ridiculously smart, even her tests showed she was off the childhood chart for IQ while her "emotional IQ" (her ability to function socially) remained several years behind in the "significant delay" level. It's made me worry ever since.
I know most high functioning autistic kids have that delay, and many catch up to themselves sometime in their early or mid-teens… but it's not that comforting when I'm sitting here in front of my nearly-into-puberty eight year old who can still have a full blown temper tantrum one minute, and be too shy to bathe in front of her brother the next.
I can't not worry about it, because I want her to have the most normal, unaffected-by-disability life possible.
I tried to bring up the topic of puberty with her again yesterday, just to make sure she knew what was coming. She was noticeably uncomfortable with the line of conversation, something I haven't noticed in her before, and repeatedly and aggressively told me that she knew this already, god until I finally relented to letting her go. Sometimes everything seems to be so normal and other times her differences are glaring… she can cop an attitude with me about the puberty talk but also be the little girl who hasn't said the words, "I love you" without prompting in three or four years.
It's not as bad as it sounds. She expresses her love in different ways, and we've learned to look for it elsewhere, but it is an obvious reminder of how her brain functions just slightly off the track of social norms.
We had a three hour fight with her yesterday afternoon because we realized she'd managed to evade taking a bath for THREE FUCKING WEEKS and was refusing to get naked, even by herself, for any reason, and had a throw down screaming tantrum about it (see what I mean about this weird mix of puberty and immaturity?) until I finally told her that if she didn't pick a time that evening to bathe, I would have to strip her down and bathe her myself. Finally she decided that 6:10pm would be a good time, and actually took a bath on her own. We had to agree not to come near the bathroom, lock the door, use the upstairs if we had to pee, and knock before entering so she could shut the curtain.
Meanwhile, Xan is very much a typical five year old boy with his constant craziness, and the endless, "I'm booooooooored" and the night-time tantrums while he tries to stall for more time spent awake. He's a ridiculous ball of energy and can't survive without an audience for his antics. Back to that drama queen thing again. Yesterday he got frustrated with the new remote control car that Tempest and him got for Yule, and he kicked it over a hump, effectively destroying it.
I was so mad I gave him a lecture about being respectful to your toys, even though I knew he wasn't listening.
I was so mad I didn't even want to see him for the rest of the day.
I was so mad that conversing with him now requires a two drink minimum.
Fortunately we spent the extra five dollars for one of those, "no matter what happens to it we'll replace it no questions asked for 20 months" things, so we can go get another one later today. Though I'm mad enough not to actually want to. Uggh.
Baby is crawling pretty well and is getting past the frustrated-at-everything stage. Last night we also found a tooth poking through on her lower gums, so that may have had something to do with it. The last few nights she's been up until 2am, but happy as a clam just crawling about screaming and clapping and being absolutely precious. She's adorable so I can't be mad, but I really wish she'd fall asleep a little earlier.
I bought an avocado the other day and mushed pieces up so she could play with it. She wasn't interested in it at all and is obviously not ready. I mean, I could probably feed it to her if I really wanted to, but I see no reason to do that if she's not keen on self-feeding yet.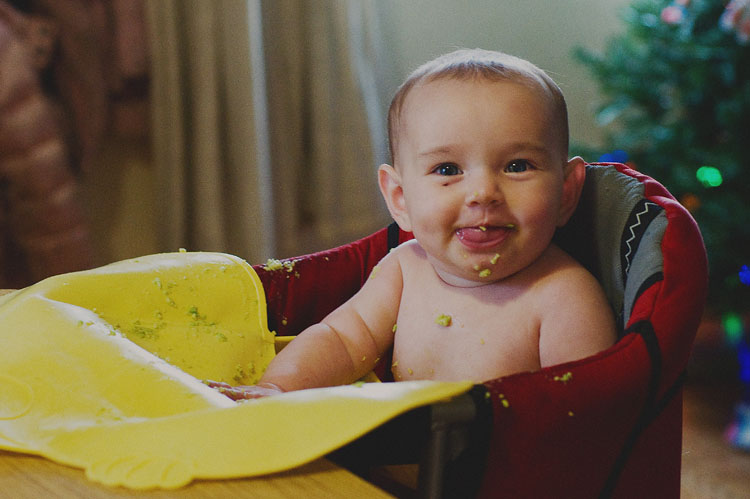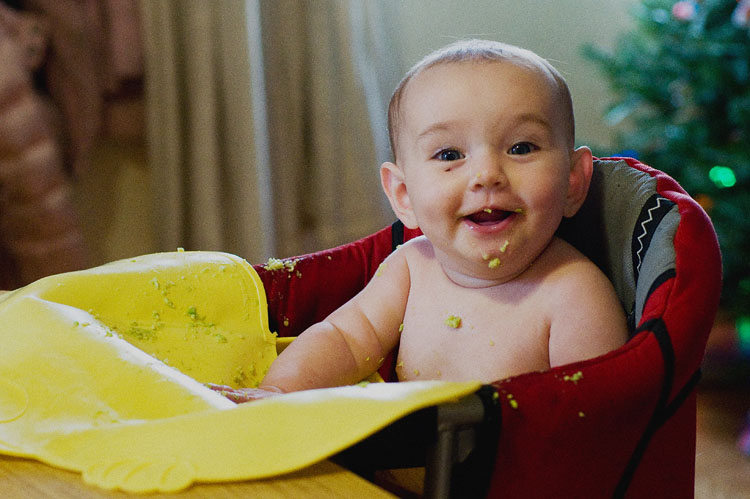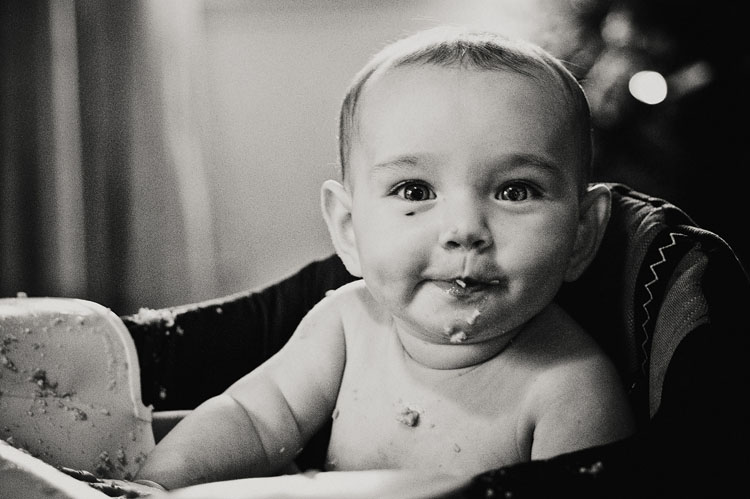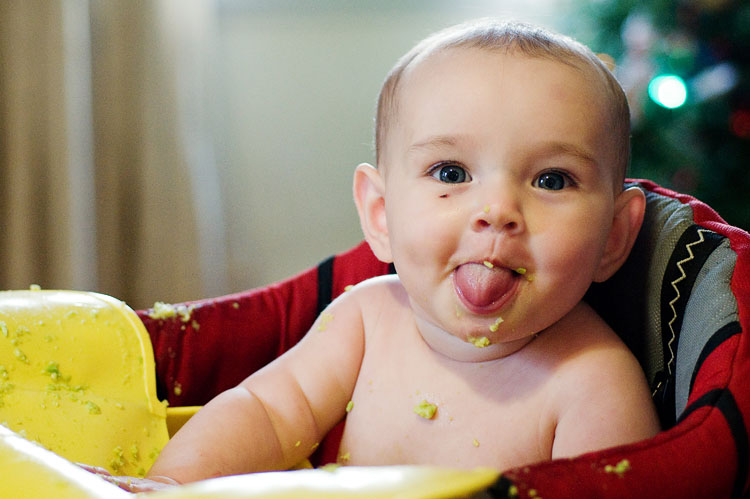 This one was from a few days ago while I was finishing up a pair of socks I was knitting.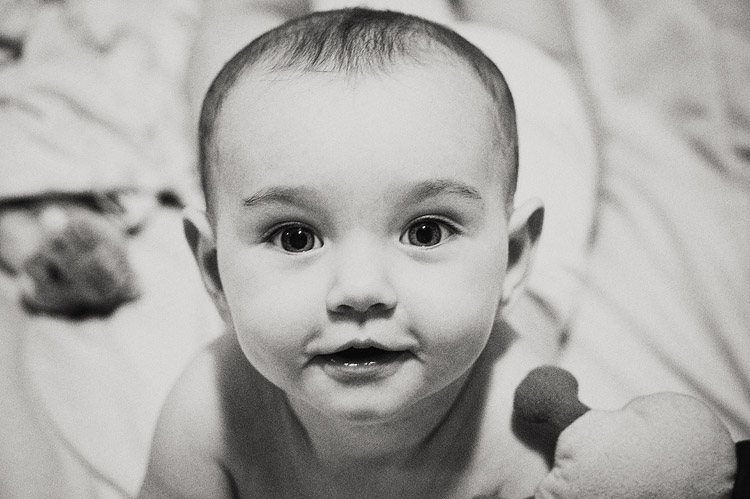 These socks.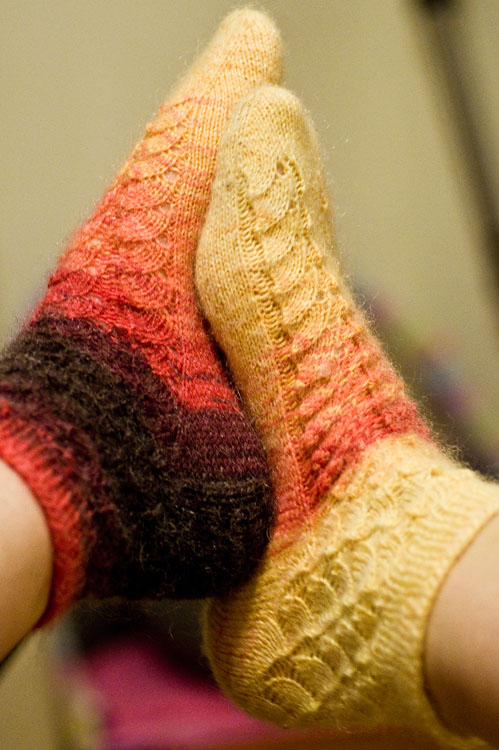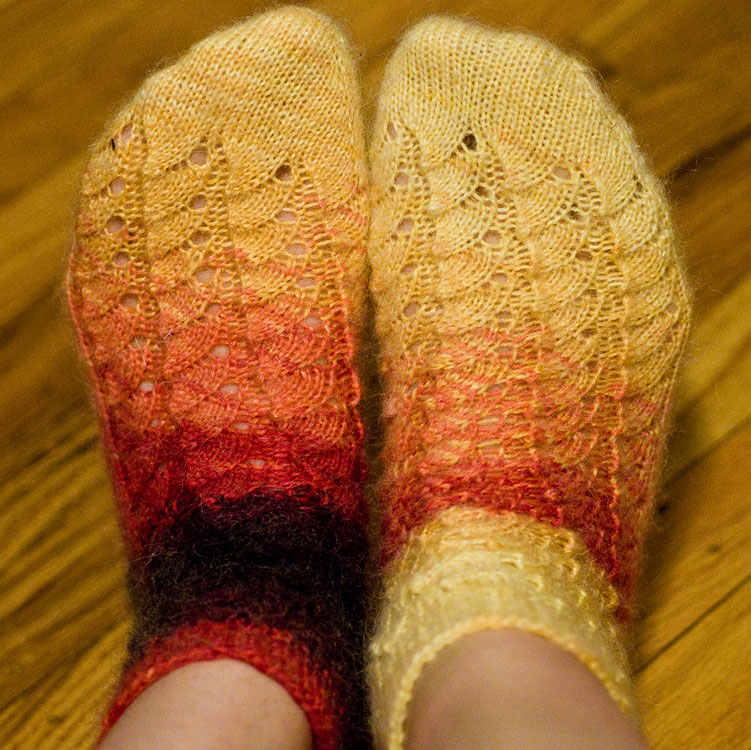 They almost fit Tempest, too… just a little baggy. She laid claim to them before I finished, but they were just a little bit too big to be comfortable so I've been wearing them instead.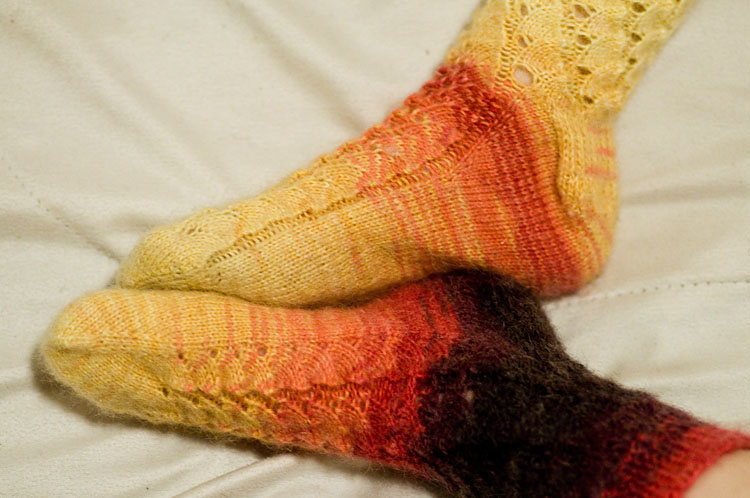 It freaks me out a little bit that Tempest and I can share the same pair of socks with relative ease.
Comments
comments