I think the big reason why I didn't/haven't resorted to formula or exclusive bottle-feeding through this whole thing with Z's feeding is simply because we did not treat it as a viable option. It wasn't, "either/or" with breastfeeding vs. formula, because that implies the two choices are equal… and they aren't.
Starting this journey I've had two successful breastfeeding experiences (though each of those experiences were littered with problems). I have one fully functional breast, and one breast that has extensive nerve and tissue damage – and that equals two breasts capable of producing milk, and one that is capable of producing at or above normal rate. That's more than enough to feed one baby, and if for some reason it isn't I can use the help of galactagogues or other methods to increase my supply (fenugreek, domperidone, pumping, brewer's yeast, blessed thistle, et al).
My personal order of feeding options goes like this:
Breastfeeding exclusively
Breastfeeding with the help of [ galactagogues ]
Breastfeeding and [ finger ], [ cup ] or [ SoftFeeder ] supplementation (with my own milk)
Breastfeeding and any/all of the aforementioned supplementation methods with donor milk
If absolutely zero at-the-breast feeding is possible, bottle feeding exclusively with my milk.
Bottle feeding with my milk and donor milk
If absolutely no breastmilk production is possible, bottle feeding exclusively with donor milk.
Bottle feeding with donor milk and formula
And lastly, bottle feeding exclusively with formula.
Remember, this is just my list. My personal list. Yours might look different, and it probably does because my situation and my abilities are different from yours, or some woman I met in a park, or the lady who sits next to me at my LLL meeting. This is just the list that I work from when I start nursing my new baby. And when/if I run into serious problems that threaten to permanently alter or end my breastfeeding relationship, I would want to completely exhaust all of these options before resorting to exclusive formula feeding. If some of them are not possible (ie. no access to donor milk through a bank, friends, or screened mothers that were willing to donate) I would have to skip over those parts, but I'd still be checking into them.
I have a number of privileges and advantages that have given me the ability to have that list, and adhere to it. Things like:
Experience successfully breastfeeding two other children until just before their third birthdays.
Experience successfully breastfeeding through numerous challenges and difficulties.
Support from my friends, family and access to breastfeeding information and support through the La Leche League, IBCLCs, lactation consultants, doulas and other trained breastfeeding educators.
The ability to access a computer, and the internet, and knowledge of how to search for the things I need (breastfeeding support communities, problem solving information, etc).
Free, prompt and accurate healthcare from lactation specialists when I need it… and the education to tell me the difference between a trained professional and one who attended a one hour course sponsored by Nestle. In Canada, visiting doctors and specialists is free, which is a HUGE advantage over places like the USA, where a low-income family without health insurance may not have the option of visiting an IBCLC even if they needed to.
I said it before but it's worth mentioning twice: support, support, support. Especially from my partner. I have a partner who is there for me, who is educated about breastfeeding and its benefits, and is willing to do whatever he can to improve and encourage my nursing success including staying home from work for 10-14 days after the baby's birth, taking care of our older children as well as me.
A strong personal desire to make it through, and the motivation to continue working toward a successful nursing relationship. It's not a bad thing if you don't have this – not everyone values breastfeeding the way I do – but it can certainly help you succeed.
That list puts me in a pretty privileged position over many other women who may have attempted breastfeeding and ended up switching to bottles, regardless of their desire to continue nursing. Access to education is a big one, maybe even the biggest one next to spousal support. Think of how vicious the insidious the formula industry has become, and how their "information" seeps into everything from the posters in your doctor's office to the first (and often only) information you see about human lactation after your baby's birth. Think of how even WIC and hospitals were advertising for the 'lactation help line' that was staffed by Nestle workers that gave half-assed information mostly designed to sabotage your breastfeeding relationship. If you're a breastfeeding mother, think of where you might be with that if 100% of the information you'd received had come from a source like that. Would you still be nursing? Would you have made it through that nursing strike? Or those bouts of mastitis? Or colic, when your mom was standing next to you saying, "It's because you don't make any milk… just look at your breasts! The same thing happened to me. So I fed you formula and you're just fine"?
My situation is unique, and these are my thoughts and my own standards for myself: they absolutely do not reflect my beliefs or expectations of every other mother/baby pair out there. So keep that in mind when I speak in absolutes about my struggle, or say that I feel formula feeding isn't an option (at this point in time) for us… a lot of that is due to the privileges I have that others may not, and I am aware of that now, though I haven't always been.
So anyway. With that giant disclaimer out of the way… I received a few more reports in the mail regarding Zephyra's appointments and tests, so I wanted to summarize all the information we've had thus far, and go over where Z stands on her feeding issues right now.
It's funny, both the paediatrician and my LLL Leader told me I should be writing down my experience breastfeeding Zephyra "on the internet" so that other moms may read it. At the last LLL meeting I attended about six medical students were present, and my leader immediately made me tell my story so they could hear it and write down the information in case they ever ran into it with their future clients. I didn't mind, though I'm not usually one for pubic speaking, because I do want to make sure these women know that this shit exists and that it is a huge roadblock to successful nursing.
Anyway. Right now everything I've written about it is all filed under my [ breastfeeding ] tag, but I think I'm going to go back and retag all the relevant stuff "posterior tongue tie" and "Velopharyngeal Insufficiency" and "submucosal cleft palate". While the last one has been ruled out and the middle one is iffy, they're still things that come up when these symptoms and problems present, which means that other moms searching these terms in conjunction with breastfeeding or general feeding difficulties may still come across this blog and these entries and find something useful. At least, I hope so. I've read two or three stories that other moms blogged about that and, while kind of depressing, they were also incredibly helpful for me to know that I wasn't alone or insane. Their babies didn't die of starvation or end up on tubes for the rest of their lives (though, sometimes they were tubed for a little bit) and that's extremely promising for me. On top of that, many of those moms worked damn hard – as hard, or harder than I'm working – and managed to keep their babies hydrated and adequately fed so they ran into similar "issues" about some professionals doubting that there was a problem at all since they were 'making it through' (as though spending 8 hours a day devoted to feeding a baby that still isn't sated is normal and totally acceptable).
ANYWAY. This is a rough timeline of events, and I may come back and update this later as we go so I can keep a reference to how things have progressed over time.
---

Pregnancy
Was normal, but complicated with severe [ hyperemesis gravidarum ]. I took several pain medications throughout the pregnancy to treat a spinal disease, all were cleared with both my midwife and my pain specialist and I remained under careful observation by both. None of the medications I took for either my disability, or my hyperemesis, have any links with birth defects or other problems in the fetus/neonate; all were cleared for use during pregnancy even at much, much higher doses than I was taking; and they have been used to treat pregnant women for a variety of ailments for decades without issue.
Despite that, we exercised extra caution and baby was scored for NAS (withdrawal) at birth, and throughout her first ten days by trained care providers. As expected, she scored zero. All of this is to assure those who may have doubts and have blamed the medications I was taking for causing her problems: these medications are safe to take, and are not linked to the development of tongue tie. I feel kind of stupid having to say this, it's embarrassing to think people actually believe that… but I have been asked. More than once. Tongue tie is extremely common and often runs in families. My mother had one clipped at two, and I also have one.
Birth
Was a normal, uncomplicated and drug-free SVD (spontaneous vaginal delivery, which means it was not induced or augmented in any way) which took place at home at just about 42 weeks. She's my fourth child and my 2nd VBAC.
After birth, Zephyra didn't immediately latch on and didn't seem that interested in the breast. When she did latch, she didn't suckle long enough to pull my breast into her mouth (literally no more than 2 or 3 seconds)… but she was alert and happy, so it was unlikely this was related. She was pretty content to just sit around staring at things and take in the world.
It took about 2-3 hours until she was interested in breastfeeding for the first time, and while something did feel a little off about the way she latched onto my breast, everything seemed to be in order. Her latch appeared to be normal, we could hear her swallow, see her ears wiggling… the only issue I could say I noticed was that she had trouble everting her lips, both top and bottom, and I had to flip them out whenever she latched.
First two weeks
Zephyra nursed around the clock and had no set schedule (she'd nurse 30 minutes, sleep for 10 minutes, nurse five minutes, be awake 15 minutes, nurse for 10 minutes, sleep for an hour, wake up and nurse for 12 minutes… etc), but all of my babies did this and it can be very normal. By itself, that is not a reason to worry as many babies nurse like this without issue.
By the time she was two days old I was aware that her latch was shallow and that she had restricted tongue movement. She clicked loudly while she nursed, and each time she broke suction I could hear her swallowing large gulps of air. click – GULP – click – unlatch to breathe – click – GULP.  She would pull off frequently, every few seconds, to take breaths or cry and then latch back on again to drink. It was as though she couldn't do both at the same time (breathe and drink), which is odd considering that newborns are designed for that. I showed my friend (who has nursed two of her own) her odd nursing behaviour and she agreed it was weird – and obnoxious. I've never seen a baby do that.
It felt like her tongue was lapping at my breast rather than cupping it, and she couldn't pull breast tissue deep into her mouth and throat like she should be. It felt like she was trying awfully hard, but the suction she built up was extremely poor. She also couldn't suckle on my finger, or a pacifier (we tried many different types of nipples). Whenever I tried to peek under her bottom lip to see if her tongue was over her gum it would immediately break her latch. Eventually I realized this was because her tongue wasn't covering her bottom gum; it couldn't extend that far. Her tongue has a small, but visible crease down the middle and the tip was slightly heart-shaped due to this, although the tip itself seemed to have a normal range of motion she didn't have the ability to move her whole tongue forward and backward, or side to side, nor could she "cup" with it. Her tongue felt and looked as though it was bunched up, puffy and adhered to the bottom of her mouth. She barely seemed to use it at all when nursing.
By this point my nipples were very sore, especially as she latched on and pulled off. They were frequently chapped, and bled often before I became accustomed to her style of suckling.
Initially she had normal-ish stools (seedy and mustard-coloured), but they quickly turned to green and mucousy all the time. She was very gassy, with lots of burps, lots of spitting up. She spit up multiple times after every feed, between feeds, and even in her sleep. She also spit up pretty large amounts and it was often projectile. She never really seemed sated after a 'meal', possibly because she didn't seem to have any difference between 'meal' and 'snack' (once again, this can be totally normal nursing behaviour for a brand new baby, when the behavior is not accompanied by multiple symptoms of feeding difficulty) but my milk supply was good. I had very little engorgement and got over it quickly. She was cluster feeding all the time, especially at night. She seemed to do better at night, or when she was really sleepy for some reason. I'm still not sure exactly why.
She had to sleep swaddled, slightly propped and slightly on her side due to constant spitting up/vomiting and choking. When she choked and vomited it often came up through her nose and as a result she always sounded like her nose was rattly and snuffly.
I thought we were doing okay up until she was weighed at two weeks and we found that she'd lost almost two pounds from her birthweight, despite always being well hydrated and nursing constantly (hearing swallows and everything). I immediately started pumping several times a day and was manually expressing milk into her mouth during feedings. We also topped her up once a day through a tube, and tried all sorts of different bottles and nipples when that didn't work well. She never really seemed to get the hang of the bottles or the finger, but with the manual expression into her mouth (gravity feeding) I didn't end up needing to depend on those.
This was a lot of work, but it paid off really well and she gained 19oz the next week.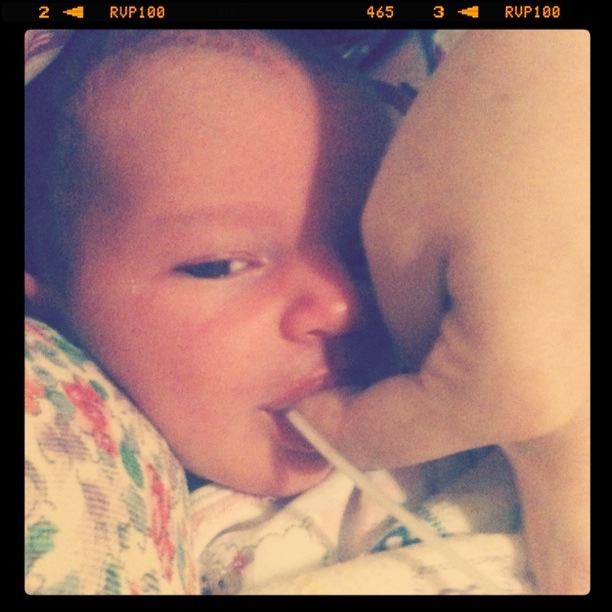 (Zephyra being finger-fed pumped milk with a tube around 10 days old)
3-5 weeks
The above method worked fine for a while, but as she grew past the point of newbornhood where the 'always nursing' phase starts to fade… we ran into more problems. She never outgrew that phase, in fact it seemed to get worse, and while she would 'snack' nurse all day long she'd only have a few really good meals a day. She wouldn't nurse outside the home for more than a moment or two, she choked constantly (often to the point of turning colours and vomiting) and even choked in her sleep when there was nothing to choke on. Multiple times I was up in the middle of the night clearing mucous or drool out of her airway. She drooled a lot.
Every single feed since birth had been full of that behaviour: choking, gasping, crying, fussing, pulling off to breathe… etc. Although up to this point we had a pretty good rhythm down and she honestly didn't seem too bothered by this even though it was very hard work. She never really screamed, she wasn't colicky, and she slept pretty well.
At about five weeks, right around the time your supply evens out after that crazy leaky newborn phase, my supply completely tanked. Her wet diapers went down to 3 per day and she briefly showed signs of slight dehydration. I had cut back on my pumping, so I upped it again and started taking fenugreek, got my sister in law's extra domperidone (20mg, 3-4x daily) and immediately saw results. At first it didn't make any sense why my supply would suddenly drop like that, but it didn't take long to figure out it was because I wasn't getting the proper stimulation through her mouth. With her latch so poor (and seemingly unfixable) and her tongue stimulation almost non-existent, my breasts were not getting the amount of stimulation they required to maintain a good supply. I had to supplement that stimulation with galactagogues and pumping. This also helped me develop an oversupply, which helped her stay well fed. She had a lot of trouble extracting milk from my breasts unless it was right there and flowing fast, so by nurturing an oversupply I allowed her to have a lot of milk readily available at every feed, and frequent letdowns during each feed.
Her routine of small snacks with 3 'big meals' that took 1.5 hours maintained, and we seemed to be doing alright even though it was incredibly hard work to keep that up.
During this entire mess we were also trying different bottles out on her for supplement purposes. She couldn't draw a bottle nipple into her mouth, nor could she suckle on it. We spent about $100 on various bottles, teats, including bottle types that couldn't be purchased in Canada. As with all the soother types, not a single one worked.
2.5-3 months
Once she hit this stage and got her three month growth spurt, everything went to hell. All of a sudden her caloric needs increased to a point where she simply couldn't get what she needed out of my breasts. Not because the milk wasn't there (it was), but because she couldn't physically get it out. She could get lots of foremilk, but very little fatty milk. Even when she stayed on the breast hours her suck wasn't strong enough, she'd get tired and impatient, still hungry, and we'd both end up frustrated. She couldn't take supplements by bottle, finger, or cup no matter how hard we tried and though she was always hydrated her weight gain was starting to drop off her curve. I was starting to get kind of worried. Expressing into her mouth had worked up to this point, but now it's like her demand was simply too high for manual expression/gravity feeding to meet. I thought we were doing okay, and this was kind of devastating. I was exhausted.
I relayed all this to my LLL Leader, who referred me to a family practice doctor who was also a lapsed IBCLC. I called and made an appointment, and upon hearing who I was referred to she saw me the next morning. I gave the doctor a summary of all our issues up to this point, and my concerns. She listened intently and was very nice to us. Best of all, she believed me and validated my concerns. That above all else was really what I needed then.
The doctor used her finger to feel around Zephyra's mouth and noted how extremely sensitive her gag reflex was. Nothing could get past her gums without her choking until she vomited. She had me attempt to nurse her, and about five minutes into the session full of chokes, gags, fusses and vomits the doctor asked, "Is this normal for her?" – which was reassuring in a weird way. At least I knew I wasn't crazy; this really was difficult.
She spent an hour doing various exams and asking questions and came to a few conclusions.
– She has a high ridged palate.
– She has a tight nasal airway.
– She was a very small jaw and slightly receding chin (no physical malformations, this is due to improper suckling in the womb).
– She has extremely limited-to-no mobility in her tongue.
– She appeared to have an 'air leak'.
The latter means that for one reason or another she cannot properly create suction because there is air leaking through somewhere (hence: breaking the suction she creates, or limiting her ability to suck properly), which is why she can't use bottles, pacifiers and why she's having such difficulty breastfeeding. The doctor had two possible causes, either there's a hole in her palate somewhere that she can't immediately see or feel (also called submucosal cleft palate), or her muscles don't come together properly or work in sync velopharyngeal insufficiency. This is on top of the diagnosis of posterior tongue tie, which she showed all the symptoms of.
I was referred to the cleft team, which is a team of six or seven experts that gather together at a health centre for one day and see parents of children with lip, palate, mouth or other swallowing difficulties. The parents and children rotate between each doctor for brief, 20 minute sessions where the children are examined and the professionals each write up a summary and/or diagnostics, order tests or make recommendations. At the end of it all you should have much more information, or at least have ruled things out.
We were also set up for a swallow study, and an immediate visit with a speech pathologist visit so we could get set up with some special needs feeding tools to help keep her out of the hospital.
The family practice/IBCLC wanted to see us again the following morning so she could watch Zephyra attempt to suckle different bottles and see how it goes.
The next day we arrived at her office bright and early with a bottle of expressed breast milk and three or four different bottles and nipples, as well as a selection of pacifiers. Another hour went by with the doctor trying to encourage Zephyra to feed and she noted the same thing I did: she didn't suck, she just chomped on the nipple and tried to drink the small amount of milk that came out. She couldn't create suction, and couldn't pull the teats into her mouth no matter how hard she tried… and it was clear she wanted to try.
At the end of the appointment the doctor told me we were doing amazingly well, and that other babies that she sees with these difficulties are generally in the hospital by two months, exclusively tube fed. It really felt nice to have some recognition for the work we'd put in, even though I knew there was still a chance Zephyra may need an NG tube before this was over. If we couldn't get supplemental feeds in her soon, she'd have no choice.
3-4 months
We saw the speech pathologist right away, who talked to us about special needs feeding options and had us try out the Haberman feeder (also known as the [ Medela SpecialNeeds Feeder ] ) as well as the [ Mead-Johnson cleft palate nurser ]. She tried to have us introduce both feeders to Zephyra at the office, and both of them she couldn't get the hang of. She fought, choked, gagged and cried. The speech pathologist told us that since she wasn't gaining well, if she didn't catch onto one of these soon we'd have to start an NG tube. She'd still be breastfed, but would require 'top up feeds' by tube after each nursing session to ensure she was getting enough calories. It's extremely frustrating knowing that the milk is there. It's right. Fucking. There. But for one reason or another she can't get it.
She sent us home with the bottles (we had two of the mini-Haberman feeders, one normal size, and three of the Mead Johnson nursers) as well as a list of exercises to do with Zephyra's mouth and jaw to encourage her to use her tongue and mouth properly.
The cleft nurser had a very long nipple and it choked her every time I tried to put it in her mouth, so we quickly abandoned it. The mini-Haberman she was a little bit more wiling to play with, so I worked with that one. Every single day I spent time trying to feed her with it. I would sit her up at an angle and give little tiny squirts into her mouth, running the nipple along her mouth and gums, trying to get her mouth and tongue used to the feel of it, trying to help her learn that it would give her yummy milk. Sometimes she'd get a little bit of milk in, but most of it just ended up all over her. Still… we made up 3-4 small bottles (about 1-2oz) per day and spent almost an hour each time trying to train her onto it. I'd have to time these trials so she wasn't starving, but also wasn't totally full either.
The speech pathologist set up an appointment for us to see an ENT (ear, nose and throat doctor) because he was normally one of the people at the cleft team meeting, but he wouldn't be there that time due to going on vacation, so she wanted us to see him early to ensure he got a peek at her.
Unfortunately, the ENT was absolutely no help at all, and it ended up being a wholly useless appointment. The first thing he said to me was that posterior tongue tie "Didn't exist" while also noting that her tongue movement was extremely poor. He treated me like I was a huge idiot for even suggesting that other types of tongue tie existed, despite mounting evidence to the contrary and numerous professionals that treat or even specialize in the diagnosis and therapy for type 3 and 4 tie cases. At the same time, he couldn't tell us why she had no suck, and suggested that perhaps she was doing it on purpose… as though she simply "didn't want to suck".
We left his office feeling embarrassed and frustrated.
The cleft team meeting was next, which took place when she was 3.5 months old. That week our hard work with the Haberman feeder paid off and she'd just started to get the hang of it while pulse feeding (pulse feeding means we squeeze the teat to the rhythm of her attempts to suck and swallow, mimicking the flow that she would get out of a breast or bottle if she was able to suck normally), so we had good news to bring with us.
The cleft team meeting day was exhausting. The entire thing took four hours and we were bumped around constantly. I must have repeated the same story to every doctor there, and they all asked the same questions. I felt like I should have just had a script prepared, and if I could do it again I would have prepared one the night before. It would have saved so much time.
Each doctor did much of the same tests (choking her, gagging her, asking to see her feed, etc) and not one told me something I didn't know. The only good part about that was pretty much ruling out submucousal cleft and getting some good tips on how to help her learn to suckle more effectively. Everything else was just exhausting.
I actually didn't get to hear their final thoughts until earlier this week when I finally received the team report from the entire cleft group. It's a big stack of papers, with several pages devoted to the findings from each individual doctor we saw there. The summaries are unintentionally hilarious, as it makes it sound as though they never so much as cross paths let alone come together to make diagnostic decisions.
The statements read like this:
"I have no idea what is wrong, but here's a huge list of slight physical malformations of her mouth"
"No posterior tie, maybe cleft?"
"No cleft, definitely posterior tie"
"No such thing as posterior tie, query cleft?"
"No cleft or tie. I'm at a loss"
"No such thing as posterior tie, but the tongue's forward/backward movement seems … restricted for some reason"
"Nice baby. Come back in six months".
So, you know, that's helpful.
The speech pathologist was a help, at least, and she not only gave us tools to help Zephyra improve but also believed us. When she admitted she hadn't heard of posterior tie in her profession she immediately started doing research. She got back to me the following day with scads of information and studies that confirmed every suspicion I had, and added more relevant information. For instance, she found that reflux was connected with posterior tie and that Zephyra showed all the signs of a reflux baby. She had me referred to another paediatrician for the purpose of checking out the reflux idea, because even though she didn't seem too bothered by it (if that was indeed something she had) it's still better to do a medication trial as we want her food to stay IN HER STOMACH as much as possible for obvious reasons.
She did a home visit the following week and brought with her a number of little toys, toothbrushes and oral stimulators to help us work on Zephyra's mouth. She explained to us that due to her tongue tie and inability to bring breast tissue back into her mouth, she'd never dulled her gag reflex, making it oversensitive and problematic. It has now grown to a point where it's preventing normal oral health and development due to how protective she has become of her airway: she chomps down on anything that's put anywhere near her mouth to prevent it from going back any further.
We were instructed to do two main exercises with her; the first using an index finger to push deeply into the centre of her tongue, tapping at it firmly (but gently) to help her learn to curl the sides of her tongue around it. The second was the same motion, but drawn forward toward the tip of her tongue to help her learn to move it forward and back. We were also to use the different textures, shapes and sizes of various toys to rub around her mouth and tongue, encouraging her to bite down and chew on them so she learns how different things feel all around her mouth and it becomes easier for her to use it without gagging and choking so easily.
On top of this, we were to continue our supplemental feedings and try to use the pigeon nipple (a tiny nubbin of a nipple, made by Gerber) on a "normal" bottle every so often to encourage her to get used to that feel in her mouth. The idea was that as she progresses with the suck training and OT, she'll eventually be able to wean off the special needs feeder onto the tiny Gerber bottles and teats.
She showed improvement very quickly, and within two weeks we started seeing her curl her tongue, and begin to stick it out a little more. This didn't translate to learning to suck at all, but it's a really big deal in terms of the prognosis of this issue.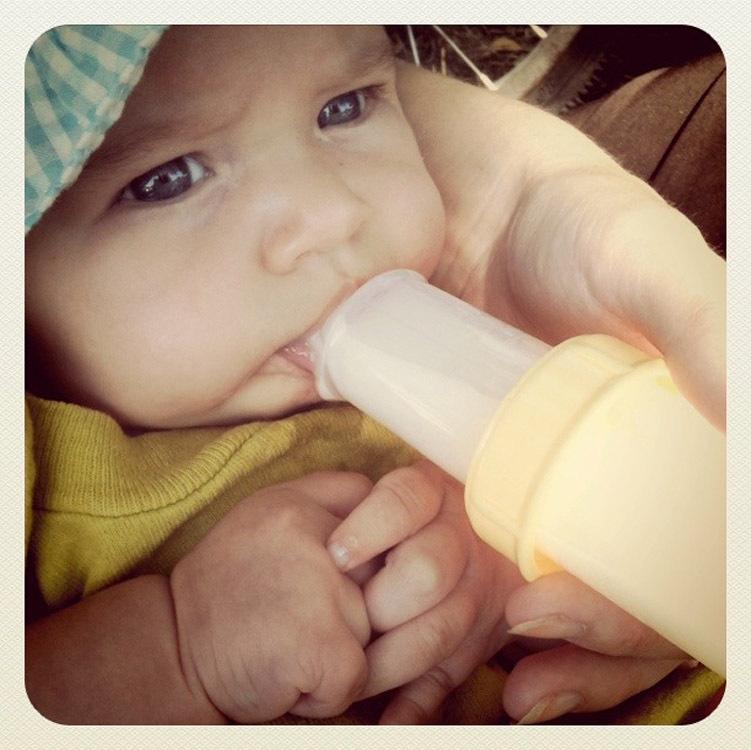 Habermann feeder, 3.5 months.
The swallow study took place shortly after. We were taken up to the large hospital to the medical imaging department and instructed to bring a small feeder of breast milk. When I got there, they mixed about an ounce of barium liquid into it and warmed it up. I was given a lead apron, plus a lead collar to cover my thyroid gland and baby was given a little lead g-string to cover her ovaries and uterus. She was strapped in a giant red chair-like thing that looked like the foam carseats they have attached to shopping carts at big box stores, and that was placed in my lap. I was seated in a chair, which was placed on top of a large wooden box and all together we were moved into position between two x-ray cameras. I was to feed her in a very specific way, with her face pointed at a very specific angle, while the cameras took pictures of how she swallowed and moved liquid from the front of her mouth to the back.
The whole thing was over in less than 15 minutes.
Initially the speech pathologist brought me out into the waiting room and told me nothing appeared wrong, which I was dreading hearing because it meant more questions rather than answers. However, when I got home she called me to let me know that after reviewing the footage some more she'd seen more details and realized that everything I'd told her about Zephyra's feeding showed up on the results. Her tongue was bunched up at the back, wasn't being used to get fluid out, wasn't cupping or moving… she was drinking rather than nursing: waiting until her mouth filled with fluid and then swallowing.
Her ability to swallow had improved tenfold since we'd begun the suck training and OT, so she was no longer choking and turning blue at every turn (yay!) but she still was far from perfect. At least we were seeing definite progress though.
4-5 Months
By 4 and a half months old she and I got a good flow going with the Habermann, which resulted in her taking 3-4 feeder supplements per day to the tune of 3.5-5oz each time.
She guzzles them down like she's starving, but rather than a reflection of her hunger levels I think this is more a reflection of her being trained to believe that she gets very little milk that flows easily… so when it comes readily she guzzles it.
This was fantastic news, as it meant we could finally stop worrying about tubes AND she's being well fed, in fact she's gained almost two pounds since she finally got the hang of the Haberman and jumped from the 35th/40th percentile to the 75th right away. She's hitting all her milestones on time and her stools have improved; while they're still greenish most of the time they're far less mucousy than they used to be. Because of all this, she also doesn't need to spend 1-2 exhausting and frustrating hours at the breast several times a day in order to fill her tummy.
However, this is also not so great news as it means that she's not spending 1-2 exhausting and frustrating hours at the breast several times a day… which translates to less stimulation for my breasts, which translates to a dip in supply unless I'm very careful.
Through a rigorous pumping schedule and domperidone (currently I'm taking 20mg 3-4x daily plus 3500mg of Fenugreek per day), I'm maintaining a good flow and a moderate oversupply – which is suiting us nicely. I put away an average of 12oz of milk per day, and on good days I can get upward of 16-17oz in the freezer. Since she's taking a maximum of 15oz per day by supplement, that means I'm doing pretty well. I'm using a Medela Pump in Style double electric pump for the times I can sit down and devote the time to emptying both breasts, and I use a manual Medela Symphony for tandem pumping the rest of the time (tandem pumping means I pump one side while Zephyra nurses from the other: it helps stimulate letdown and faster flow, and I get WAY more when I do it this way).
She's eaten a meal from the Haberman through nothing but her own suckling power (which means no pulse feeding) for the last three days (as of October 24th, 2011) which is TOTALLY FUCKING AMAZING. The Haberman provides a lot of payoff for very little work, so this is not the same as suckling from a normal bottle, but it's still really great news. We've tried to get her to take a 'regular' nipple a number of times as well… but it has not worked, she still can't figure it out.
That said, this afternoon I tried her with the [ Tommee Tippee ] bottle with a cross cut [ "VariFlow" ] teat (which is designed for babies with poor suck) and over the course of 45 minutes, with a lot of effort, she successfully took a small feed from it using nothing but her own suction. That is the first time she's ever successfully used nothing but her own suction to get milk out of a teat, and that's incredible. It tired her out and it was tough work – definitely not something we could do every day with her at this point – but she did it.
We ordered a [ ComoTomo ] bottle from Amazon in celebration of this. It looks like a Tommee Tippee and has a similar nipple, but it's squeezable which means I can pulse feed her while she learns how to take a wide-neck bottle. The SP is set on me weaning her to the tiny nipples as her suck improves, but I'm hesitant to do this as I think it will make her more likely o reject the breast and encourage bad nursing habits. She needs to work her mouth and jaw as much as possible, particularly since due to all these problems she hasn't had the advantage that other breastfed babies have of months of jaw and mouth stimulation with a proper latch… which puts her at a higher risk for malocclusion and 'baby bottle mouth' (as well as the other oral and tooth development problems that often go with bottle feeding due to the patterns of suction and airflow it creates). As she improves with the suck training and OT, I plan on introducing the wide-neck bottles instead. I'm also interested in the Medela's new [ Calma ] bottle, which may end up being a good training tool for her as she learns to control her suck.
Zephyra was also diagnosed with severe reflux, and was given domperidone which she takes through a syringe. She's on .5 to 1mg three times per day. She threw up the first few days of doses, but now she seems to be getting used to it. I haven't seen it make much of a difference so far, but I have noticed she doesn't spit up nearly as easily as she did before, nor quite as much (she generally averages as much as 1/4cup). Plus, her sour breath has gone away. Reflux affects gut motility, which are both in turn affected by a posterior tongue tie… so it's all connected.
We're supposed to see the paediatrician one more time on the 31st, and have another home visit from the speech pathologist next week to check up on her. The team is going to continue to stay up to date on her case and she's going to have regular appointments to monitor her growth and ensure she keeps improving. As long as she continues at this rate, we'll be okay, but if she backslides or she has a nursing strike or whatever… we'll probably end up going straight to NG tube rather than put her through any more misery.
So that's where we are now with breastfeeding. On a scale from one to ten – ten being a perfect suck and a perfect nursing relationship (or as perfect as can be expected) and one being the worst possible outcome – we're managing as much as a 6 or 7 when we were previously doing a solid 2 most days. Feeding her is still taking up huge chunks of my day, but at least now it's going somewhere.
*Update for October 26th
We had the speech pathologist come for another home visit and confirm that her progress is amazing. She also brought over the video of her swallow study and showed me several things about it that confirmed our original reports with the trouble we were having. I've put it all together and uploaded it to YouTube in hopes it might help someone else.
*Update for January of 2012
Zephyra has made amazing progress with OT and suck training, and following some incredibly positive follow-up appointments we (the speech pathologist, pediatrician and us) decided to cancel her second swallow study and play the rest of the year by ear. As of age 7.5 months she's now feeding exclusively at the breast for the first time since birth. I've been able to stop taking domperidone, and she's now capable of stimulating a full breast milk supply and is getting more than adequate food and nourishment (as well as comfort: which is equally important) at the breast. Her improvement has been remarkable and honestly rather unexpected given the problems we had up to this point. It's been about a month since she's needed mandatory supplementary feedings, and about 3 weeks since I've needed domperidone or compressions to ensure my supply stays high enough for her. I haven't even used my pump in two weeks! Her tongue usage is incredible by comparison to how it was before, and she's hitting all her verbal milestones.
At 7 and a half months she's not interested in solids yet, though they have been offered. She's content to taste and lick, but has no real need to eat yet and is perfectly sated with breastmilk. 🙂 And I'm happy to continue to feed her exclusively at the breast if that's what she needs!
She has regular check-ups to ensure her health and weight stay stable (the only one of our children to ever have regular doctor appointments, actually… in Canada we don't do "well baby checks" like you guys in the states!) and everyone is amazed by her progress. We've also received a lot of communication from the local specialists that has been very positive about posterior tongue tie, or tongue tie in general, and how much they've learned from her case and how much more they will continue to learn even long after we're out of their care. In spite of the intense struggle we endured, I'm glad that we pushed so hard not just for our case but for future families who may have similar challenges… now they may get more answers, and better treatment, then we were able to have at that time. 🙂
I want to thank everyone who was supportive, kind and understanding to us during this time. The most helpful advice and support we received from both strangers and friends alike that recognized the hard work we'd put in, and didn't put us down for what we "could have" or "might have" done if we'd been in a higher income bracket, did not have disability, or other social barriers that others may have the privilege to live without. It's extremely unfortunate that this post also attracted some less-than-supportive mothers, laymans and even so-called "professionals" who were more concerned with building a fanbase on Facebook than with supporting the efforts of all breastfeeding mothers. If anyone takes anything away from this post, and our experiences, I hope it is that ALL MOTHERS WHO BREASTFEED should be congratulated, supported and loved. Regardless of "how much" or "how little", by your personal standards. Breastfeeding can be difficult, and challenges can be unexpected and draining. Every mother/baby dyad works with a unique set of challenges and tools… and we cannot judge another's success by our own personal standards, as we more than likely have privileges that others do not. We all do what we can, and if given the opportunity and privilege of correct information, education and support: we're granted the right (and, more often than not, the luxury) of informed choice. If we really care about women, and breastfeeding, then do your part to ensure all women have access to accurate information, and then support their choices – no matter what they may choose – so we help create an atmosphere where women of all walks of life can acknowledge breastfeeding is normal without derision or shaming when freely choosing another option. Ideally we'll end up with mothers who can choose to stop if that situation is right for them, while also acknowledging the risks and benefits of all feeding (or treatment, in the case of medical barriers like ours) options. Thanks all, and feel free to share this post and any information/videos/links contained therein. Please credit when credit is due. 🙂
One further edit: I received a massive influx of flames and harsh criticism from Dr. Jennifer Tow and her army of random passers-by, largely sent in by her personal fanpage on Facebook entitled, "Holistic Lactation", iirc. All of whom proceeded to leave assuming, rude, and privileged commentary in spite of repeated explanations and gentle (and eventually not so gentle) requests not to. Once she realized her comments were not as super awesome as she believed them to be, she deleted everything she'd written in hopes that it would not expose her, but the rest of the threads are still in tact as are all the comments that were emailed to me.
Since then I've been contacted by (as of this writing) two other people stating their experiences with Doctor Jennifer Tow, IBCLC were equally unhelpful, and she came off just as privileged and ridiculous in person as she did in the comments she deleted below. With this in mind, I cannot in good faith recommend her as a good practitioner to deal with in cases such as this one.
Please remember that above all: mothers individual situations, choices and limitations must be taken into account and respected.  If you are not doing this, YOU ARE NOT SUPPORTING WOMEN AND MOTHERS. My love to all mothers who are currently dealing with feeding problems, and my endless respect for those of you who have chosen to go about it a different way. You define your own success, and please do not listen to practitioners like this one who would shame you for your limitations, particularly those beyond your ability to change. <3
More info is below…

(Barium swallow study for posterior tongue tie, done when Z was about 4.5 months old. This clearly shows her tongue restriction and how the drinking/nursing behavior differs in a baby with a tie).
Also on YouTube, Dr. Kotlow (who is an authority on tongue ties, including posterior) has posted a video teaching people how to identify posterior tie. It is [ posted here ].
She agreed that at this time there was no indication that lasering her tie would be of substantial help given the improvements she's making with other, non-invasive therapies. Particularly since, while she functionally presents as a baby with a tongue restriction, her tongue movement when it improves is that of a normal baby.
For those interested, here is what the cleft report said (abridged) :
ENT (secondary) :
Noted a cleft in the uvula and suspected that there was a slight to moderate VPI based on symptoms. He "cannot convince himself" there is a submucousal cleft.
Plastic surgeon:
Gag is significant, bifud uvula, suspects submucous cleft. Oral cavity and head are otherwise normal. She wants to follow up with an endoscopy.
Dental Specialist:
Saw nothing wrong with a visual examination, and is "at a loss" to explain why she's having these issues.
Orthodontic Specialist:
See above. Notes she is happy and good looking and wants to see us again in six months.
Speech pathologist:
Results of a TEOAE (hearing) test showed near normal-to-normal results, though there was some slight interference on one side due to an attempt to feed and the fact that she was extremely noisy. No concerns about her hearing but she wants a follow-up in six months to make sure.
She noted several malformations in her mouth or jaw :
Small jaw and retracted tongue
Extremely strong gag reflex
Extreme difficulty with suction at breast and bottle
Nasal regurgitation and choking observed during feedings
Tongue tie or some other restriction in forward-backward tongue movement
Her report also says that breastfeeding is being accomplished solely due to manual expression into baby's mouth, positioning and 'more recently some success with the mini Haberman feeder'. There are no concerns regarding development. She also suggests we come back in six months.
Comments
comments