I need to just commit to sitting down and writing more.
Zephyra had her last at-home OT appointment this Wednesday with her speech pathologist and it went amazingly. She's made so much progress in the last few months, it's really incredible. At this point she has normal speech and oral development and near-normal movement of her tongue. We cancelled the follow-up swallow study, as we don't see a reason to repeat it with this much improvement, but will keep her files open for the next year to follow her development and ensure everything continues to go well.
She's down to one bottle a day, sometimes she'll go a day or two without one, and she nurses really well… though very often. Given her improvement we're all wondering if she actually had a physical tie, and instead had a functional one. At this point, after months of OT/PT and suck training she has normal-to-near-normal tongue and oral movement, and has even stopped clicking while nursing with the exception of the height of a powerful letdown (ie. if she hasn't nursed in quite a few hours).
With this in mind, aren't we lucky we didn't drop 5k to travel to New York and have completely unnecessary surgery done, or get all the away there and miss all that work only to be told that the guy couldn't do a goddamned thing?! Mother's instincts are good, ya'll.
Her speech milestones are all passing right on time, which is fantastic news that suggests she won't have any trouble with her speech development as she grows. Her physical and mental milestones are all on target, if not ahead, which means that there's no reason to suspect her oral problems are related to something neurological. Also good news. We'd already pretty much ruled this out but it's still good to have it confirmed by her recent months of development.
She's six months old now which means we're getting the, "she needs solids" and, "Why haven't you started her on iron supplements?", which is annoying as all fuck. There's no way we're going to start her on solids yet as it's quite clear she's not ready. She can sit quite well but not completely unassisted for long periods of time, nor can she use a pincer grasp (her palmer is fine), nor has she lost her tongue thrust. I've given her a taste of celery and carrot (as in a lick, not physically putting it in her mouth) which she enjoyed as an experience but had no desire to pull it into her mouth further. We've always had our kids start on solids once they could feed themselves and I see no reason to push it with her. Given her limited interest I think she'll probably be at least 8 months before she even has her first real tastes.
Her crawling though… that's another story. At six months she's up on all fours doing that rocking back and forth thing. When she's naked she moves around by using her head as an extra appendage and can actually propel herself pretty far, though it's a very gradual means of locomotion.
This burst of new desire to crawl has inspired in her an equally profound lack of sleep. Every time I try and put her down for a nap she starts getting her butt all up in the air, waggling it around and trying to move up and down the bed. I start wanting to throw a leg over her back and say, "DOWN. LAY DOWN." She's kept us up until 1-3am every single night, and gone through day after day without more than a single 20 minute nap. Right now she's sleeping next to me only because I remain here. As soon as I leave to go to the bathroom or take some Tylenol or something, she's instantaneously awake and will be awake for the next hour grumping about. Ugh, child, please get your sleepy self back quickly before we all go crazy. This is seriously affecting my ability to get laid. Or knit. Or like… do anything even remotely enjoyable.
Speaking of remotely enjoyable, I have had a few sessions in the last little while. So that's something. At this point I'm beyond the point of realizing this is over, but it's dying a slow lingering death where I keep feeling like I've got a little bit of hope back that it'll go somewhere.
On that lovely note, here are some pictures from some of the mini-sessions I've done this weekend and the last.

This is baby Sophie, who is now A YEAR OLD, Brother and Brother's Wife. It's actually an out-take but I enjoyed Brother's sarcastic expression so much that I kept it.
An out-take from another mini session with one of my favourite families, where a three month old Lennox was very grumpy and unimpressed with his mother's kisses.
---
We're into December now, which means the weather is dark and gloomy and it starts to feel like there's little to be jolly about regardless of the upcoming holidays. Tempest brought home a very Jesus-centric worksheet from her class the other day that taught her all about the "first christmas" and the nativity and such. We were decidedly unimpressed with it, and I think we're going to write a polite letter to the teacher and ask what Christian worksheets are doing in the children's curriculum. We have enough trouble with the Santa indoctrination every year; I am so not willing to go in circles with the Christian hellfire and damnation shit in my kids schoolwork.
Related to that incident, during a lesson about Christmas and all its wonders the teacher talked about how red and green are "Christmas colours" and Tempest asked her why. She apparently answered, "because they are" and didn't expand on it any further, so when she came home she asked me instead. I told her the mythos that ancient people used to believe surrounding the holidays and Yule, about how the Solstice was the longest night and they believed it marked the birth of the Sun God (the return of sunlight as he grew), so Yule and the solstice were celebrations of his return to the world. The returning sun meant that the Earth would become fertile again, and that the mother had just birthed her child, so the colours associated with the holiday were green (for the earth's fertility) and red (for the mother's lochia) and that's why the colours persist today. She was very happy with that answer and asked me, "Why didn't the teacher just tell me that?". Good question, Tempest. PROBABLY BECAUSE SHE HAD NO IDEA ABOUT ANYTHING OTHER THAN JESUSSPEAK. Fuck, see now, this is why religion is not a good idea in schools. You cannot, cannot, cannot do a complete an unbiased education on religion in a child's curriculum, so let's just avoid that dangerous water all together, shall we? I don't want my kids indoctrinated with the stories as truth, and while honestly we don't mind the kids being taught about other religions (and are doing so at home) it's kind of offensive to have them come home after being presented religious things as truth and actuality over, and over, and over again when that's not what our family believes. This isn't a religious school, this is a normal public school, with many families of all different nations and creeds. And that's not cool.
The holidays also brings the awkwardness of forced family interaction. Curtis' parents have not spoken to us since the "you're selfish assholes for putting your children's comfort first" conversation, which has been months. The kids have started asking about them; we give them neutral, loving answers because I don't want to drag them into our arguments… but I'm incredibly hurt that they are ignoring our family as a whole. I'm hurt that no one has asked how Zephyra is doing, or if she's improving (in actuality I know they haven't even paid attention to what we've said and probably don't even know there was anything 'wrong'). They haven't asked for updates. They know nothing about the newest grandchild and really don't care to even ask. If the kids aren't dolls they can pose to their will, they pretty much don't care about them, and it infuriates me.
A few nights ago the phone rang at 8pm and Curtis and both looked at each other and just got this weird feeling it was his mom. I can't explain it, it's like it hit us both at once. It wasn't actually his mom, it was a telemarketer, but it was still bizarre for us to get such a strong feeling…
However, the following night at 8pm the phone rang and it was his mom. That made the whole thing even weirder. She talked to him for all of six and a half minutes and it was this long, passive-aggressive play on his emotions. Like, sniffling sounds followed by, 'how are you?' and 'your aunt has CANCER you know' more sniffling sounds. No, we don't know. We probably would have known if you had fucking told us though. The whole thing was ridiculously awkward, she offered no apologies for his father swearing and freaking out at him on the phone, and eventually ended the conversation by wailing and hanging up.
Sorry, but I'm not going for the bait this time. I just no longer have the patience. YOU gave US the silent treatment for months and now you want to give us melodramatic phone calls where you wail into the phone and wait for us to lovingly kiss your feet and beg for you to come back to insult our parenting some more? Because that's awesome.
The only reason Curtis continues to even bother is because I've convinced him it isn't worthwhile to cut them out of his life. Fucking christ.
Newcomers may feel like this is a bit of an overreaction, but there's about 15 years of history behind this bullshit so it's not like this is the first time. This is the tip of the iceberg, my friends. Just the tiniest tip. There was once a time where I was trapped in the driveway of their house while a relative screamed and shouted at me about how I was unChristian, a devil-worshiper, tearing the family apart, leading Curtis around by his dick, destroying their peace, doing horrible things to them and was generally the worst thing to ever happen to anyone… ever. All the while they just sat there quietly approving.
No one ever said sorry for that either. The closest thing I got was a letter to Curtis after Tempest was born that said, "Tell Heather she's forgiven". Though she still didn't speak to me until about six months before she died, where we had a strained conversation in a restaurant about lack of accessibility for people with mobility problems.
FAMILY IS AWESOME, YO.
Today has been a shit day for a variety of reasons. I am really, really looking forward to just laying in bed this evening and watching X-Files with Curtis while enjoying some Smirnoff. Also: to be laid. Probably impossible given the baby's recent sleeping habits, but a girl can dream.
A baby in a basket. This is like the ultimate playpen. I love it because it prevents her from falling over when she gets too excited and she'll play happily there while I fold clothes for up to 25 minutes.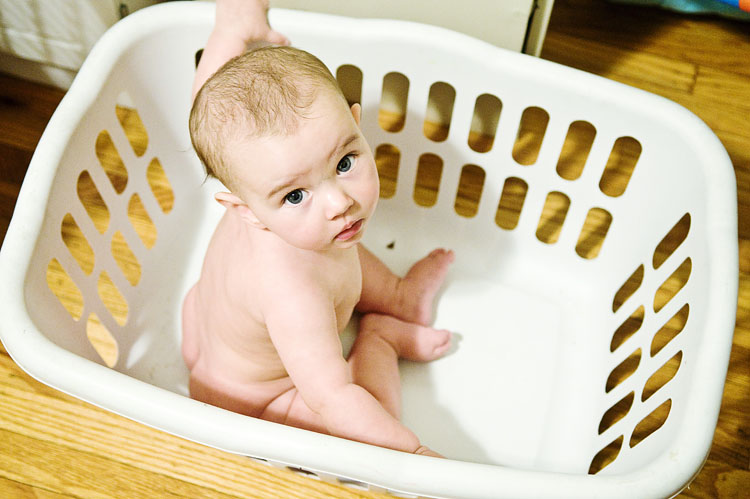 Bath time.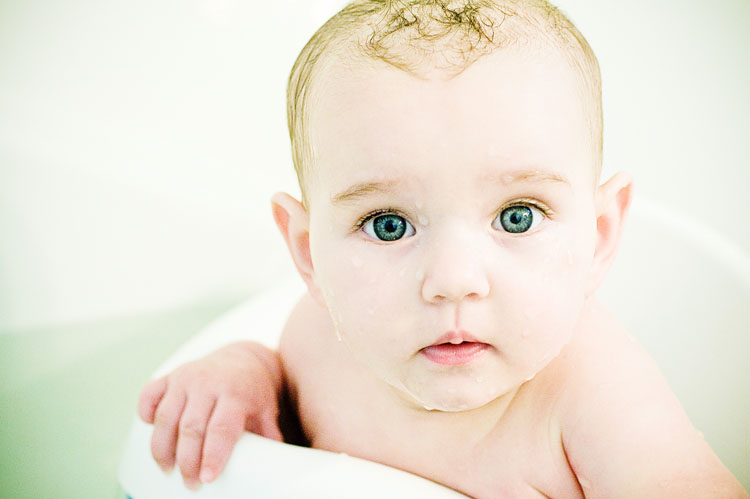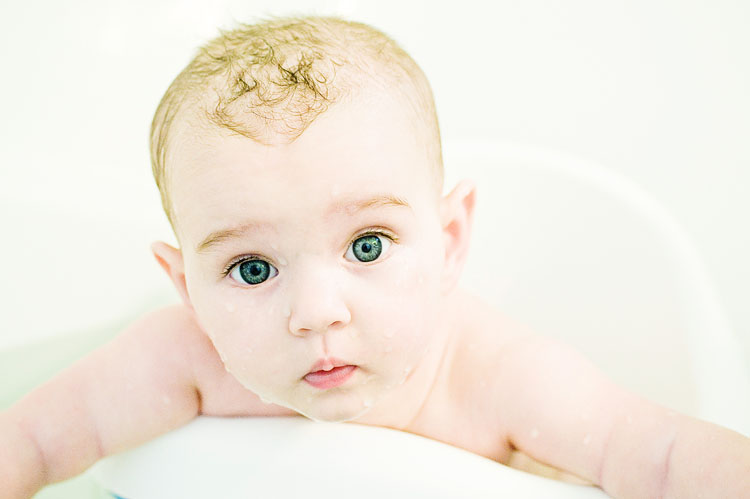 Related: who does she look more like? I'm definitely thinking Tempest, though many of her expressions are totally and completely Xan.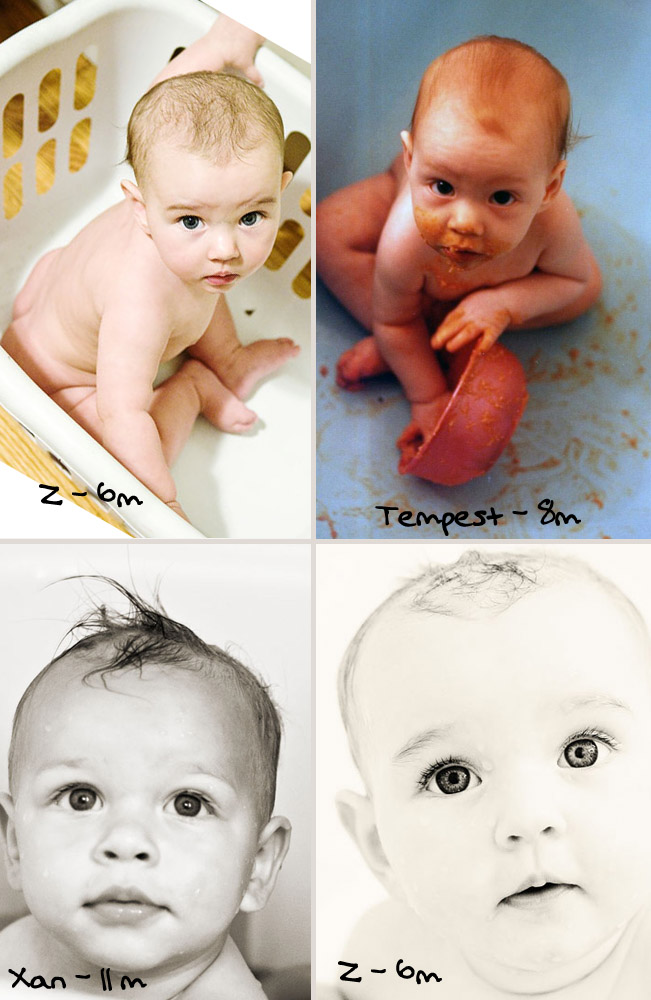 Also, I'm finally close to finishing the Hell Dress of Doom. I tried it on Tempest the other night just before finishing up the skirt and it's actually looking pretty good.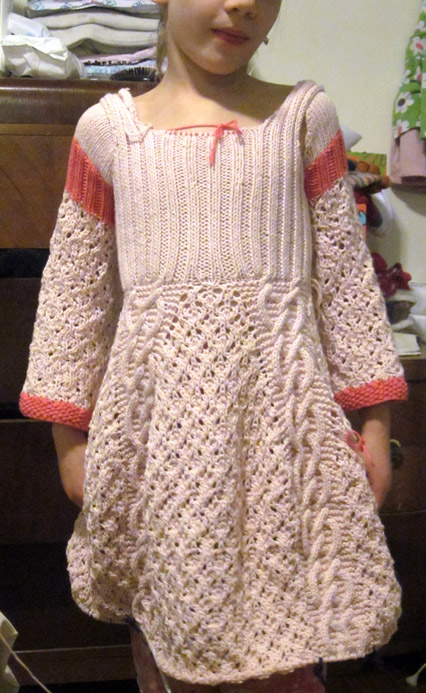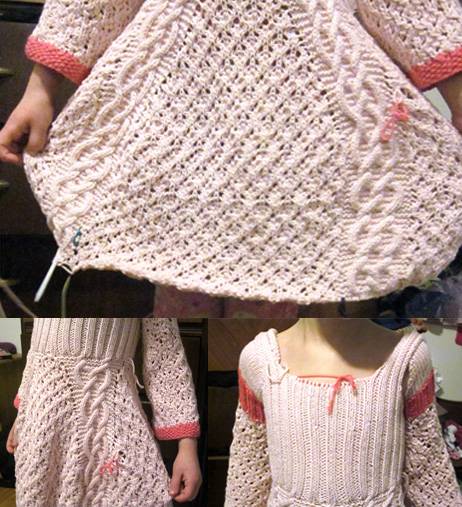 Since then I've done the trim on the bottom and redone one of the sleeve caps. I don't like how the fuchsia band seems to ride up on her shoulder, so I ripped back the cap and added an extra 1.5″ of light pink to the sleeve before beginning the cap shaping. I'm also conflicted on whether or not I'm going to add a crochet ruffle to the bottom of the skirt underneath the banding. So far I haven't done anything but I'm considering it.
I also have yet to do a collar. The pattern calls for a pain ribbed collar about one inch tall, but that seems really boring… it might look better with something a little nicer, but I'm not sure what. Maybe something a little ruffly? If anyone has a good idea for a nice collar, let me know. I might as well change everything about the pattern, as I've already changed the skirt, the bodice and the sleeves to fit my needs (and get as far away to the BULLSHIT ERRORS as possible. Fuck this pattern, seriously. I cannot believe I paid $8 for it).
Oh, I'm also going to add a cabled belt to it to cover up my spastic decreases at the waist. Tempest likes that part as it'll be long enough to tie into a bow at the back.
Quotes of the Day:
(This one was already shared on my Facebook account, so any followers there probably already saw it).
Xan: "What was Crazy Grampa's name before he was grampa?"
Me: "Grampa's name is Michael. His name is always Michael, you guys just call him Crazy Grampa".
Xan: "No, I think he was Michael only before we were born, but after we were born he went really crazy, so now he's Crazy Grampa".
Followed by…
Xan: "What's his mother's name?"
Me: "His girlfriend's name is Beth. She is a mommy, but she's not Grampa's mommy. She's his girlfriend."
Xan: "Oh okay. Is she a grandma?"
Me: "Not yet."
Xan: "What are we supposed to call her?"
Me: "Beth."
Xan: "No. I think it's Crazy Beth. If she's living with Crazy Grampa, she must be Crazy Beth."
Tempestism:
A few days ago we asked Tempest how she'd feel if one day she had another little brother or sister. She said she'd LOVE more little brothers and sisters.
Me: "Are you sure? Some kids don't want to have little brothers or sisters and enjoy being on their own."
Her, legitimately horrified, "That's so mean! Why would anyone not want brothers or sisters?!"
Links of the Day:
African portraits by Mario Gerth – Amazing, beautiful portraits of men and women (and some children) mostly from tribes in different regions across Africa; countries such as Namibia, Niger, Kenya, Mali and Ethiopia.
Free Harvard online courses – Exactly what it sounds like.
Meringue snowflake recipe – Super easy, fast and adorable recipe to make little meringue snowflakes for the holidays. I'm putting this here so I'll remember to make them too.
The difference between good dogs and dogs that need a newspaper smack – This isn't actually about dogs, it's about people. Most specifically, people with privilege and what that really means. This is very much a "Privilege 101" link and isn't specifically about racism or anything… just an intro to the concept and why it's sometimes hard to understand. It's VERY good, the language is non-threatening and it's very neutral while also giving a lot of fantastic information. This article is a PERFECT link for people who butt into a conversation from a place of massive privilege and seem to have no idea how people not in their situation can feel differently.
I do not like these shoes, but maybe you do – Hat tip to Nettie. A fantastic little article about the price of hand-made goods, people who pay for it, and why you should appreciate it if it calls to you.
Comments
comments