I had the mandatory postpartum meltdown last night after Curtis came home from work and immediately told me that he'd offered to come in the next day (his day off) to cover for someone else. The reason? His nineteen year old coworker has been whining passive aggressive all day about how he's sooooo tired and soooo sick and otherwise desperately seeking attention from people because he's a little bitch who seriously needs to get hit over the head with something. Anyway. After this obnoxious display they expect him to try and stay home from work the next morning, which means someone has to cover for him and the other guy has covered the last 6 weeks in a row so Curtis feels bad for him. It pisses me off that the whiney little kid with no attachments mopes about and the one that has to deal with his mess is the guy with a three week old baby at home.
It pissed me off more than Curtis offered without asking me first. I mean, I don't require much from him in terms of staying home from work and such, and really I would have been cool with it on any other occasion and I legitimately feel bad for the other guy who has covered so many shifts (he deserves a two day weekend, too)… but we are still in the first fucking month after childbirth here, and I'd really like to have those few two day weekends of family time that we can get during that time.
So naturally I can't sit there and be all, "STOP BEING A NICE GUY WHOSE BOSSES REALLY LIKE HIM, YOU FUCKING SUCK" so I stewed in my mix of guilt and depression and didn't say anything to him about it until that evening at around 11pm when Zephyra was super fussy and I realized we were out of swaddling blankets because the white laundry hadn't been brought up. I'd asked Curtis to do it three times already that evening and he kept forgetting, so this opened up an opportunity to have a quiet and respectful discourse wherein we politely express our feelings on the matter.
Or that would have happened if I wasn't certifiably insane by that point.
Instead I ground my teeth while I tried, for the umpteenth time that hour, to get Zephyra quieted and to stay asleep. And once again she wakes after 20 seconds fussing and grunting and wanting to nurse. I'm totally sick of nursing her because I really want her to just stay asleep, so I ask if Curtis can rock her for a bit, which he does, but it's obvious she's not going to quiet. I take her and she promptly upchucks all over her receiving blanket, herself, and me. I try and put her in another one, but it's too small to swaddle so she immediately gets out of it and fusses some more. Curtis asks if I want another one, and looks around to find one and realizes there are none in the room, at which point I freak out and start screaming, "IF YOU'D BROUGHT IN THE LAUNDRY WHEN I ASKED YOU TO WE WOULDN'T BE HAVING THIS PROBLEM, WOULD WE?"
And he just sits there blinking quietly, because years of training have taught him that one wrong move at this point could result in castration. That stillness was an obvious invitation to have a hysterical breakdown about why this is really hard and put a lot of effort into trying to be a mom to three kids and be exciting and interesting every single day and I'm having a bit of trouble adjusting to that as the kids come into summer vacation and are now home, bored and kicking the ever loving fuck out of each other 24/7 while I try and keep the baby asleep for just one. more. minute. so I can get up and pee.
You know, among other things.
I sat crying and yelling for a good ten minutes while Curtis quietly watched and didn't say a word until I was finally out of breath. He's remarkably good at this, so even while I launched myself into space off the power of my venomous rage he just sat there calmly until I paused long enough for him to respond with something like, "You do work really hard, and I can see that. You do a really good job with the kids and they're really happy. They're adjusting, too. I shouldn't have offered to work that shift without asking you, that was inconsiderate. Would you like me to get the laundry now or do you want to talk some more?" and then I'm like… okay fine. Jerk. Just go get that laundry because you totally sucked the air out of my rage by being calm and rational and now I obviously can't keep yelling at you.
These brief hormonal moments are all part of the lovely mix of postpartum withdrawal and for the most part I'm handling it okay but then there are these random triggers that make me flip out for no reason. For instance, the way Tempest has learned to ask before glomming onto Zephyra. I'm glad she asks, because the first few times she just sort of walked in and smothered her after I'd only just gotten her to sleep, which really upset me and I sent her out of the room, but there's something about the way she asks that makes me go a little nuts. She'll walk in and say, "Can I touch her?" in this quiet little way that makes me want to respond by screaming, "I AM NOT A MONSTER!" and burst into tears rather than something rational like, "Of course honey, just be gentle while she's sleeping".
Really though, the kids are great with her.
But I am really feeling the sudden drop in hormonal output. It's like reverse PMS shot into the vacuum of space and straight into a black hole…. but, hormonally.
Totally unrelated to the rest of the entry: Zephyra is like a little baby bucket of random recessive genes. She has a widow's peak, and a single – and very prominent – dimple on her right cheek (which my dad has), she has darker skin than any of the other kids, a more visible [ Mongolian Spot ] than Xan had and even a little cleft chin. After another two dozen people said she looked like my dad and/or Marika, or even Sophia, Curtis sighed dramatically and said, "Do you just… like… asexually reproduce? Are you sure you even need me for this process, or am I just along for the ride?".
As Xan gets older and his face thins out I think he's starting to look like Curtis, though in general it's true that none of the kids really look much like him at all.
Curtis at five.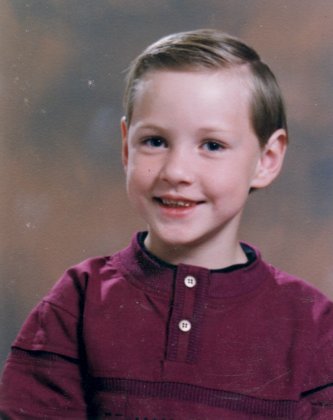 Xan is much darker and heavier-featured than Curtis is/was, but I can see the resemblance growing, like in this picture when compared to the above.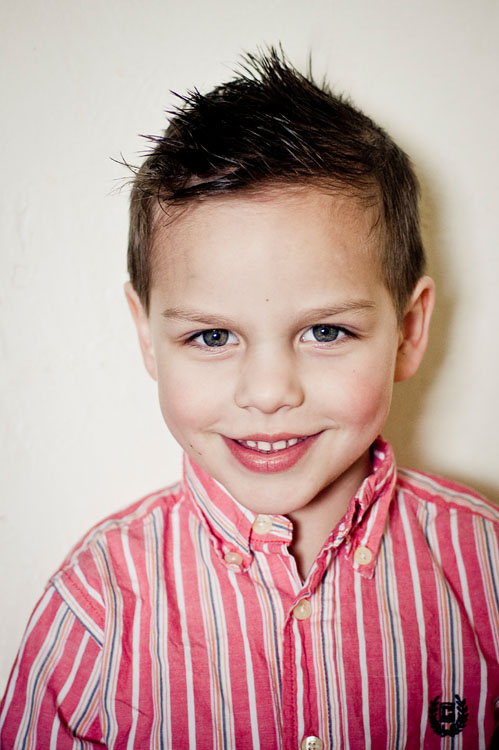 But then again sometimes I come across things like this class photo that popped up on Facebook through an old school friend of mine, and I realize that me at five is like Xan in a dress. Or, you know, Xan 50% of the time…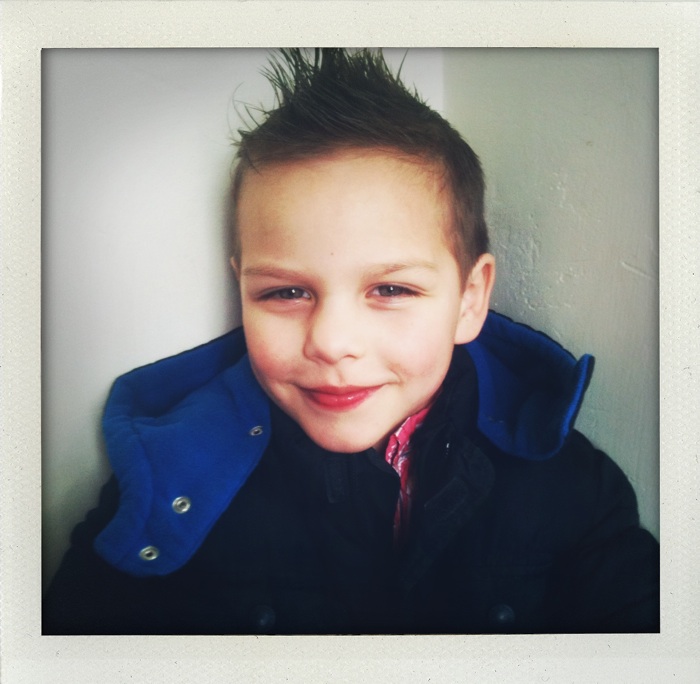 So far I'm not entirely sure who Zephyra resembles other than Jericho, but as she gets past that folded newborn stage she looks less and less like him, merely because we never got the opportunity to see him grow past a newborn. She has Tempest's mouth, Xan's nose, and these weird eyebrows that sort of stand up and look very 'mad scientist'-y. A lot of people have said she looks like Curtis, but newborns often look like their fathers for evolutionary reasons and they tend to grow out of it, so I'm not sure if that will stick either. She certainly is an odd one. I'm so interested by her mere existence; I want to see how she'll fit in this family. The big kids couldn't be more different from each other. They are polar opposites and it makes me eager to see where Zephyra will turn up on that the spectrum.
Today while we were walking around doing errands I was watching Tempest and Xan as we made our way to the grocery store. Tempest had her nose stuck in a book about the latin names of flowers and occasionally popped up to say, "I've been practicing how to walk and read at the same time, so I won't run into anything. I'm very safe. I need to keep reading."
And then there's Xan picking up every rock, stick and pinecone he can find and slamming it up against various objects to investigate which makes the most obnoxious noise until he finally figures out that a pinecone rubbed against a metal pole can make a sound that causes people half a block away to cringe in abject horror. So then he sits there and does it over and over again, with a shit-eating grin, while singing, "LA. LA. LA LA LA!" and otherwise attracting as much attention to himself as humanely possible. If someone so much as asks Tempest how she's feeling these days she skitters off in silence because she's too socially awkward and introverted to return a polite smile let alone start a conversation. She freaks out at the sight of a cut toe that she didn't even notice 15 minutes earlier. Xan gives total strangers a walking tour of our home and then invites them to watch him perform a song and dance routine about his bloody hand while wearing a sparkling tutu. How are these two even related? They get along for approximately 1/25th of every day, if I'm lucky. Both are intent on carefully crafting Zephyra into a clone of themselves: Tempest wants to read her books and teach her sign language (she's already taken out several books on ASL to study) while Xan asks me daily why he can't jump on the bed with her and how many days he has left until she can play chicken with him.
I'll finish this up with a picture of the only knitting I've done in the last month.
Zephyra is an angry pumpkin.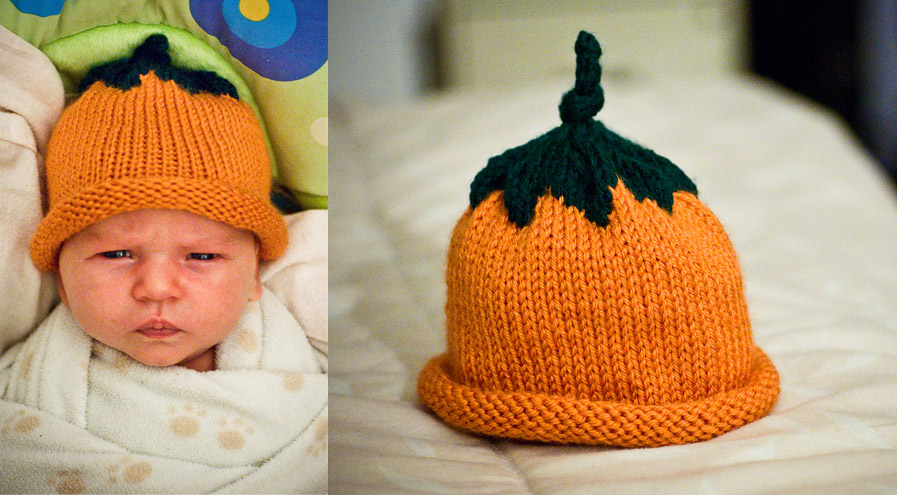 ---
Wait, I lied: I kept meaning to post this and haven't yet. Normally we don't invest in preschool pictures because they suck and I think the whole concept is kind of silly, but after this class photo showed up I immediately forked over the $24 for it.
I suppose his preschool photo was cute, too. Sort of.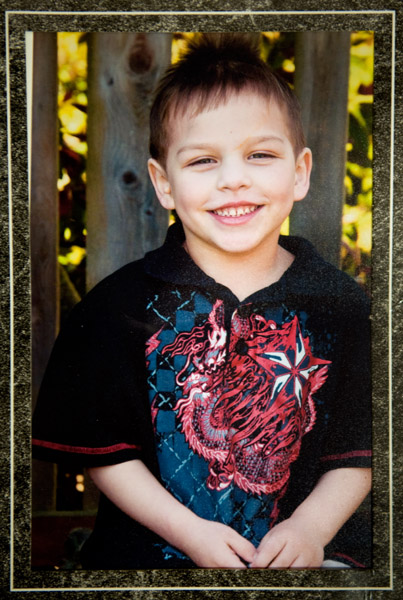 But this? This is the reason I immediately needed to have his class photo on my mantle.

Comments
comments