I forgot how tired and busy you are with a new baby. Have I really done this multiple times? I keep having these "OMG WHAT DO I DOOOO" moments of new-mom-hood where I look at my other kids and realize I can't remember how I got through their newborn stages. Maybe there's a good reason for that.
She's six days old now (!!!), which is insane. Other than days 3 through 5 where she was up from 3am to 6am fussing and cluster feeding, she's slept pretty well. She wakes about every two hours on the dot for a feed and goes right back to sleep. The only problem is that with her feeding problems I have to make a production out of each nursing by turning on the light, sitting up, working on her latch and ensuring she finishes a feed sitting up, let her puke, etc… rather than the ridiculously simple, "Roll over, latch on, fall asleep" method I used previously. Her tongue tie appears to be type 3 or 4 according to the lactation consultant I talked to (haven't seen them yet, but talked on the phone) which means it's a posterior tie and she doesn't have a whole lot of mobility in her tongue. It's affecting how deeply she can pull breast tissue into her mouth, as well as her ability to control the flow of milk, so she ends up having a very shallow latch that clicks hard and she chokes pretty badly every time she nurses. We have to pause every 1-2 minutes and unlatch to ensure she doesn't choke too hard. She swallows a lot of air and gets very gassy and uncomfortable at night, but I've found that by feeding her upright and keeping her upright after a meal for at least 20 minutes she does a lot better. With all this going on I have to be really mentally present for each feeding so I can help her out, which means I can't sleep through them or browse the internet and whatnot. As the days go on she gets a tiny bit better, and I'm hoping that means she'll learn ways to nurse 'around it' as the lactation consultant suggested may happen.
It's kind of interesting to have a baby I have to teach to breastfeed. While she learns I'm left wickedly sore, and blistering, and have to pump at least 1-2 times a day to ensure my breasts are drained properly and avoid mastitis (which I'm doing only by the skin of my teeth, it seems)… but we're managing. We're setting up an appointment with a pediatrician/IBCLC to take a harder look at her tongue and jaw to see if it can be helped without surgery. The reason we're going so far with it is that it's a bit more than simply a short frenulum: she doesn't have one at all.
The good news is that she's extremely well fed. Sometimes tongue-tie babies have some trouble gaining weight due to the improper sucking and moms not getting the support they need to ensure their supply stays up… but we're not having that problem. My milk came in after 18-20 hours and at six days postpartum it still appears to be refilling at an alarming rate. When Jill came over to do her PKU she said, "This is an abnormally well-hydrated two day old baby!".
I did a rudimentary weigh of her on our shitty bathroom scale and it showed her at 8.5 by 4 days old. I'm not entirely sure that's accurate (or humanely possible), but either way I know she's gained weight in those first days because I've already had to start adjusting her diapers to the next snap setting.
Speaking of diapers, she is a shit machine. Holy shit. A shit machine. Did I say that already? We had our official newborn portrait session with a photographer friend yesterday, and she had a big foamy crap every 25 minutes. By the end of the afternoon there was not a single blanket, towel, wrap, prop or person not covered in poop.
I was given one sneak peek image yesterday evening, and will get to see the rest next week.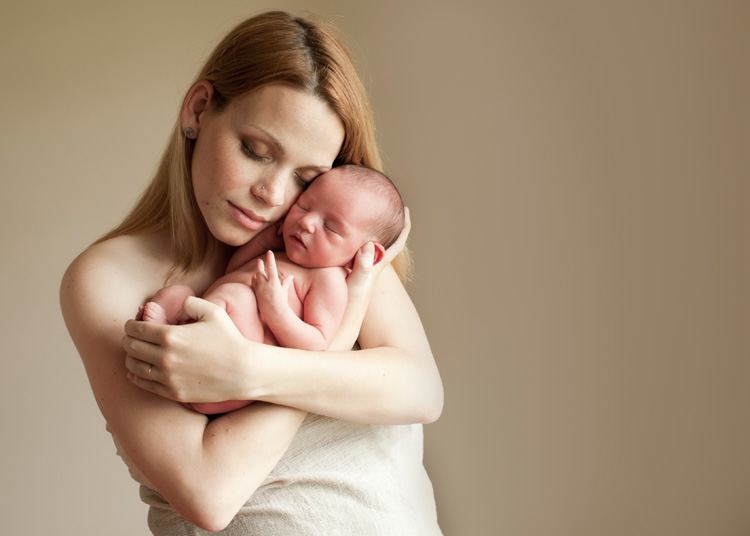 Also, that woman has amazing patience. I do not have sleepy, curly babies that let you manhandle them for hours on end… I have fussy, sensitive babies that startle if you breathe too deeply. And she still managed to get a lot of fantastic shots that I am SO SUPER EXCITED to see.
Still waiting on my birth photos, also ridiculously excited to see those. I'm waiting on processing my birth video until those come back. For one, it's really short (13 minutes) and secondly it was taken from a shelf, in the dark, so you can't really see much until the very end. I figured the best way to showcase it would be to make a slideshow out of the images and the video and splice the best parts together. I am trying to write out my birth story, I just keep not having the time to sit down and do it. Every time I have a free moment it's usually midnight and at that point it's like… why am I not sleeping?!
Also also: food. I love food. God, I love food. Did you know I've been eating food? Every day? And dinner? Every night? And sometimes even a dessert? And a glass of wine? And pineapple lychee sorbet? AND FOOD?! THAT STAYS IN MY STOMACH!?
This is mind blowing.
PS. I have a baby!
Comments
comments