So, who called it? [ June 2nd ]. High five!
I keep meaning to finish and post this entry, even partially done, but every time I open up the computer I fall asleep and I figure I should probably do that before writing… right?
I am having a very weird time with this whole, "I just had a baby" thing. It's not sinking in. Is this my little dark-haired newborn sitting in my arms nursing? I mean, it has to be… but truly? How did this happen? Where did she come from? Wow.
For her first day and a half she barely nursed at all and seemed far more interested in quietly interacting with the world around her. She went back and forth between long quiet-alert periods (2-3 hours at a time) and sleeping in huge chunks. When she did fuss for a suckle, she was a lazy latcher and I've really had to work at her to get her to get a good mouthful of breast; she seemed content just to sort of lick at me and fall back to sleep. She also spent that time passing buckets upon buckets of meconium. She is a little shit machine. I swear to god she's going to be a pound lighter tomorrow.
Today she's nursed a metric tonne, but I notice she clicks a lot and swallows a ton of air. No matter how I latch her she can't seem to get on very deep, so my nipples are getting kind of sore. She doesn't seem to be getting her tongue all the way over her bottom gum either, and what I can see looks heart-shaped: so she's got a little tongue tie. I called my LLLeader earlier to get some tips. I may be a breastfeeding counsellor, but it's next to impossible to counsel yourself.
A few queries answered:
1. "Is your hyperemesis gravardium gone?"
YES! NO MORE HG! OMFG! The relief wasn't quite instant, but within a few hours the difference was night and day. I was so accustomed to the sensation of being on the edge of vomiting all the time that I barely even noticed it was there until it was just… gone. GONE! Unfortunately I've been cautious around food for so long that it's hard to accept that I'll be okay if I eat when I'm hungry. Some hours after birth I sent Curtis out to get me a disgustingly greasy and oversized bacon cheeseburger from a local drive-in: a food I've been craving so, so, so bad but am never able to eat due to the nausea. While he was gone I actually sat waiting at home with butterflies in my stomach from the idea that I'll be able to eat it without consequence.
It was the most beautiful meal in the world. I ate the entire thing in five minutes. AND THEN DESSERT. And when I didn't immediately start projectile vomiting, I had to fight back tears.
Last night we walked to the store (just a few blocks, don't worry) to pick up some cheddar cheese for dinner this evening and as we passed the cheese aisle I looked up and saw brie sitting there. I haven't been able to eat dairy in weeks due to the nausea. Curtis saw me staring at it and grabbed my shoulders, "No, no… this way," he says. He leads me to the specialty cheese section and waves his hand, "This is what you want."
I teared up. "I can't make my mind up…"
Without missing a beat he sang, "… which cheese will you taaaaake?"
I grabbed some double cream brie and applewood smoked gouda, and then we went to the liquor store and grabbed some cider, came home and sat in bed watching anime with baby sleeping between us… EATING AMAZING FOOD AND HAVING AMAZING DRINK. I just… I don't even have words for this kind of joy.
2. "How do you pronounce Zephyra? / What's her middle name?"
Zephyra is pronounced "zeff-ear-ah", but bring the sounds closer together. It's the feminine form of Zephyrus, God of the west wind. Her middle name is Adia, [ like the song ]. Together it's "Gift of the west wind". The (first) name came to both of us from pretty early on and we sort of played with it for a while. Then during early labour my doula was commenting on the gusting winds and says, "It's a spring Zephyr coming in!" and Curtis I both exchanged this look. Of course, just as with Tempest, the gusting winds stopped as soon as she was born and changed to gorgeous sunshine. It's been beautiful and warm ever since. Everyone keeps commenting that she stopped the windstorms, even before they knew her name. It's kind of awesome.
3. "Birth story?"
I haven't even started her birth story yet, but it's pretty short so it's not like I have a lot to write out. Active labour was 1.5-2 hours long and I got to 7cm dilated before it began. So my entire labour..? Transition, and then six pushes. Though I only felt the urge to push in the last 2-3: her bag was intact and very cushiony until she crowned so it dulled the pushing reflex. I really did not feel it at all until I accidentally broke the caul by sitting on it.
There's really only one way you can describe a labour like that, "Holy. Fucking. Shit." Like I said: rollercoaster. It felt like it went way too fast and was completely out of control for the last 30-45 minutes; I've never had a labour that difficult.
That said I feel fantastic. Even though the labour was hard, once I recovered physically (which took about 45 minutes) I felt just… amazing. I feel so much better. SO MUCH BETTER. Oh my god. I'm so glad I'm not pregnant anymore. I want to dance. Dance the happy homebirth dance! Speaking of which: holy crap I just had my second waterbirth, and my second VBAC! Damn am I ever happy about that. Birth. BIIIIRTH! BIRTH ROCKS! That was really hard, but NATURAL BIRTH STILL ROCKS.
4. "How did your back/nerves/pain hold up?"
Ow, my spine. That hurt. A lot. The nerve pain didn't bother me a single bit during labour or birth, thank the fucking fates for that, but my spine sure did. It was hard. Really, really, really hard and it hurt a fuckofalot more than any other labour and birth experience I've had thus far, with 90% of the pain focused in my fusions. I think the only reasons I didn't beg and plead for an epidural was because a/ it went too fast, and b/ I was in so much pain I was afraid to stand up and get in the car to go to the hospital and face EVEN MORE PAIN on the way… but damned if it didn't cross my mind, and I've never wanted one before. I'm very glad I had the birthing pool set up, because I cannot imagine how much worse it would have felt without the water taking pressure off my back. I screamed so loud through the last half hour that my voice is still recovering. Spinal fusions can fucking die.
You sure you want to see the video..? It's loud.
4. "Is she as active on the outside?"
She didn't stop until the moment of birth. Literally, did not stop moving the entire time I was labouring with her. Even while crowning. Jill said she's never seen a baby do that in the birth canal. When she checked me at fully dilated and tried to help her descend past the bag without breaking it, she could feel her head spinning in circles like she was watching a ball fly around a room.
PS. The reason the midwife was doing that is because I'd asked her to: the bag was impeding her coming through to some extent because it was SO blown up. It didn't really "prevent" as much as it just, "slowed down". I stayed at complete for like 25 minutes with back-to-back pushing contractions with no urge as a result of that, but I was very resistant to the idea of having my water broken artificially unless it got way too much for me to handle (don't get me wrong: I was this close to asking for it).
5. "Did Tempest and Xan get to see?"
Yes! The end went so fast we all sort of forgot to grab them, but thank god the backup midwife Julia said, "Do you want me to get the kids up?" and ran back to pull them out of bed. Xan saw more than Tempest did only because Tempest is like a 16 year old when it comes to waking up. She had to be slung over MJ's shoulder and dragged out unconscious and naked before she finally, blearily, opened her eyes. However, once she was awake and watching… she cried in joy. 🙂
One of the things that impressed me was that they slept through my entire labour and weren't bothered in the least by the horrific noises I was making once they were awake. And I was REALLY making some horrific noises. All that prep work we did watching videos of all types, talking about screaming and loud moans and groans really paid off and they were not bothered in the least by my complete inability to handle the end of labour.
6. "PEEKTURRRRRZZZZ!"
First of all, I have two teasers from the birth that my photographer gave me. I am FREAKING OUT to see the rest of them. I mean, no pressure, I realize I made her stay up all night long… but why aren't they done yet?!
Curtis supporting me.

Moment of birth. The watch says 4:24:20 – so we were one minute off depending on which clock you go by.

Secondly: creepy, right?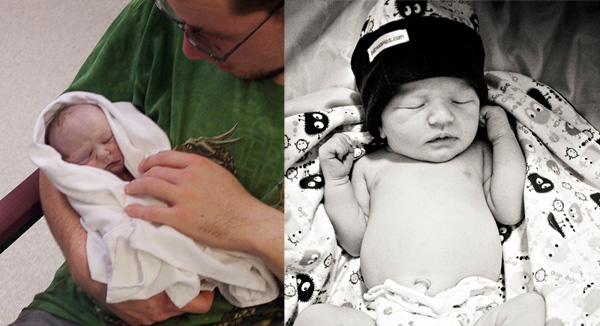 She looks exactly like Jericho. In my labour and birth delirium, I thought she was Jericho and started screaming, "Is she alive?" over and over again.
From day one:
Wearing the first diaper Tempest and Xan wore.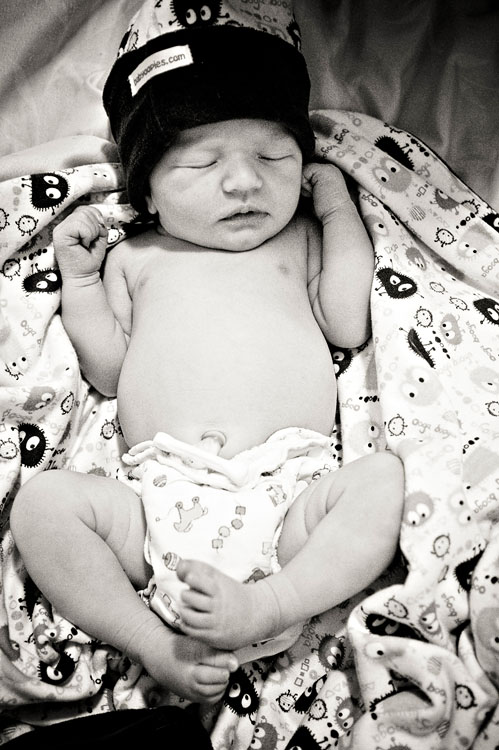 My dad doing his Zephyra impression.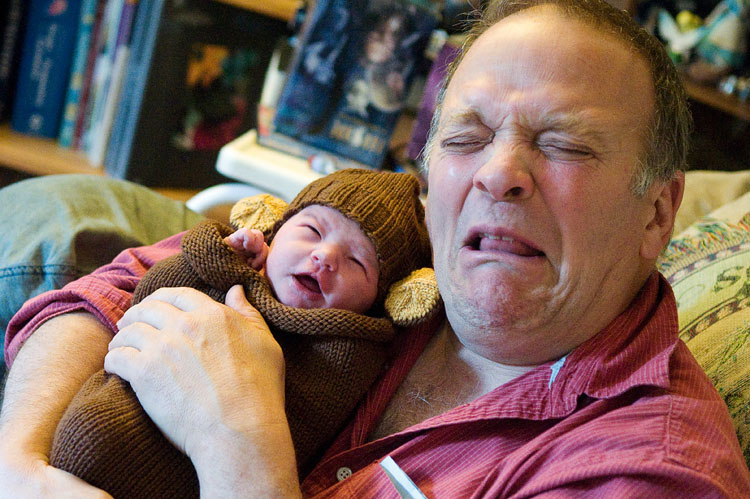 After I took it he joked that it should be his new profile picture on Facebook. I dared him to do it.
He did.
He started singing quietly to her and she immediately woke up and stared at him, quietly, for a good half hour while he made up lyrics to songs with her name in them. It was so amazing to watch.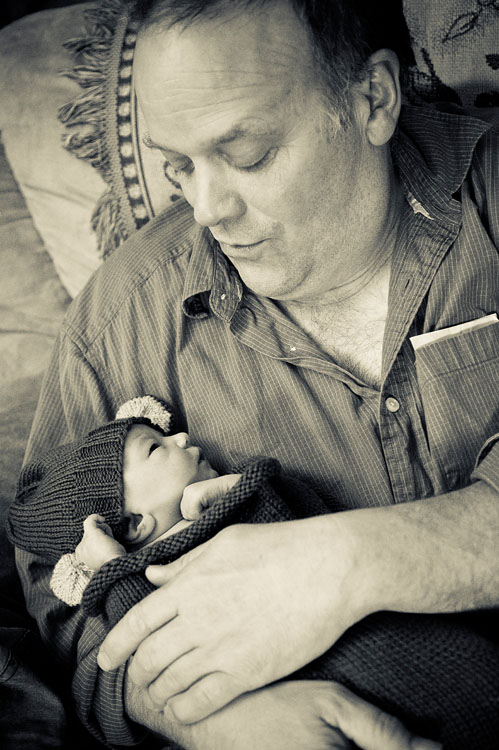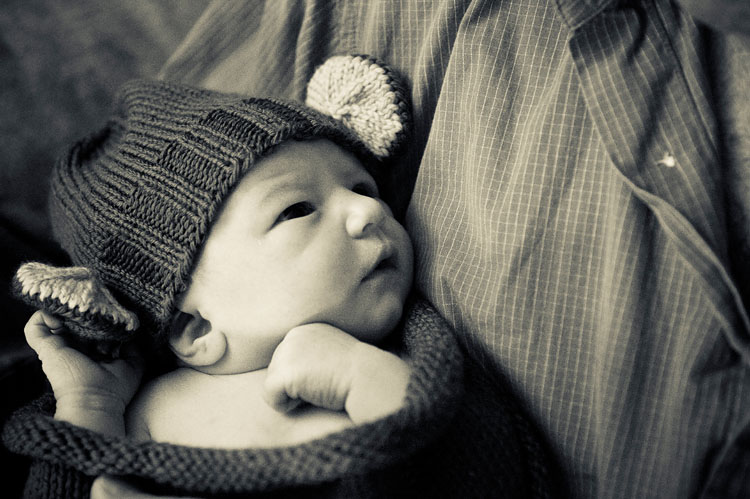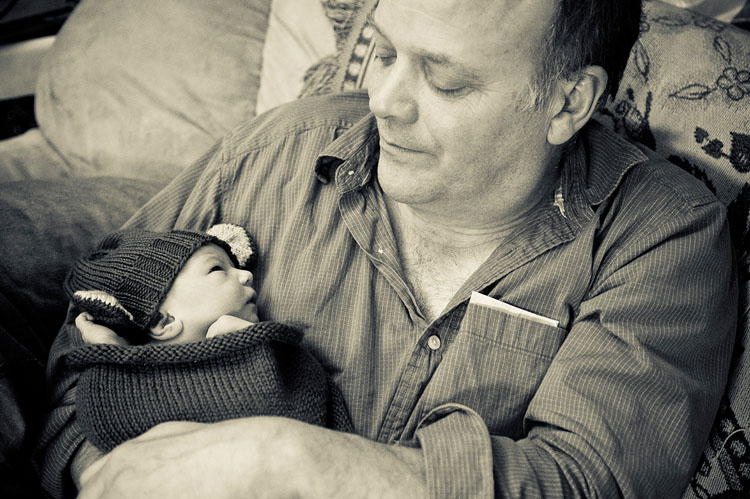 Oh, and that ridiculously fucking cute monkey bunting and matching hat? LC's handi-work.
By popular demand, I did a follow-up photo in the style of my belly pictures. This is me freshly postpartum, about 20 hours after birth. With the HG I only gained about 17lbs (I weighed myself for the first time two days before she was born), which means I'm almost at my pre-pregnancy weight two days later – and believe me, that's not a good thing – I have to be super, super careful about my nutrition for the next few weeks because it's too easy to gorge myself. My body has literally been starving for 10 straight months and is desperate to pack on some fat. I've also lost quite a bit of muscle, not that I had too much before, but I still plan on starting some gentle pilates once I'm a few weeks into recovery to help my body get back into a condition that's actually usable.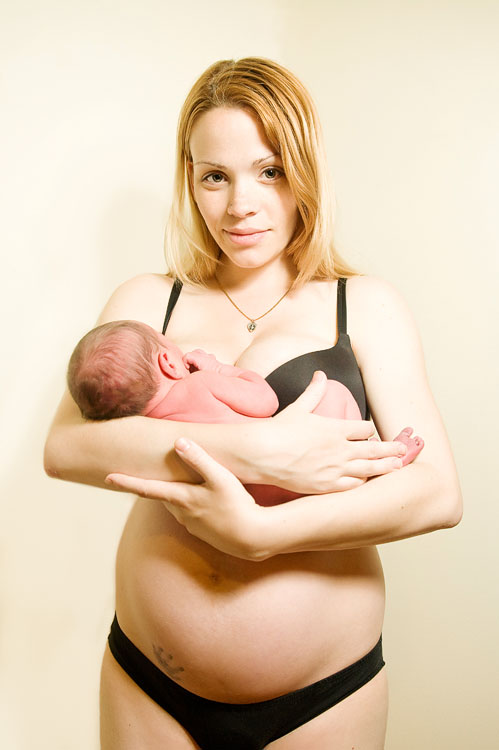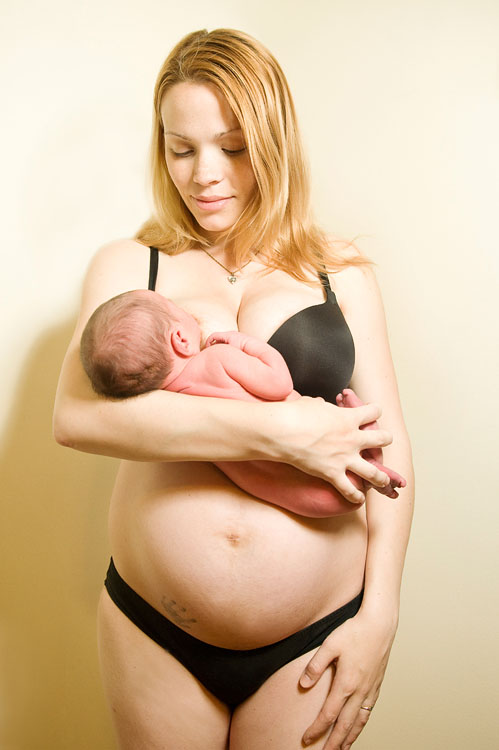 I said I wouldn't update it again, but I figured I should add a postpartum picture to make it truly complete: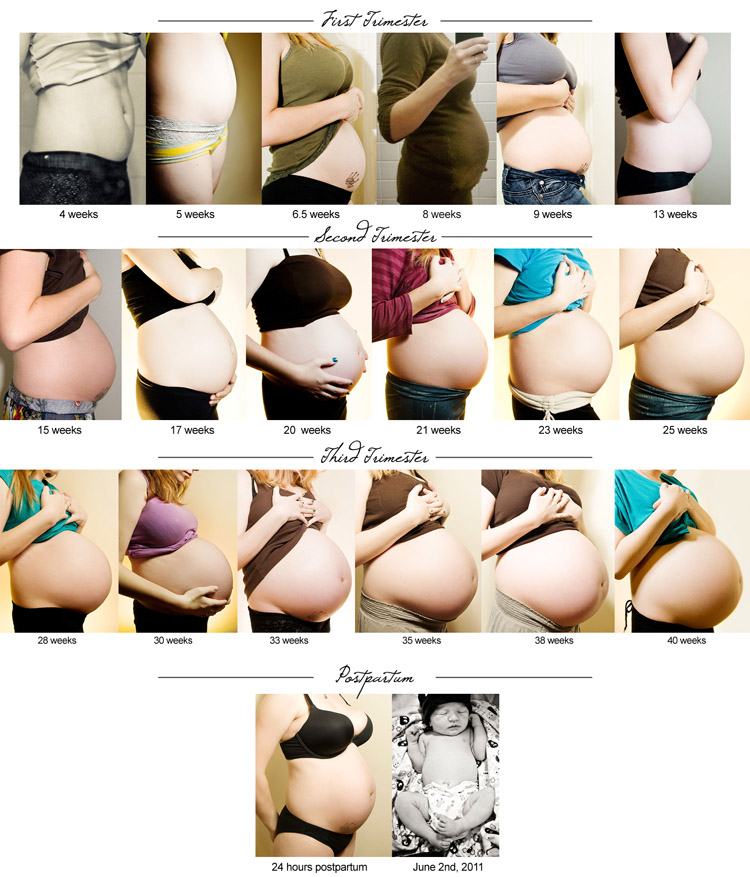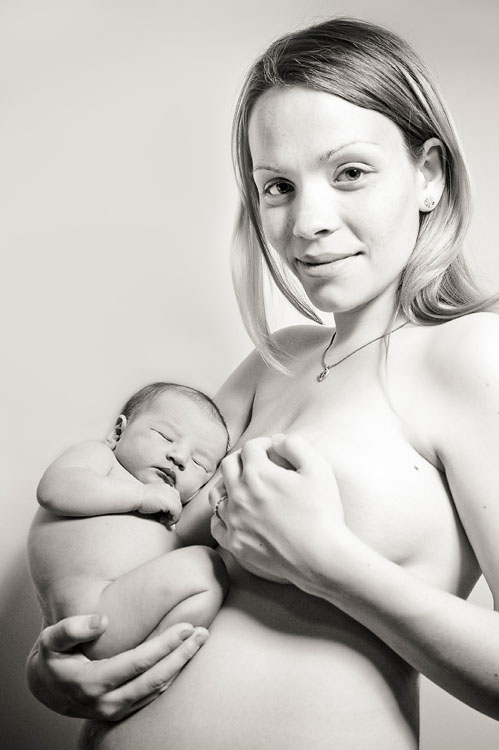 Comments
comments