First, old stuff I wrote two days ago:
Hey look at that I'M STILL PREGNANT.
I realize this is premature, as I'm only 40 and 5, but I can still bitch and whine about it. All my pregnant buddies have had their babies already, save for one who is due two weeks ahead (she is my fellow ICAN co-leader). If she has her baby before me I'm really going to go off the deep end.
A few days ago my cousin had a baby girl in a birth pool that was set up in the livingroom of a friend's home in a nearby city. She wasn't able to get a VBAC where she lived: they're banned. So she took matters into her own hands and had a healthy, happy and fast waterbirth VBAC.
My forum buddy had her baby girl the day before we were both due, also a waterbirth.
My UC buddy that I met at an LLL meeting had her third son on May 11th (midwife attended).
Even people in my June 2011 due date clubs have started popping. That's not quite as depressing as wading through the dozens upon dozens of happy birth announcements in my May club… but it's getting there.
I got my new cane in the mail: it's a folding cane so I can stick it in my purse when I don't need to use it. It's kind of awesome and I love it way more than the wooden grandma stick that I've been using. Plus, it actually fits me correctly so my shoulder doesn't hurt when I lean on it… bonus! My mom keeps trying to steal it because she says it's prettier than hers. It is prettier than hers, but it's also mine.
Now I just need to get to work on that skin idea…
With a proper cane at my disposal I've managed to regain some basic mobility and have been trying to walk a little more than I was before (which was not at all, so really, anything is an improvement). As long as the weather is not miserably depressing and pissing rain I can manage to have a little walk almost every day. Walking, unlike sex, is good for contractions: I'll have back-to-back braxton hicks throughout the entire trip. They always stop when I get home, and I'm left completely drained by the experience, but at least it's giving me enough action to sort of pretend like I'm going to go into labour soon so I can mentally milk that idea for all its worth.
Today we walked to the library, ran errands, shopped, stopped for coffee and all that good stuff… the contractions didn't stop from the minute I stepped foot out the door until the minute I managed to crawl back into bed two and a half hours later. They're not bad enough that I have to stop and breathe through them – at least not normally, though every so often my womb will throw one of those in there – but they're obviously doing something because I'm really feeling them in my cervix and they definitely weren't like that before. I checked myself earlier this evening and found I'd dilated and effaced a little more since the midwife visit on Wednesday. That's both reassuring and depressing.
I'm nesting like crazy; scrubbing tubs and sinks, sweeping floors, folding clothes and even gardening. Don't get the wrong idea, it hurts like shit and knocks me out for two straight days after I do this stuff, I'm just ridiculously stubborn and push through regardless of how damaging I know it is. I'm sick of sitting on my ass all the time.
The kids and I spent hours upon hours last week clearing out one of the overgrown beds and prepping it for planting. I'm slowly learning about gardening through very painful trial and error, gradually getting better and better at it with each consecutive season. For instance: this year I bought stakes and a bird net to protect the veggies we're going to be planting directly below the flock's favourite feeding tree. That one didn't occur to me last time. The kids also insisted I buy some strawberry plants, along with green beans and lettuce – so now we have all three planted there and will spend this next week working on their flower choices in hopes of attracting some butterflies.
This is what the raised bed looks like now.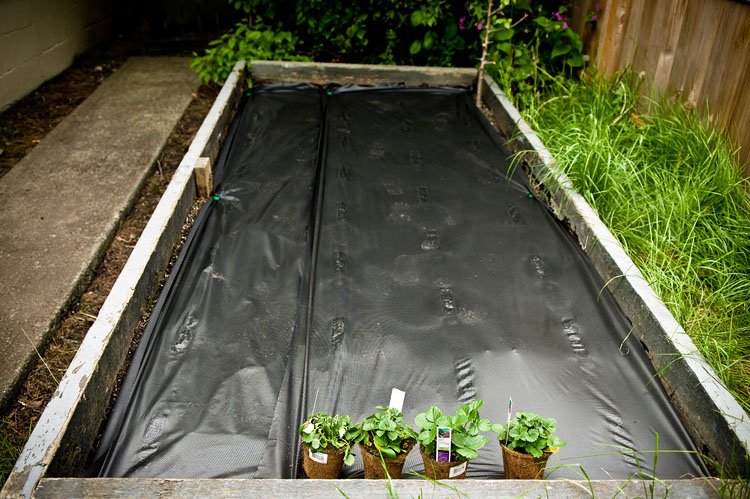 (Sorry, no before pictures: it was too bad. Suffice to say it took four yard bags worth of debris and weeds before it was deemed acceptable).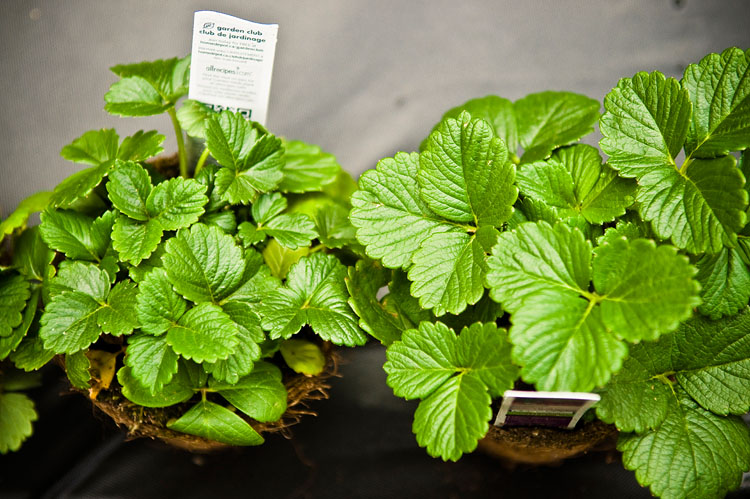 Except picture it with stakes and a net as well. I really like gardening, I just wish it wasn't so hard to do – at this point, or any.
In totally unrelated news: I got a wonderful care package from LC, who hasn't been able to visit us in months due to a severely sprained ankle that she can't walk on. She worked her crafty mojo and sent the most amazing cornucopia of baby stuff. Xan was there when I opened the box, and was very excited by all the awesome things that we found inside. He insisted I take pictures to catalogue it all.
Woolies.

Covers and a monkey cocoon with matching hat.

Newborn set (super large blanket, onesie and hat) with purple velvet lining.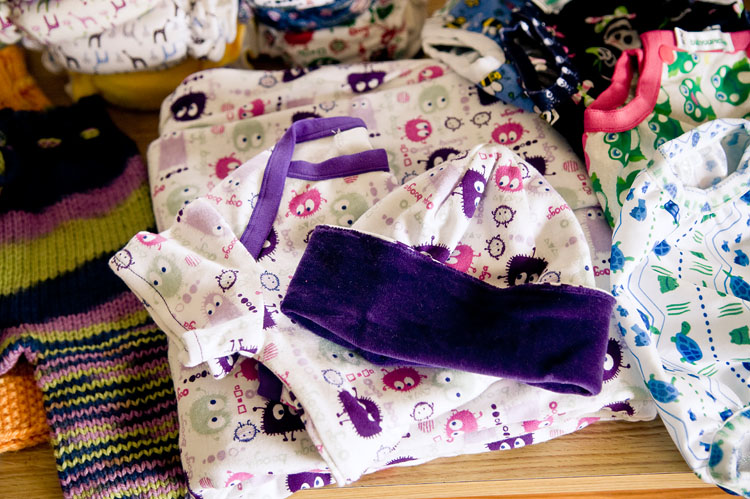 Diapers: smalls, newborns and one medium. All made with organic bamboo.

My new favourite diaper cover. EVEN THE EDGING HAS SKULLS!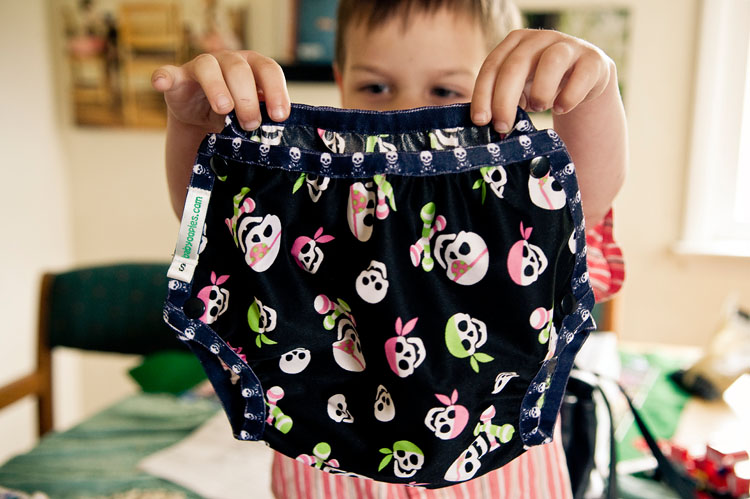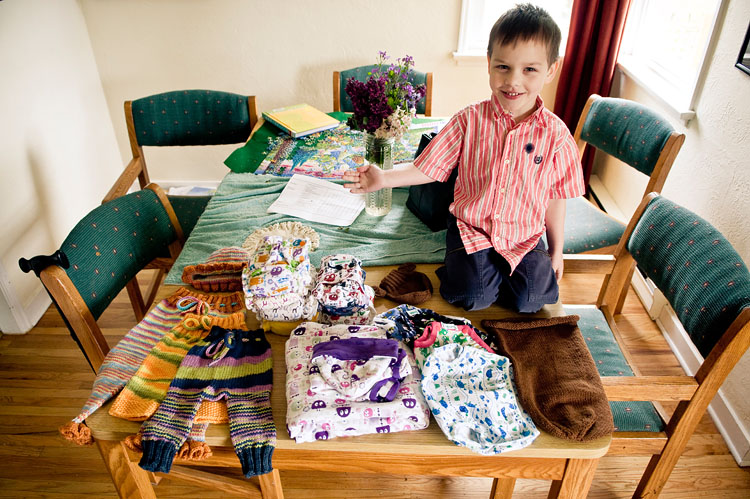 This shipment of super adorable butt wrappers completes our diaper stash: we're now prepared with an adequate supply no matter if baby is teeny or big. God I love cloth diapers.
---
These conversations were so funny I actually started taking discreet notes as they were happening so I wouldn't forget to write it down later. Curtis' sense of humour absolutely kills me.
I was reading out this recent article to Curtis about how [ the FDA is banning birth pools ] in the USA. He responded with slack-jawed silence before finally commenting, "What is with this war on women's choices in the US lately? No wait, what is wrong with the US as a whole?". He started ranting about it and didn't stop for a half hour. I always find it really hilarious when he does this; he is an American and still holds citizenship, he's just a landed immigrant here. Sometimes people recognize him by his accent, but rarely. He's mostly lost it in the years spent here, adopting a mild west coast Canadian accent instead; but, every so often when he really gets going he starts to do that 'drop the last hard consonant of every word and slur them together' thing that is too obvious to overlook. As a result, he's the butt of every America joke at every place he's ever worked in, but he also kind of loves it because he's become such a vocal expatriate.
Somewhere along the line the ranting turned from enraged to silly and he came up with a self-described "perfect" plan to solve all of the problems going on in the US right now. "We'll cut off America, seal it with a glass dome and launch it into space!"
"That's your plan?"
"Hey, everyone I've talked to says it's a great plan. It's flawless: first we'll give them a year to round up all the 'unAmericans' and deport them to Europe or Canada, then we start with a border fence. Except it's a wall. A steel wall. We'll use American steel, of course," he explained, "And we'll reassure them that the wall is to ensure no one gets in, when it's really to prevent them from getting out. Once we're done we'll put a big glass dome over the top, cut the landmass right off and launch it into space. Planet America. It'll orbit Mars or something." He gestured to himself. "Brilliant, right?"
I give him an incredulous look.
"Oh come on, you know there are tons of people who would be on that like white on rice. Planet America? How much more patriotic can it get! They can all speak 'American' there."
"And not have to press one for it?"
"Exactly. There's a huge chunk of the population that would eat that up. We could advertise it as a way to permanently keep the 'aliens' out."
"I'd give them three months before it tanked."
"Where's all the timber? And the power? And all the workers?! What do you mean unemployment is at -500%? Nothing is getting done! Every Wal*Mart on the planet just self-destructed… and holy shit the stock market just crashed! How are we going to survive? We can't get anything in! Oh man, I just need a joint to calm dow— OH MY GOD, NO."
"This beer tastes like shit!"
"And where's my wine and good cheese? Whaddaya mean I can't buy named brand clothes anymore? I think child labour is wrong… here!"
"Why is everything falling apart? Wait… 'Made in America'? WHAT THE ACTUAL FUCK?"
"Oh god… the STEEL!"
"Meanwhile the rest of the world is enjoying the quiet."
"There'd certainly be a lot of new ocean front property to sell off. We'd have to put in some sort of memorial on the border though. And then we'd celebrate every year with speeches. 'This was once the site of … America. Every year we gather together to celebrate the launch of America. It was launched in the traditional American way: with rocket's red glare'."
I respond with silence.
"Oh come on, that was good. You can give me that one."
Some time later I convinced him to try and go to sleep, since he has to get up for work in the morning. He was quiet for a good ten minutes and I was sure he'd already zonked out when he suddenly started talking again.
"You know, sometimes it just occurs to me… I'm blind."
"You just figured this out?"
"I mean, sometimes it just suddenly hits me. I can't see shit. I mean I really can't see shit! When did this happen?"
"Wasn't it sometime around puberty?"
"Oh yeah. I guess my body just couldn't handle all those raging hard ons and seeing at the same time."
"That, or it was the other thing. You really did go blind!"
"Oh shit! I should be speaking at conventions for the Catholic church…"
"Or Kellogg. No wait, you aren't circumcised, so that one won't work."
"We can fake that. We'll make it work."
"What's your vision again? 20/400?"
"It's directly correlated to how many times I masturbated per month during my first year of adolescence."
"That's excessive even for a teenage boy."
"Good thing I have you for that now. Otherwise I'd be really screwed."
"Or not screwed, as it were."
"Touche".
---
Photos of the Day: Instagram edition
From my dad's reading, that's him on the edge there.

Flamenco dancing, also from the reading.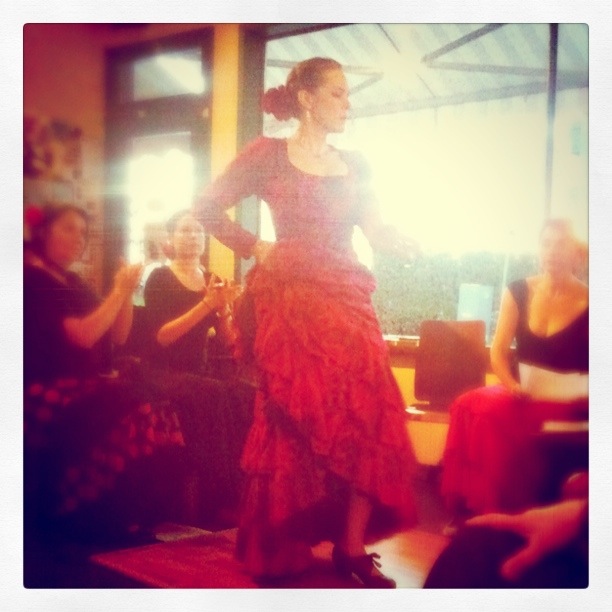 Self-portrait at 3am.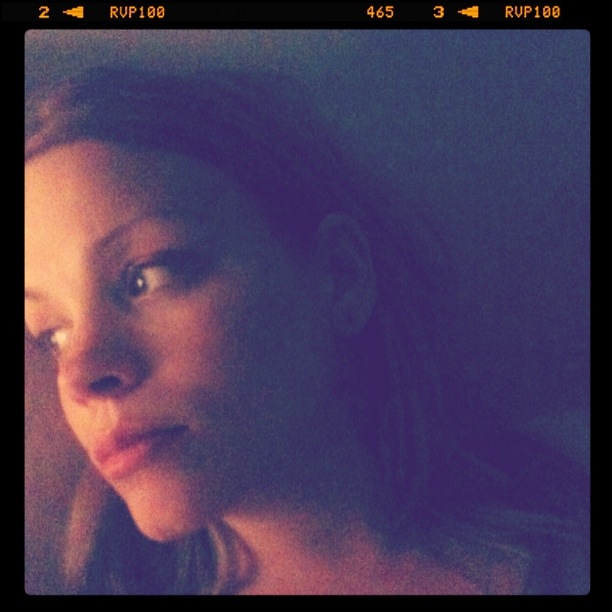 Two old ones: Tempest's Mother's Day projects that she brought home.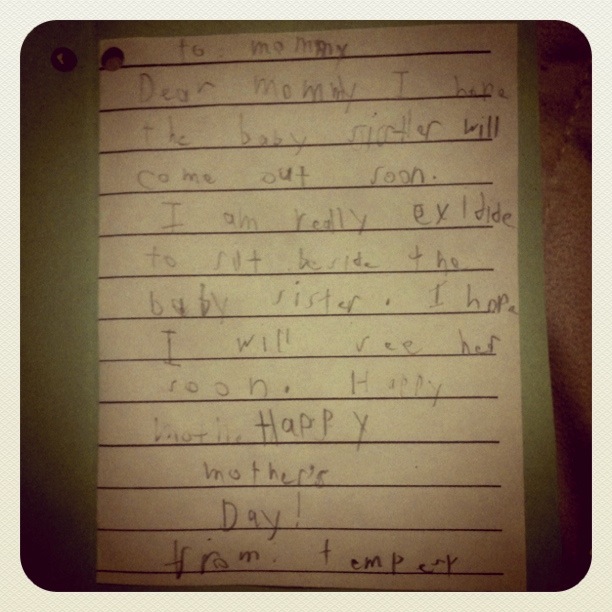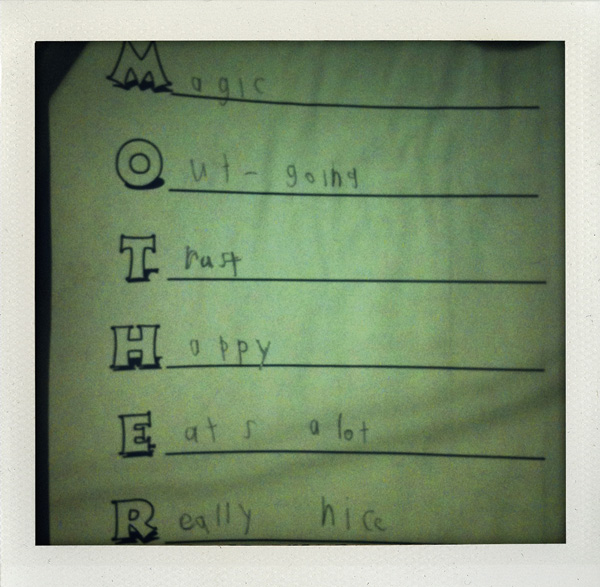 "Eat's a lot". Thanks, sweetie.
It's caterpillar season and these guys are everywhere.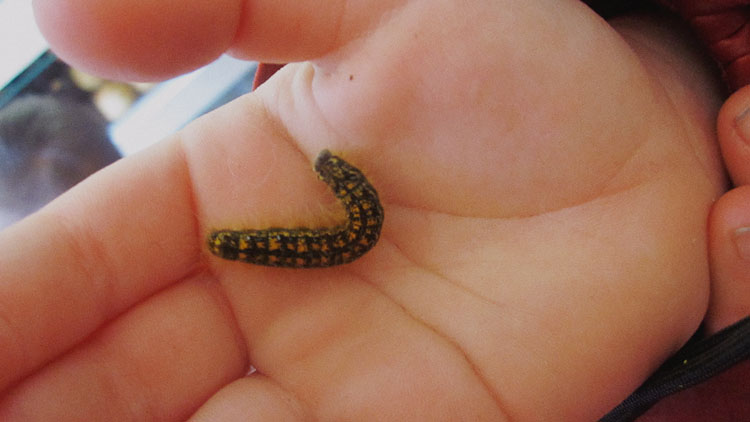 Tempest picked one up and asked if we could take it home. I debated for a while before saying she could find one and put it in a jar so we could let it grow into a chrysalis. She carried this one around for an hour before revealing that she had no intention of taking it home, and she was going to find another without "white dots"… this one was just for looking at.
"Why don't you want this one? What do you mean white dots?"
"See those white dots that look like eyes?" she said, pointing to its head, "They're eggs that will hatch and then they will eat the caterpillar alive. It will die. So, I don't want this one." She said it so nonchalantly as she gently pet it.
"… oh. Well. Uh. I guess you should find one without the white dots then."
---
Part two of this entry is updates for today, for those not following my Twitter:
ETA: For those who asked, my Twitter is under @babyslime.
I've definitely been doing something pre-laboury for most of the day. This isn't labour yet, so don't get too excited, but I'm about 80% sure it's good solid warm up… at least. I'm putting this here both for my own reference, and because I'm hoping it might help others in similar situations not freak when they experience this early stuff. 🙂
The kids and I went out to a school fun day event with music and jumpy castles and all that stuff, and at around 1pm I was struck with terrible nausea completely out of nowhere. I stayed as long as I could, but it was really getting bad, and in lieu of vomiting in front of 750 people I was forced to bring us all home. As soon as I walked in the door I felt this really big, intense contraction that made me get up and walk on my toes. Even though it was only one this little bell went off in my head that said, "That's not a braxton hick contraction". That continued from there every 5-7 minutes. Not getting any closer, not getting any more intense, but still feeling rather different and pressure-y than normal.
I'd been trying to make the kids lunch during this and was getting more and more impatient with their fickle food orders and tantrums through all this discomfort, and at one point I lost it and yelled, "Okay! You just need to pick something and stick with it because I am really not doing well and I need you to let me have some space!".
Xan asked, "Is your hip hurting you?"
"No honey, I'm having contractions and they hurt. I think this might be early labour."
Tempest did her best impression of a bush baby and asks me, "Why don't you have the pool out? It needs to be filled up! Where's daddy? Mommy did you call the midwife yet?! Is the baby coming RIGHT NOW!?"
She was like that for the whole rest of the day. Adorbz.
When it didn't go away after about 45-60 minutes I called the midwife to give her a heads up that I might be experiencing some prodromal labour. I normally wouldn't, but she'd specifically requested I let her know if I get any warning whatsoever before labour starts. Right around that time the absolute worst IBS attack came on and I ended up stuck on the toilet with these looping, endless, bowel-crunching contractions and cramps that wouldn't let me get up (even though, TMI, they weren't actually productive at all). Jill advised, "There's nothing like sitting on the toilet to make you think you have to poop. Get off it!".
Unfortunately that was easier said than done. The bowel cramps were so agonizing.I didn't want to make any other calls from the bathroom so I had my mom call Curtis back and MJ (my doula) over for some support in case it turned into something real.
Mom, being mom, told them both "THE BABY IS COMING" rather than, "Hey so some things might be happening, maybe, think you can come and support her?". Awesome. Thanks, mom. Cue panic, and me feeling like a dickhead.
I took Jill's advice and ran a bath to see if they'd space out. They didn't, so MJ and I got up and took a walk around the block for like an hour and a half to see if they'd pick up. They didn't! The contractions continued to stay so-so for early laboury-like-stuff; still not getting any closer together, not getting any more intense, but just sort of "going". Nothing seemed to change them: not walking, laying down, bathing, etc. That's generally a sign that it's pre-labour rather than braxton hicks, but it also means it's firmly not active labour yet. However, the IBS cramps were becoming debilitating (way worse than the prodromal stuff. Way, way worse). I kept the midwife updated throughout and she suspected I might have this sort of niggly-not-so-much stuff for some time, then have a nice long break, and then be hit with real labour very suddenly when it comes back. I told her that'd be nice, I could do that, a break in the middle is good.
The horrific IBS attack continued relentlessly through this, which made the pain intolerable. By 7pm the cramps (not contractions) were so bad I felt like I was going to start projectile vomiting and was starting to get sort of depressed about it.
Finally at around 7:30 the attack stopped and immediately the intensity of the contractions dropped by about 50%. Oh, thank god! No more hot flashes, nausea and horrific feelings. Sweet relief.
I took another hot shower, feeling much better, and sent MJ home so I could try to take advantage of this nice break in intensity by getting in a nap. I DO NOT want to make the same mistakes I made with Tempest's labour where I tried to push forward when things slowed down to offer me a rest. If your uterus is giving you a break: TAKE IT. I'm okay with this not going into active labour if it means I can get a nice sleep.
I put earplugs in and laid down. The contractions continued to be 5-7 minutes apart, but light enough that I could sleep pretty well. I managed to nap on and off from 8pm or so until 11 and woke up feeling a helluva lot better. Especially since the IBS attack didn't come back. So, it's now quarter to two and they're STILL GOING except at a much nicer, even 20% of what it was before. In the last hour they've slowed to about 10 minutes apart, so obviously I'm being given a nice break so I can get good quality rest and nourishment. Pregnant bodies are kind of awesome that way: if you don't push them around, they really do know just what you need to get through. I'm not using language like "stalled" because that implies there's something wrong with this process, or that my uterus has somehow forgotten what it's supposed to do… and I don't think that's true at all. This kind of on-and-off prelabour is both productive and important, and if you pay attention to your body's cues and not fuck around with it you'll be given adequate time and space to refill your tanks before real labour hits.
Though I can't lie, I'm feeling kind of moronic for calling Curtis and MJ here for what amounted to a big fat nothing.
At the same time, I managed to check my cervix just before the nap and there was a big change. I measured my fingers after and I've gone from ~3cm to ~5cm or more in those few hours. Nice! I made it half way without lifting a finger!
I told Curtis that I want him to stay home from work tomorrow because if this continues to go like this through the night I'm pretty sure it'll turn into real labour within the next day or so. So, for now I'm going to sit here and not fuck around with it. This in-between stage is both exciting and frustrating because it means something is happening while also meaning that nothing is happening.
I will leave you with an image from the school fun day before we left. After some bouncy castle action, the kids wanted their faces painted. Tempest asked for a shark along her cheek that was drawn so badly I thought it was supposed to be some sort of "skin rip" art showing her mangled teeth.
When it was Xan's turn, he looked very ponderous and put a finger to his chin for a long time, thinking deeply. The young woman with the paints prompted him, "Do you want a cloud? Or a rainbow?".
He asked for a mustache.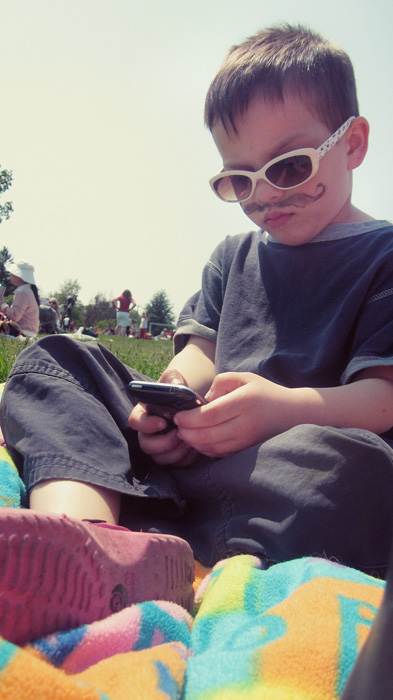 Comments
comments