We're preparing to do another round of evaluations for Tempest's Aspergers. I am pensive; after all the bullshit we went through before it's not something I'm looking forward to, but we have a lot more support this time than we thought we would.
I am cautious because the consensus is that the longer we go without an official diagnosis the harder it will be to get it, because that's just how the damn system works. After the ridiculously stupid defeat a few years back where the diagnostic doctor on the team that was evaluating her threw out two years worth of reports that came back to them with "autism" printed in big bold letters across the top for one 20-minute play session… we're less than pleased with the system and don't have much faith in it.
Afterward we talked at length with the mental health workers and family therapists, who strongly agreed that she was Aspergers but had no authority to diagnose it (they diagnosed as much as they could around it that would provide her access to better programs, but alas it doesn't do much without the label we so desperately need). Their recommendations on how to proceed boiled down to two less-than-stellar options:
1/ Do nothing, or worse than nothing. Neglect her needs to the point where she quickly spirals out of control, which would result in a much faster road to diagnosis and access to funding. She would be miserable, stressed and deeply unhappy, but chances are it would only last a few months into the next school year before the diagnostic process moved forward.
Or 2/ Do everything in our power to help her quality of life improve with coping skills, therapies and education… which may help her get a better handle on the symptoms and behavioral challenges to the point that we'd risk never getting a diagnosis because as far as the big wigs are concerned she's doing "fine".
We chose the second option without a moment's hesitation – as a result she's made dramatic improvements, especially in the last year or two. Those improvements mean she's more likely to be dismissed. Last time they told us, "It's autism, but we don't want to call it that. So you get to have all the challenges of raising a child with ASD/Aspergers except without access to the programs and therapies that would make a difference because we don't want to 'label' her. But it's cool because she's really really smart."
They actually seemed to believe that a high IQ was somehow directly correlated to one's ability to be comfortable, happy and functional in social and academic settings and reassured us that because her cognitive intelligence tested off the chart she'll "be fine".
So yeah. After that bullshit we've kept the idea of reentering the diagnostic process on the back burner.
This is especially challenging because our province recently cut all funding for diagnosis, research and treatment everything shy of the most profound autism; they've arbitrarily decided that Aspergers doesn't exist and therefore will no longer "give away" a diagnosis for it. It's been an extremely frustrating journey and that just made it ten times harder. We have her doctor, her therapist, a child psychologist, her school psychologist, her teachers and her OT aide in complete agreement; writing regular reports and letters recommending an autism diagnosis and referral… and yet we can't get it for sake of politics. It makes me want to have a temper tantrum. It shouldn't be this hard to get a diagnosis: money and elections shouldn't be the deciding factor in how many children have access to care and therapies they need. It's already challenging enough to get a girl diagnosed, and now we have this recent political shitstorm complicating things even further.
… But we're trying again in spite of it all, because those who are closely involved with her at school are really pressing her need for it (and their need for it). OT and visits to the school counselor are just not cutting it.
We went back to the youth mental health worker (and family therapist) last week for follow-up appointments and recommendations, and she referred us to a psychologist that was amazingly helpful and gave us some great information about medication changes to try and manage her obsessive compulsive behavior a little better. Curtis is adamant that we not try a new medication until summer break so that she doesn't deal with the academic stress if it ends up being a tough transition. I think his idea is a good one, but I don't want to wait that long if there's a chance we have a better option for her. Argh.
This all began again last month when her school counselor had a very awkward phone call with us where he tried to recommend we get an autism referral, without actually saying the dreaded "A-word", because he wasn't sure if we were yet aware of her behavior. Once I told him the story he seemed not only very relieved, but eager to provide a long list of helpful reports and papers, telling us what we could do to help the process along and noted that multiple health care representatives and her teachers have been noting the autistic behavior for months and months (this year) and they've been pushing hard to get special status for her in the school.
We had a very short parent-teacher meeting with both her teachers this afternoon that was also really positive. They said it before I did, and both expressed how hopeful they were that we were again perusing a diagnosis.
"The problem is," said one of her teachers with a background in developmental disorders, "that she's so extremely high functioning that she sort of knows how she's supposed to act, and she wants to be good, so she does what she can to hide it. She can hold it together up to 90% of the time as long as there isn't a lot of stress. If you don't watch closely you might miss it… but then the rest of the time it's so glaringly obvious. She's textbook Aspergers in every way."
I could have kissed her.
Academically she does amazing and has no challenges. Her reading and math are light years above her peers and the only problems she ever has are around staying focused through work she's not challenged by… but socially? She does terrible. She cannot "get" concepts that come naturally to other kids and gets stressed out very easily when she can't seamlessly integrate into play with other kids. When things don't go just so she bursts into tears and has small tantrums, which is not only age inappropriate but awkward for her peers who then tend to avoid her because they don't understand why she does those things. She stims, she hangs, she has zero impulse control nor any functional concept of how to join in social play or even how to navigate a flow of conversation.
For their part her teachers have been very understanding and encouraging, allowing her to have her moment and providing her with stimming activities and sensory play when she's stressed or otherwise losing it so that she doesn't go too far. It helps that they're both not only well educated, but experienced in dealing with children on the spectrum and immediately recognized the red flags all over her and began applying coping techniques specific to ASDs.
Her two teachers and I sat and chatted long after the interview time slots had passed, discussing her behavioral and social difficulties, how GLARINGLY OBVIOUS her Aspergers is and how fucking stupid it is that the diagnostic process is so political.
On the wall of her classroom is a series of photos of each child in the class sitting on a bench. These images were taken for one of those "who has a birthday this month" projects. Tempest is the only student on the wall who isn't looking at the camera.
"And that was the fourth try," added one of the teachers, laughing with me. We were laughing at how ridiculously obvious it all is and yet there are still doctors who would readily deny it even with a five pound stack of reports and behavioral analysis from their own team that repeatedly places her in the high functioning autistic range.
So anyway… both teachers are going to write a letter, along with the family therapist, the school therapist, the OT, and us. All together we're hoping to put together a clear picture of her behavior at home and school in hopes of pushing the diagnosis in spite of the mounting obstacles. Wish us luck, because we'll fucking need it.
---
There are some interesting side effects to being a mom and having a disability, like unintentionally exposing your kids to far too much biology at a young age. For instance, a few days ago I was laying on the couch with my legs stretched out and Curtis sat down on them. Normally this isn't an issue as I actually kind of enjoy the sensation of his weight on my feet (not my legs, obviously… but feet) but this time it was a tad uncomfortable. I tried to turn my feet sideways and pull them out from under him and quickly realized this was an huge fucking mistake when I felt the familiar click of my joint dislocating.
Context: I have benign hypermobility joint syndrome, which may or may not be related to a connective tissue disorder called Ehlers-Danlos. There are a few different variations of BHJS, one of them is simply being over-flexible (colloquially referred to as, "being double jointed"), but most people with it experience some level of pain and arthritis from the injuries they constantly receive from having their joints over-extend all the time. Over time, you learn to be pretty careful about how you move and do your best to maintain muscle strength and flexibility while also ensuring you don't injure yourself too often. The problem with constantly injuring yourself, other than the constantly injuring part, is that your tendons and shit get all stretched out and the more it happens the more likely it is to happen again. It can quickly become an endless cycle of pulled muscles and dislocated shoulders. The injuries themselves rarely hurt at the time you receive them, it's just the after part that's such a bitch.
But the point is… you get used to it, and with frequent exercises and constant vigilance you're less likely to get hurt all the time. Unfortunately, all your careful preventative care goes out the window when you get pregnant and you have all those wonderful relaxing hormones that just make everything a hundred times worse. It's like someone came into your room in the middle of the night and surreptitiously replaced all of your joints with Silly Putty.
You'd think I should know better than to do shit like try and turn my ankles while they're trapped underneath Curtis' bum, but sometimes I really don't think things through…
Curtis, having lived with me for some time now, immediately recognized what happened and leapt off the couch, immobilized my leg and grabbed me something to bite on. The kids were standing in front of us playing a video game that had them fairly deeply absorbed, and to be honest in those moments of pain and anticipation I really did completely forget they were standing there… The feeling was mutual up until the point that Curtis braced my foot while we popped it back in. The loud snapping noise followed by my screeching into a rolled up tea towel got their attention really fast.
There was this moment where I'm laying there recovering, seeing stars and trying not to hyperventilate; Curtis is tenderly holding my foot in place with one hand, stroking my head with the other and watching me with this concerned-yet-loving look on his face… and then we simultaneously realize the kids are just standing there staring at us in wide-eyed horror.
Oh… crap. Um. Hey, so who's up for a biology lesson? Let's talk about joints!
… And first aid!
---
A number of people have requested a photo of my tattoo now that I'm getting rather heavy into pregnancy and you're all curious if it's warped beyond reasonable recognition. Also, a bunch of people seem to think it's disappeared because they don't see it in the images.
As a note: I flip most of my belly pictures around for the progression chart thingy so that they're all oriented the same way. I have a knack of taking photos with my left side facing the camera, which means most of the images you're seeing are not of my tattoo side… that's why you're not seeing it. Not so much because it's "migrated below the hem of my pants", as a few people suggested.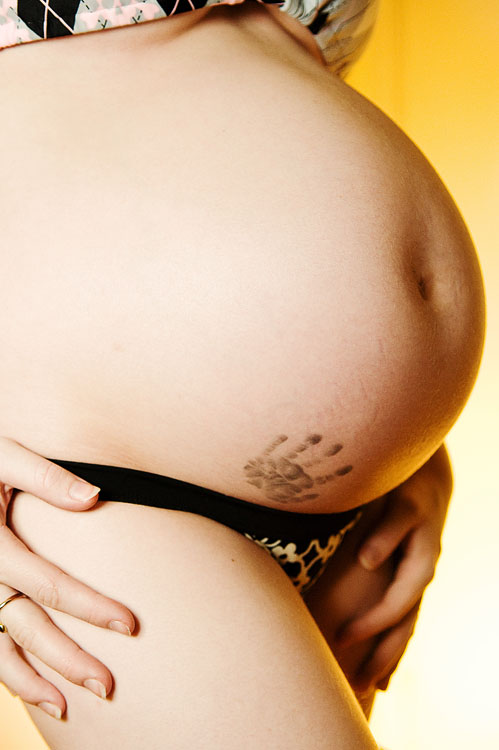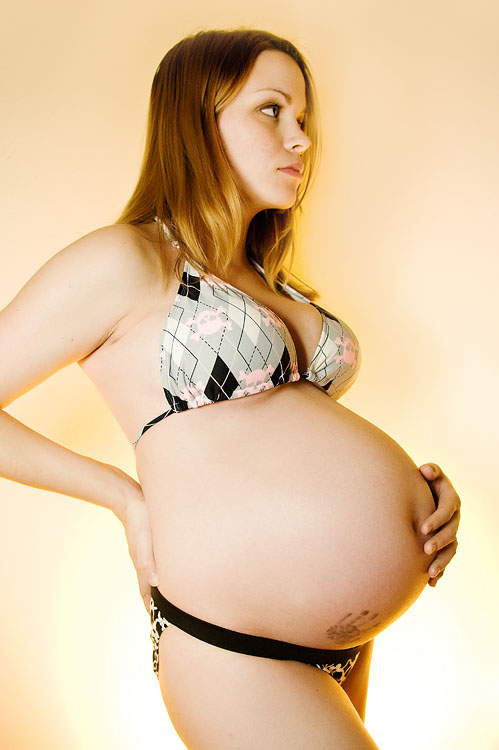 As far as I can tell, it remains completely unstretched and unchanged other than having a more horizontal orientation. There were a few old stretch marks through the fingers when it was first done, and they're a tad more visible now, but other than that I'd say it's pretty much the same even almost 30 weeks in.
(You can totally tell where she's sticking her feet from the front view).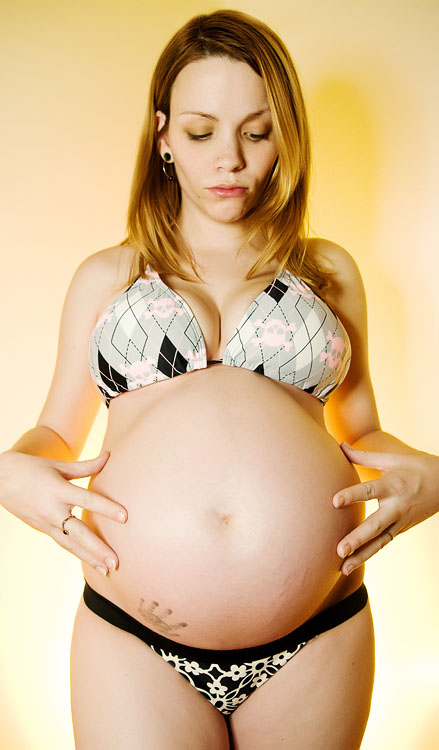 Also, a number of people have asked what my set-up is for taking these self-portraits. It couldn't be more amateur and basic, so I took a few images to show others how to do it themselves.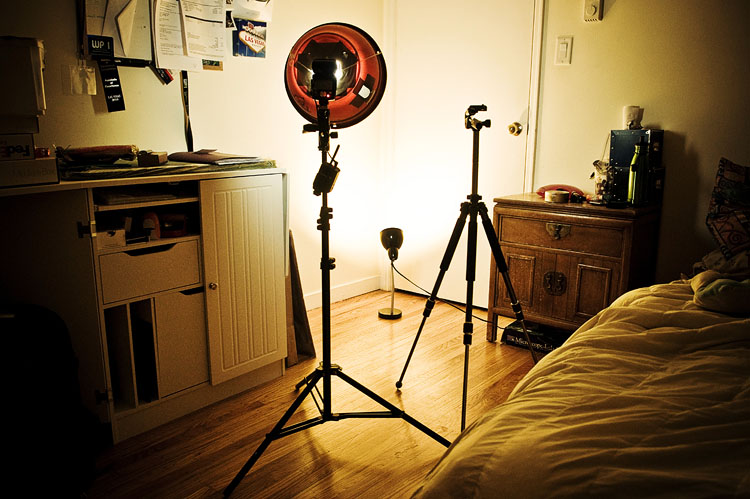 … And that's pretty much it.
The corner of my bedroom, a desk lamp, a tripod and a lightstand with a DIY beauty dish (made out of a plastic hanging planter, a car mirror and a CD spindle all spray-painted white) tied to an SB800 with some yarn. I trigger the flash with Pocket Wizards, but that set up would be friendly to light triggers, radio poppers or a sync cord as well. Expensive radio transmitters are not necessary.
A close up of the the settings on the SB800.

Camera is set to F4.5-5, SS 1/30 and ISO 640. I try to keep the ISO lower to reduce grain, and I set the camera's white balance to "flash". The WB setting gives the pictures that sort of golden look to them and it warms up my skin tone in a really flattering way, so they come right out of camera 95% done. All I have to do is pull them into Photoshop for a contrast adjustment and any minor retouching (like getting rid of band lines from my pants or something).
I set the aperture on 4.5 or 5 so that the depth of field is about a foot and a half deep, then I stand behind the camera with my arm stretched out and have it focus on something in my hands as far as I can physically hold it from the lens (which is usually about two feet in front of it). Once the focus is set, I lock it into manual and everything between around 2-3.5 feet in front of the lens will be sharp. WIth the f-stop any lower, I'd risk having too shallow a depth of field and not be able to get a good shot of myself without blur. Aperture and ISO are followed through for the best look with lower flash power. I want to expose just slightly too high for the back wall, but not enough that it seriously blows out. Like I said: basic.
I could probably get a nicer setting complement by playing with the flash settings a little more but I'm honestly too lazy to stand there experimenting with it for 15 minutes, and this works fine.
For the silhouettes, I just switch off the flash; all the settings remain the same. These images are lit entirely with the desk lamp pointed against the back wall. Being in a corner and next to a white crafting desk bounces the light in a way that provides a nice subtle light wrap to one side of my body. If that craft dresser thing wasn't there I'd have a pop up reflector set up in the same spot, about two feet from me and angled up.
Editing the silhouettes takes almost no time: I just load them into Lightroom, click my high contrast black and white action, and then they're done. The only retouching I ever need to do on them is to get rid of some of the light fallout up in the corners.
---
Sometimes I am struck by how much I love my family, and how happy I am to be where we are. There are always days where I am tired, or impatient, or touched out, or in desperate need of some space – I couldn't reasonably hope for some sort of ultimate perfection, and I am only human – but that doesn't negate how much I love being part of a family.
I love my husband: he is supportive and loving and an amazing father. I couldn't ask for a better father to our children, and the idea of not spending the rest of my life with him doesn't even register in my mind as an option. I'm not even sure this level of head-over-heels-in-love is functionally different from some sort of terminal codependency, because when I say I can't imagine it I really mean I can't bear to imagine it. The idea of being without him truly frightens me; it's not part of my universe to imagine it, and therefore the thought is deeply terrifying. A life where he is taken from me through accident or illness is the stuff of my worst nightmares. I've been with him for so many years, for such a huge part of my life, with so many ups and downs and all the different stops in-between, that I can't quantify my existence as singular anymore. I am one of a pair; one of a family, and that identity makes me happier and more at peace with life than I ever thought possible. He has been a fixture of so many of my greatest triumphs, and worst defeats, that it doesn't seem realistic to imagine there is something out there so challenging and horrific that it would mean the end of that partnership.
There comes a point in a long term relationship where you realize that arguments, incidents and stages no longer threaten the question of, "will we make it through?" because it's now assumed you will. You have, and will continue to inexplicably survive life's challenges, now as a couple as you once did on your own. The question is never again, "Will we make it?" but rather something more simple, like, "When will this be over?". Everyday challenges are no longer potentially life-altering, but seem fleeting and therefore more manageable after you've had years of experience pulling you both through some of the darkest places of your life.
There is a strange stigma around identifying as a mother or partner (or choosing to be defined by your family in general), about why we should avoid it at all costs and Be Our Own Person™ for the sake of bettering ourselves as human beings or such nonsense. It's as though people believe you can't enjoy being a partner, a mother, a lover, a sister, a student or god knows whatever else you love being while also having your own unique thoughts and emotions at the same time. These things are not mutually exclusive, nor does choosing to identify as one destroy your life. By that logic, the process of growing into an adult obliterates the experiences, memories and loves of chilldhood so permanently that you barely count as the same person. I think most of us can admit that idea is based on a false assumption: becoming an adult changes your core no more than having sperm pass through your cervix hands down a death sentence for your individuality. I am a mom and a person, but I am also a person who is a mom.
I've never found it that difficult to be Myself™ while also happily identifying as part of a unit. This is my clan, my kin, my dream, my life… without it I'd feel empty and alone, not so much because there isn't any of "me" left at the end of the day, but because I truly enjoy the entanglement that being a mother and a partner brings to me. If they all disappeared today I'm sure I'd go on to have some sort of amazing life adventure, but it wouldn't be half as beautiful or enjoyable as the one I could have with all of them near me.
I'm more than happy to "talk too much" about motherhood, wiping noses, changing diapers, pregnancy, sex, family, love, hate, fights, sickness and health… and love that my life has become primarily about these things. It isn't simply that this is my life "now": this has always been my life. Before I had it I dreamed of it, as it approached I yearned for it, and when it finally arrived I was grateful. This is my life. I am happy to be living it, even with all the challenges it brings.
Links of the Day:
Man finds canister of film on a ski slope; changes life – This is a pretty fantastic little series of videos. The three part YouTube series chronicles a young man from East Coast of the US finding a roll of film, getting it developed and searching for the photographers so he can return their (beautiful!) photos. He puts a video on YouTube (part one, the one linked) which goes viral and soon gets him international attention. The owners are eventually found, which leads him to a life-changing adventure through Europe meeting new people, making friends and seeing new places. If only all of us could have this kind of adventure.
The Placebo Effect: How does it work? – A YouTube video on the placebo, comparisons and interesting facts on what we know about it. Very cool. From this video I learned that the "close door" button on an elevator is a placebo. You rats!
Jaw dropping images of the surface of the sun – Images taken by a photographer using a special hydrogen filter to achieve some pretty incredible photos of the sun the way you've never seen it before.
Japan Earthquake people finder – If you have family, friends or other loved ones in Japan and you're worried about their whereabouts after the quake and tsunami hit, make or check for a record on this site. Using this site I was able to eventually find out my friend in eastern Japan is okay, and get in contact with other people who were also worried sick over her.
Comments
comments