I'm periodically asked to repost this for reference sake, so consider this your random educational moment of the day! Feel free to pass it on to anyone you know anyone with breasts (and I'm betting you know at least one person).
Where?
I learned this method on a now-defunct site called "Plus size bras", which used to be a beautifully fantastic resource for those of us who were tiny in body and large in bust. Or just anyone who wears over a D-cup and has a hell of a time finding a bra that feels comfortable.
Not only did this site have FAQs, tips and tutorials on how to properly fit yourself (the way they do at lingerie boutiques in the parts of Europe, where apparently they know how to treat your breasts right), but it also had a giant brand conversion table so once you found your 'standard US size' you could compare it against common manufacturers of underwear throughout Europe and the Americas and get your size within their brand… genius! As most of us know, wearing a D34 at La Senza doesn't mean you'll wear a D34 in Playtex or Victoria's Secret. This also contributes to the fact that more than 80% of us are wearing the wrong size.
All the information in here was gleaned from that site way back in the late 90's and eary 00's, and credit for the bulk of this tutorial goes to them. Through the years I've taught this, or done it, with dozens upon dozens of people so my own tips and experience is coming in as well.
Why?
Even if you've been "fitted" at a lingerie store, chances are you weren't fitted properly. Due to our fears about sexual harassment and our taboo about being fondled by people whom you only know by their name tag, most employees at these boutiques are taught to tell their customers to try various bras until it "looks right", or to write down two basic measurements that were done over your clothes (half naked if you're really special). The problem with this is that you're probably not wearing a correctly fitting bra while getting this measurement, which only serves to perpetrate this cycle of bad boob mojo. On top of that, potentially quite a bit of breast is missed during your fitting due to it peeking out the sides and top, or being smushed inside a confining cup.
Those of us whose cup runneth over generally get through life by cramming ourselves into the last D-cup in the bargain bin at Wal*Mart so we save a few bucks, but this isn't the smartest thing to do. Just because you can wear a bra doesn't mean it fits, and wearing the wrong size bra can cause severe back and neck problems, permanent dig marks from the straps carrying too much weight, even breathing difficulty. A well-fitting bra can make all the difference in the world. Save yourself time, embarrassment and pain by taking your breasts into your own hands and learning how to get your correct bra size.
A poor fitting bra can be diagnosed with any or all of these symptoms:

– Painful, red or sore shoulders.
– Dents or grooves in your shoulders.
– Numbness in your arms and fingers after wearing your bra for several hours.
– Reduced circulation after wearing your bra for several hours.
– Constantly adjusting your straps
– Chestband riding up in the back.
– Uncomfortable or sweaty cleavage
– Breasts falling out when bending over.
– The center of the cups 'floats' above your breastbone
– Cups that shift over your breasts
– Puckering or wrinkling in the cups
– Bulging tissue out the top or your bra, or under your armpits.
– Lumpy breasts under your shirt.
– Difficulty breathing
– Frequent yeast infections or chafing under your breasts, or where your chestband sits.
– Underwire poking out the sides or the center.
– Buying a bra that you 'can wear' but wasn't properly fitted because it was on sale.
– Refusing to buy a larger cup bra because you think it means you're "plus size".
– When you pull your shoulders back, your breasts bulge out the top of your cups.
– There's gapping between your breast tissue and your cup; it doesn't completely fill it out.
– A bustline that is fullest at a point lower other than exact middle between your waist and collarbone.
What?
To calculate a correct bra size, you first need to understand what each part of a bra is for, and how to identify a poor fit.
The frame of your bra, or chestband, is fitted first. The frame is what supports the weight of your breasts; it's the most important part of the bra to fit, and the most noticeable when not worn in the right size. A well fitting frame can be fastened snugly on the middle clasp, without digging into your flesh, and the underwire (or cup seams, if it's soft-cup) flush against your sternum and ribcage all the way around your breast tissue. It will not "float", and you will not be able to fasten it in the front and then slide it around your back. Your chestband should remain snug throughout a day of wear.
A frame that's too tight will dig in, bend, or warp the underwires an cause them to rip through the fabric. If it's too loose your frame will just sort of 'float' around your chest, causing your bra straps to take on the weight.
Shoulder straps are directly affected by the chestband because they are designed to adjust the height of your bosom, not carry the weight of it. An ill fitting chestband will cause you to start adjusting your straps, causing the band to ride in the back and the straps to dig into your shoulders causing redness, irritation, bruising… and even numbness or arterial restriction over time. After a while you'll start shelling out the cash for those fancy gel-padded-strap bras, but they're still digging in! You do not need gel padded straps; in fact they wouldn't even be a thing if the average manufacturer gave a rat's ass about ensuring a woman's comfort when wearing her bra. If you "need" them, your straps are carrying the weight of your breasts, which they should not be doing, and you are not wearing a correct chestband size.
The cups are the part that hold your breast tissue and control the shape and exposure of your breast through seaming, padding and projection. All bra manufacturers use different patterns, even different styles under the same brand, so your cup size will differ between different brands depending on how they fashion their cups. This is especially true for cup sizes over a D, where it seems manufacturers cannot agree on a standard sizing process. Chestband sizing remains pretty constant… it's the cups that are the problem.
What cup size you need to hold your bountiful bosoms is determined by their girth, depth and volume. Bra cups are proportioned to the chestband so will accordingly decrease in diameter at the chest wall with each band size down: this is why you can't go down a band size in the same cup and still expect your bra to still fit. A decrease in diameter affects the volume of the cup. It isn't as confusing as it sounds! Someone who is a 40D simply has more flesh around and in their breasts than someone who is a 30D, and that flesh has to go into a cup size that provides more girth for the breast to comfortably fit. So, to go down one band size, you must go two cup sizes larger to maintain the same cup volume.
E.g., a 34F bra's cups have less volume than a 36F bra because the cups are smaller in diameter. However, bras US standard size 34H and 36F have equivalent cup volume.
How?
You will need:
* A soft or cloth measuring tape.
* A mirror, or a friend who you don't mind seeing your nipples.
* Your best-fitting, non-padded, non-minimizing and non-sports bra.
* A notepad and pencil.
* Third grade math skills.
Using these tools, you'll be taking four measurements:
* Overbust, bra on.
* Overbust, bra off.
* Bustline, bra on.
* Underbust, bra off.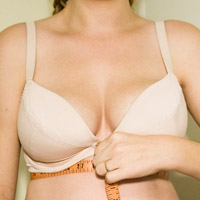 "Underbust" is where the chestband of the bra will sit. About 1/2 to 3/4 inch beneath your breast tissue and around your ribcage. Not around your waist, against the bottom of your breast tissue, or under your ribs. If you're not sure where to measure, put on a well-fitting bra and see where the band sits. If your bra doesn't fit correctly it'll ride in the back, so go by where it sits in the front and take your measurement from there, even and straight all the way around.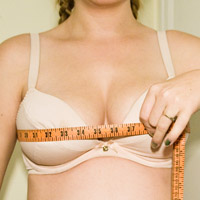 "Bustline" is the fullest part of your bust, generally right around your nipples. Make sure the measuring tape is straight around, and don't pull it tight when measuring. To get the most accurate measurement possible, rest the tape comfortably around your bust, with your arms down, without tightening it.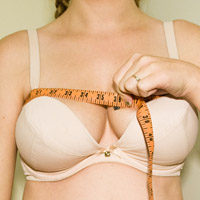 "Overbust" means about an inch underneath your armpits, when your arms are down. Relax your arms, don't tighten the muscles, as this can throw off your measurement, particularly if you've been working your pectorals and like to flex them a lot.

*Just in case someone is wondering: the bra I'm wearing in these photos is a Freya plunge bra in 30FF, and it's a touch tight in the chestband now that I'm in my second trimester of pregnancy. It says it's padded, but it actually isn't. Right now you can get it on sale for $40 USD [right here]. It usually runs $65, which is still a steal. It is available in cup sizes B through JJ, and in band sizes 28-38 – in all combinations.
---
1: Take Your 'Bra On' and 'Bra Off' Measurements
(All my measurements are taken while wearing a thin tank top, which adds a tiny bit of bulk and can potentially throw off the number. Don't do this when you're measuring, you need to ditch the clothes. I'm just doing it for the sake of keeping this tutorial rated PG while providing reference images.)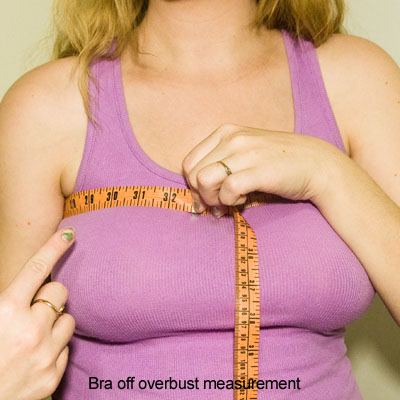 My bra off overbust measurement was 33″.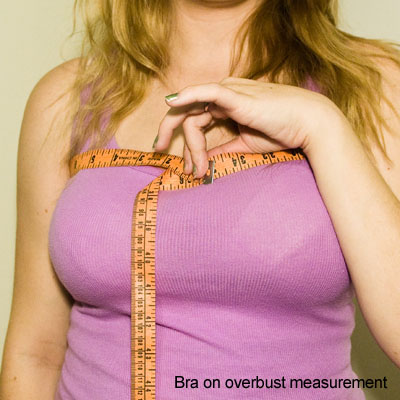 My bra on overbust measurement was 35″.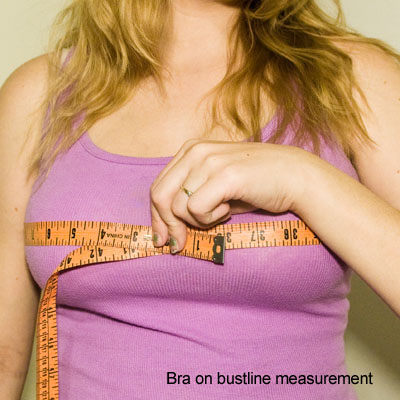 My bra on bustline measurement was 38.5″.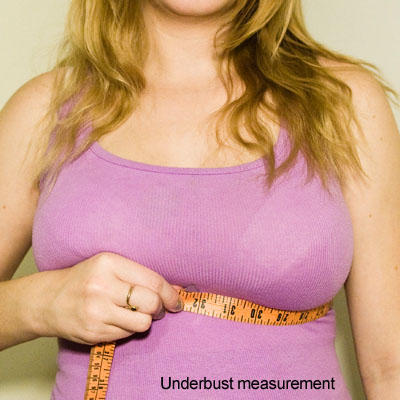 My underbust measurement was 30.5″.
Please note that in the above image I am taking this measurement incorrectly: you can see where the tape is riding up to catch breast tissue underneath my breast, which adds several inches to the measurement. Do this in the mirror, or with someone there to check and make sure you're not making this mistake.
Tips for measuring:
– Make sure the measuring tape is straight, untwisted and even all the way around. This is where the friendly friend or the mirror comes in; you may need someone to spot you.
2: Calculate Your Chestband Size
You will need:
* Your underbust measurement.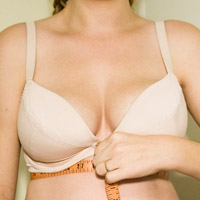 Your properly-fitted chestband size is what supports the weight of your breasts. Band sizes are measured in whole, even numbers – not odd numbers, or half numbers. When you're measuring, any fraction of an inch will be rounded up to the nearest whole number.
For instance, a 37.25 measurement will be rounded to 38, not 37.
To calculate your chestband size, round off your underbust measurement to the next whole number. Add two for an even number, or one for an odd number. Do not add 4 or 5 as many bra manufacturers suggest you do, this will give you a band size that's way too large for you. The reason they do this is to encourage larger busted women to stuff themselves into cup sizes they are more likely to have in stock.

EXCEPTION: If you're a tiny person and your underbust measurement is 33″ or less, you'll probably have better luck with a chestband size that is roughly numerically equal to that number. In the case of a 33″ or less underbust measurement, instead of rounding to the highest number, just round as you normally would in your math classes (.5 or more goes up, .4 or less goes down).
E.g., If your underbust measurement was 29.25″ you'll probably fare much better with a 28 rather than a 30 chestband size. If it was 29.75″ you'll do better with a 30 instead of a 32.
My underbust measurement was 30.5″, and since it's .5 or greater it will round up to 31″. My measurement is 33″ or less so it's held to the 'exact measurement' exception and unfortunately there's no such thing as a 31 size chestband. Due to experience I know a 32 fits better, but if you happen to have the 30.5″-31″ chest size you may want to try both a 30 and a 32 when bra shopping to see which works best for you.
To summarize: my chestband size is 32.
Tips for chestband calculation:
* Your chestband size should be the same, or less, than your bra off abovebust measurement – it should not be greater. If it is, you've done something wrong and need to remeasure and recalculate.
* This assumes you are measuring for a back closure bra, and this chestband will not fit a bandeau/front closure or a longline bra. A longline or all-in-one bra requires you to add either 4 or 5 to your underbust measurement obtain an even, whole number. A front closure is calculated with the above instructions, but go up one more chestband size (you'll need to be sure to go down to cup sizes as well).
* In the event your bra off abovebust and your underbust measurements are the same: use a chestband size equal to or less than it. E.g., if both measurements are 37″ use a 36 chestband, not a 38.
* Most women's chests have 'taper' of about two inches: your bra off overbust measurement will be more than your underbust measurement, and bra manufacturers expect two inches of taper on the average woman. If your chest has more or less than 2″ of taper, you might have difficulty sizing your chestband and may want to try the alternative method below to getting your chestband size.

– Alternative method: to be used for those with significantly more or less than 2″ taper.
Take several bras of the same manufacturer, style, and cup size. It can be any cup size, not necessarily your correct one, just as long as it's the same cup size in each bra. Start with the biggest and go down from there. Fasten the bra on the middle clasp in front directly under your bust. Don't put the cups on. You're just looking at how the chestband feels.
On the middle setting the band should be comfortably secure, not loose and not too tight, and not able to slide around. Go down the bands until one fits perfectly. Band sizes are generally the same throughout manufacturers, so you can safely use this as your final chestband size.
3: Calculate Your Cup Size
You will need:
* Your bra on bustline measurement
* Your bra on abovebust measurement
* Your bra off abovebust measurement
If the bra you were wearing during the fitting is the wrong size you will have breast tissue bulging from the top of the cups and the sides that wasn't included in a bra-on bustline measurement. If this is the case, the bra on and bra off abovebust measurements will be different. This is something that a fitter at a lingerie store will not take into account, which can throw off your cup size by quite a bit.
The difference between these two measurements is simply added to your bustline measurement to correct it.
In my example, my bra off abovebust measurement is 33″ and my bra on abovebust measurement is 35″. That's a whole two inches difference!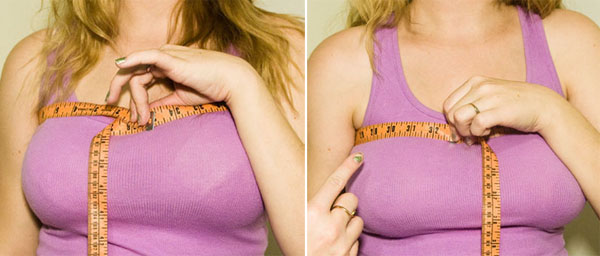 My
bra on bustline
measurement is 38.5″, so I'm going to add those two inches to it to make 40.5 and round up to the nearest whole number, bringing my cup measurement to
41
.
4: Calculate Your Bra Size
You will need:
* Your chestband size (not to be confused with underbust measurement).
* Your cup size (not to be confused with bustline measurement).
Now that you have two accurate measurements, you're going to subtract your chestband size from your cup size to find the difference between them, and that magic number is associated with a letter on the standard US sizing system… which goes by letters of the alphabet.
If my chestband size is 32 and my cup size is 41, then my magic number is 9. The ninth letter of the alphabet is "I", which means my cup size is currently a 32I in US standard sizing. If I wanted to go up a band size to 34, remember that you have to go down two cup sizes to get the same volume. If a 34 band size fits me better, I'll be a 34G in US standard size.
5: Links For Bras Above a DD
Bigger Bras – My favourite resource. I buy from them on a regular basis, and have been purchasing from them for years now. I just bought my latest batch of nursing bras from them earlier this week and got a whole batch for under $150. Beat that! Bigger Bras is USA based but carry a variety of European brands, and they ship worldwide for competitive rates. They have a great return policy, and their site allows you to 'search by size' – a life saving feature!
Fig Leaves – A little more luxurious and a little more expensive. This didn't used to be a warehouse style megastore like Bigger Bras is, but they've expanded pretty significantly in the last few years to cater to a lot more needs. They carry all sorts of underwear and swimswear. They're based in the UK and ship worldwide.
Bravissimo – Has a pretty damned amazing catalogue of bras, underwear, swimsuits and even coats tailor made for the larger busted woman. They carry sizes up to a JJ and band sizes starting from a 28. I cannot say enough about this company.
Decent Exposures – In the last few years this company has gone from a minimal line of shapeless, dull looking sports bras to a pretty fantastic sports and activewear store for the organic minded woman. They have a range of sizes and styles available.
Bra Experience – A low tech 'warehouse' style online catalogue. The site is a little poor, but they sell a wide variety of sizes and styles.
The Under Cover Experience – A UK-based lingerie store with a wide selection of sizes.
If you know of any online stores that sell bras above a DDD (with a variety of band sizes) and cater to women of all sizes, add a link to it in the comments!
6: Find Your Size in Your Favourite Brands
As I explained above, bra manufacturers do not have standards for cup sizes, so finding out what your 'US standard; size is, and therefore knowing your two 'sizes' (cup and chestband) as well as the difference between them, will allow you to easily find your size in a variety of brands. And that's probably going to lend itself to your finding something that fits you a lot better than whatever you were stuffing yourself into today.
Here is an amazingly well-researched and thorough buyer's guide which can help you convert your measurements, or your US standard sizing, to your favorite brand of bra.
Even if you don't decide to use the above method for measurement, and are professionally fitted by a trained "bratician", you can still use that information and magic number that you would get from her to find a size that works for you in the variety of brands on this table.
Happy bra shopping!
Difference
(inches)
4½
to
5½
5½
to
6½
6½
to
7½
7½
to
8½
8½
to
9½
9½
to
10½
10½
to
11½
11½
to
12½
12½
to
13½
13½
to
14½
14½
to
15½
15½
to
16½
16½
to
17½
…
25½
to
26½
26½
to
27½
27½
to
28½
28½
to
29½
Cup Size
E
F
G
H
I
J
K
L
M
N
O
P
Q
…
Z
ZA
ZB
ZC
This can go on forever, but you get the idea.
And now that you know that, here's a table with popular lingerie and bra manufacturers, which can help you find out what your best fitting size within their brand is.
CUP SIZES
Bustline – Frame
Difference (inches)
5½
to
6½
6½
to
7½
7½
to
8½
8½
to
9½
9½
to
10½
10½
to
11½
11½
to
12½
12½
to
13½
13½
to
14½
14½
to
15½
15½
to
16½
16½
to
17½
17½
to
18½
18½
to
19½
19½
to
20½
US "Standard"
F
G
H
I
J
K
L
M
N
O
P
Q
R
S
T
Anita (DE)
F
G
Answers
(Gossard) (UK)
F
FF
G
Aviana
F
G
H
Bali
DDD
Berlei (UK)
E
F
FF
G
Bioform (Charnos) (UK)
E
F
FF
G
Brantly/Cameo
F
G
GG
H
HH
I
II
J
JJ
K
KK
L
LL
M
MM
Chantelle
F
G
Charnos (UK)
E
F
FF
G
GG
Edith Lances
PS
XPS
XXPS
Emma-Jane
E
F
G
H
J
Exquisite Form
DDD
or
F
Fancee Free
F
G
H
I
J
K
Fantasie
of England (UK)
E
F
FF
G
GG
H
HH
J
JJ
Freya (UK)
E
F
FF
G
GG
Glamorise
F
G
H
I
Goddess
3D
F
FF

Goddess
"Great Day"
"Specialty"
"Splendid Florals"
"Strapless"


F
FF
G
H
I
J
Goddess
"Traditional"
E
F
FF
Gossard (UK)
E
F
FF
Lane Bryant
DDD
or
F
FF
or
G
GG
H
or
HH
I
or
II
Leading Lady
F
G
H
I
Lilyette
DDD
NCT Mava
E
F
G
H
HH
J
K
Miss Mary
of Sweden
(EU)
DD
E
F
G
G
H
Miss Mary
of Sweden (SE)
(US)
DD
E
F
G
G
H
Olga
DDD
Panache Lingerie (UK)
E
F
FF
G
GG
H
HH
J
Playtex
DDD
Playtex (EU)
E
F
FF
Prima Donna (BE)
F
G
H
Rigby & Peller (UK)
E
F
FF
G
GG
Royce Lingerie
E
F
G
H
J
K
L
Shock Absorber (Gossard) (UK)
F
FF
G
Silhouette England(UK)
E
F
FF
G
GG
H
HH
J
Triumph (DE)
E
F
G
H
Vanity Fair
DDD
Warner's (UK)
E
F
FF
G
GG
H
J
Warner's (North America)
DDD
Hope this was as helpful to others as it was for me!
(Tables and bra brand data was put together by the lovely ladies at Plus Size Bras, a now-defunct site, so credit for that incredible research and goes to them and not me).
Comments
comments