Curtis and my tenth anniversary is coming up. Ten years married. It's really, really insane to think I started writing a blog here back in '99, a full three years before I got married, and now I'm coming up on my tenth anniversary soon. How did we manage to be married for this long? Has all this really happened? Weren't we just kids not that long ago? Where did these children come from? I have a job? I only have just recently started feeling like I'm a real, live grown up… how did a ten year thing get thrown in there so fast?
Not a day goes by that I don't appreciate how fortunate we were to find each other, and to have the opportunity to fall in love… but I won't say we're fortunate to be together this long: having a good partnership has nothing to do with luck. It's hard work, and there are times where it's necessary to make sacrifices, take risks, embarrass yourself and be able to check your ego. There are ups and downs to all relationships, whether or not they make it far… I'll never claim our relationship is anywhere close to perfect (because it's far from it), but there are many days where I can honestly say it really feels like it couldn't get any better. Today is one of those days where I feel incredibly blessed.
We've gone through so much together, and I feel that without trudging through those dark times we wouldn't have been gifted with the strength to keep us together. I wouldn't recommend anyone put themselves in peril or anything, but I'm truly grateful for the range of experiences we've had as a couple; I'm grateful that our relationship has not been all sunshine and roses so that we could have the opportunity to teach each other how to communicate, open, trust and learn to ask the other for help when it's needed. It took a long time to see it that way, but creating a positive outlook has changed the way we see our darkest times, and the way we see each other when we're having dark days.
It's amazing to me to look at Curtis and see him across time: from a shy chubby boy under a tree and an awkward first kiss, making love for the first time under the Northern Lights, giving birth to Tempest while listening to his heartbeat… all the way to laying on the couch together this afternoon and running my fingers through his thinning hair, admiring the crows feet just beginning to form at the sides of his eyes. Maybe it's crazy to love discovering such little signs of aging, but I do; they make my heart soar. Each one is another reminder of how long I've loved him, and how far we've come. I don't see mortality and a loss of youth: I see appreciation, history, blessings and excitement for what is to come.
Everything I've ever wanted to experience in life I've done with him at my side, and he's been a part of my life for so long that I can barely remember what it's like without him there… I can't imagine him not being there.
I know I'm extra emotional from pregnancy hormones, but part of the fun of going through planning our tenth is how often I spontaneously tear up from the joy of realizing how wonderful it is to be here.
Alright, enough of this gush fest and onto the more exciting parts: party planning. We're set for July 28th, 2012: ten years and a day (reminiscent of the 'year and a day' handfasting commitment ceremony). It also happens to fall on a Saturday, which is a bonus.
I've started canvasing photographers, we've started putting together a guest list, searching sites for ideas… it's ridiculously fun. I forgot how awesome this is. It's like planning a really nice wedding, but without the stress, crazy budget and family drama.
A few months ago we talked about having a theme and a few weeks ago decided it'd be vintage. Since our wedding was all period wear, it sort of 'goes'.
So, like fate, as soon as we decided on that as a dress/party theme Curtis found this amazing (authentic!) 1930's Al Capone-style Gangster suit in blue pinstripe with ultra huge lapels and black and white wingtip shoes to match and completely flipped his shit. He actually squeed and leapt up out of his chair to drag me over. Unfortunately the one he found sold, but now that we know what we're looking for I think we can easily find more just like it. Menswear is considerably easier to obtain. Add in a matching fedora and it'll be a fucking amazing package.
Shortly after his discovery, I found [this dress] and I want it SO BAD. It's so perfect I almost want to buy it now – BUT on top of being already sold I fear that deciding on an outfit now will screw me later because I'll find something 'more perfect' within the next year and a half.
[This dress] is also amazing, but it doesn't quite give me the vibe the other one does.
It is unbelievably fun to start thinking about the little details of costumes and decor. We want to do a wine and cheese party, as opposed to a sit down dinner or a buffet; all hors d'oeuvres and nice wines, vintage tea sets with fine tears, crumpets and jellies, mismatched antique China on the tables and so on… I want to ask people to come in vintage wear as I'm pretty sure it's more readily available and cheaper than the Renaissance costumes that ALMOST NO ONE CAME IN for our wedding.
Even more fun is planning on the kids clothes: Xan will have a little gangster suit with suspenders and hat, and Tempest in a tea-length or ballerina style party dress.
See what I mean? Ridiculously exciting.
---
On the other hand: being sickish is not very exciting. I love asthma, because it makes everything hang around in your lungs for fucking WEEKS long after you're not "actually" sick anymore. So Xan and I keep coughing and breathing all fucked up for three months through the winter season following our first cold. Problem is we still have to function during that time, and everyone around us acts like we're assholes for being "sick" and going outside or shopping or some shit as though we're carrying the plague. Allergies garner much of the same reaction, except I actually 'shed' (snot) and look all puffy and gross. I get so tired of the ridiculous amount of tongue-clucking at my audacity to continue living and breathing while suffering from the effects a fucking life-long condition that does not affect anyone else in any way; it's like no one has ever heard of asthma and allergies, and has no idea what living with them entails. I'll make it simple: you look and act like you're ill for pretty much the entire winter (or/and summer, if you're also blessed with environmental allergies), but you're not actually contagious so back the fuck off. If I was as sick as I looked I woudn't be getting out of bed, fool.
ANYWAY.
I appeared to only actually have a cold for three or four days some time ago now, but the after effects have hung around for weeks in my lungs and my head. It zoomed through the house rather fast and everyone else was just barely down for about three to four days, maximum.
I can't shake a godawful sinus migraine no matter what I throw at it, and it makes me exhausted. I sleep all day and have feverish dreams in spite of the fact that I don't have a fever. I didn't even have a fever before when I was having those delusional dreams that I wrote about in the last entry – explain that one to me!
I'm so sick of hanging around the house sleeping, so after considering all afternoon Curtis and I decided to stuff ourselves with Tylenol (and decongestants for me) and go see The Deathly Hallows. I almost never take cold medicine, generally not even while sick… but I thought I might have a chance of breaking up the sinus migraine. No dice. It sort of dulled it for a few hours but it came back with a vengeance when I got home and kept me up until dawn. I didn't want to stare at a computer screen but I couldn't sleep, so instead I set up a photo shoot in the corner of my bedroom with a desk lamp and attempted to take some pregnancy photos. Fortunately for me Curtis sleeps like a log and won't wake up even to frequent camera bulb flashes and the high-pitched electronic scream of the SB800 when it's powered up.
But before I get into that: DEATHLY HALLOWS WAS AWESOME. It was so worth going. I found it so much better than the last few movies. From Goblet of Fire onward I felt the pacing was very fast and the storyline very scattered. It was hard to follow and felt very rushed. This one had none of those problems, was visually wonderful and had only one scene in it that I felt was totally unnecessary (you'll know it when you see it. Spoiler-free hint: I realize the actors aren't actually underage, but still… it's fucking creepy and unnecessary).
When we arrived at the theatre the evening had just began to make an interesting turn: snow had started falling. We don't usually get snow (and by 'don't usually' I mean 'almost never'). Unfortunately, it didn't stick around; when we emerged from the theatre some three hours later the roads were slick with moisture and our car had a fine covering of sleety, wet, ice-like substance that held only a slight resemblance to the evening's earlier snowy gift. All the weather reports say we should expect an actual snowfall sometime this weekend, but I'm not getting my hopes up. Despite living in Canada, where we're rumoured to get all the snow the US doesn't, we generally only get a real snowfall once every ten years with a smattering of one-hour flurries every few years in-between that.
Back to the photo thing: when the sinus medicine attempt at kicking my migraine wore off I took ibuprofen and tylenol and waited to see if that would work. It wasn't until nearly 6am that I started to feel well enough to sleep. Lack of sleep leaves me feel ill all day and I'm left nauseous, tired and still damned asthmatic and you get the picture… my voice only just came back after losing it for days following the scream-fest I had at Psycho Ex, so I was an image of perfect health. It's easier to just say, "I'm sick as a dog" rather than explain each piece of sick-but-not-sick, because in the end I still feel like shit all the same.
ANY FUCKING WAY.
I have some updated belly pictures to post. The last ones I put up were taken at 9.5 weeks, and since then I seem to have lost a lot of belly bloat and have shrunk considerably. This always happens when I hit the second trimester. Without the bloat I look slightly more triangular, but not much larger. I don't feel like I've gotten bigger at all, but Curtis swears I have. My breasts have sure gotten bigger… I just ordered an F32 bra off Ebay and when it arrived it was way, way too small. My two remaining G32's are a little tight in the cup, too. This part sucks. Or rather, it doesn't suck yet, and once it does it'll actually become easier to fit into a bra.
I cannot stay on topic to save my life.

November 20th, 13.5 weeks – Second trimester, baby!
ETA: I forgot to add in my comparison chart thing.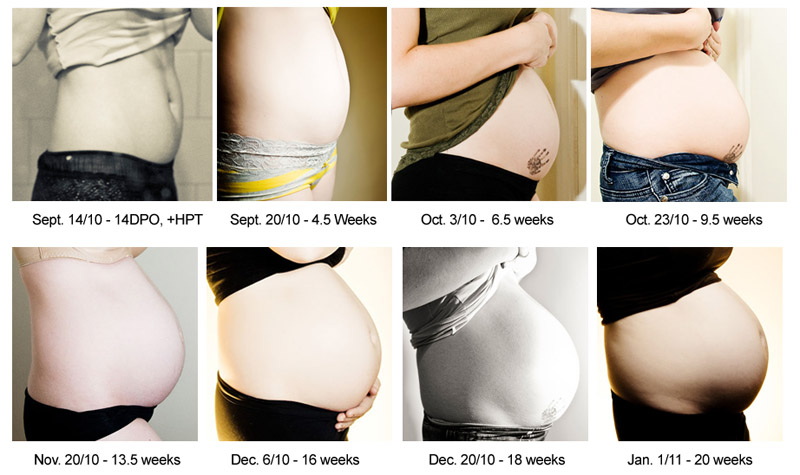 Now that I'm in my second trimester, shit gets better right? RIGHT? I'm so nauseated/exhausted/weepy/horny, I could really use some food/functionality/stability/excessive amounts of sex. I am so sick of this constant nausea shit; I'd forgotten how miserable pregnancy can be. At least I can feel the baby moving now. It's not all the time, and not often enough for me to feel truly reassured by it… but I do feel something at least one or two times a day. I can't wait to get to the better part of pregnancy with the bigger belly and a baby I can poke and watch move around under my skin.
Once I updated my standard belly photo folder and realized my headache wasn't yet gone, I decided I might as well get a little more creative. I turned off my lighting gear and brought out a desk lamp pointed against the corner of my room, then exposed for the wall and tried a few angles. I'm working with a self-timer and need to get out of position, walk up to the camera and physically check the LCD between each shot so it took a while to figure out how to get what I wanted, but I eventually got it.
I'm really loving this image, though nudity is sort of visible in the form of a nipple shadow so consider yourself warned.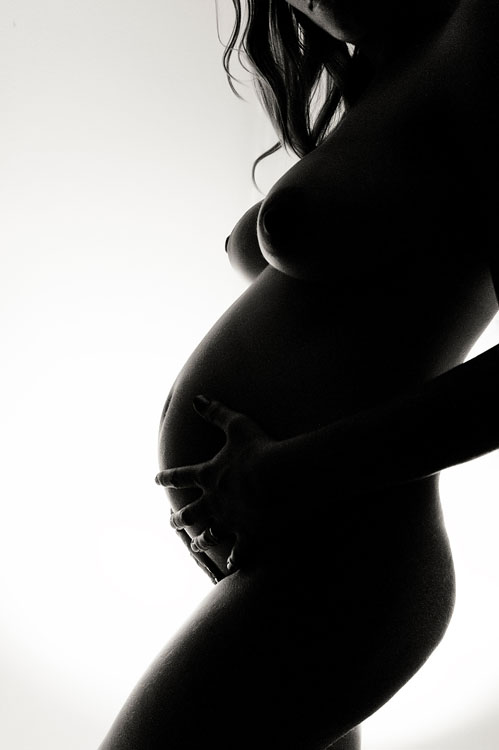 It's weird to admit that I'm glad I thought to start documenting my pregnancy in a more natural state, if only for myself to see. Even though it's not that interesting to do at the time, it's really cool to be able to look back at my changing body and see how everything came together; it makes me appreciate it all the more. And I know I'll really love it later on down the line, long after this baby is born, around the time I wished I'd done something like this with my earlier pregnancies and had barely more but a few bathroom mirror self-portraits.
Links of the Day:
"You can't birth breech twins vaginally", wanna bet? – An unplanned, unmedicated breech vaginal birth of twins at a hospital. Gorgeous.
Privilege Denying Dude – The best new image meme.
Have yourself a very sexist holiday – A fantastic article and small research project on gendered images and marketing in toy catalogues.
Comments
comments