My cat Chloe suddenly came down with a massive case of fat head that prompted us to take her to a 24-hour emergency vet clinic, where they diagnosed a massive abscess on her forehead and did a quick surgery to drain it and insert some tubes. She'll have the little tube things in her head for four days while it drains… it looks awful.
Worst part? The bill was nearly $500. WHAT THE FUCK. What could possibly cost so much about draining an abscess? When I was younger I had a cat with chronic abscesses on her tail, and each removal was around $87 for everything.
They also said she had a profound heart murmur, which apparently is not uncommon for a cat her age and isn't that big a deal, and she has dental disease which is likely to cause a mouth abscess within six months time. Awesome. She had a checkup five months ago and neither of these things were present, in fact she had a clean bill of health other than what was pretty normal for her advanced age.
They talked about her like she was SO OLD at 11. When the technician asked if we had any other cats in the house, it was kind of fun to say that her mama cat was still with us and still taking care of her day after day. Man, if they think Chloe is old…
She looks miserable. And scary.
But mostly scary.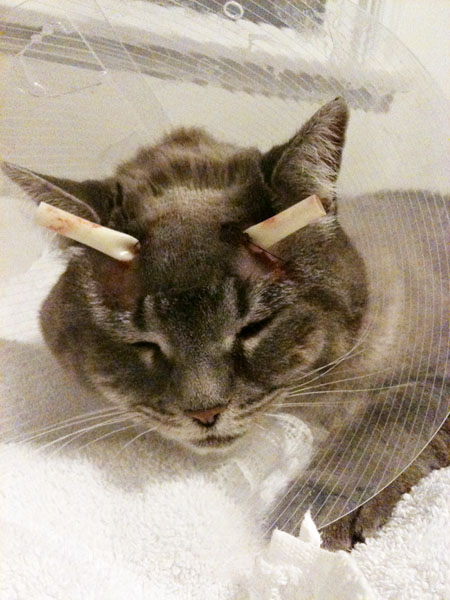 ---
So that fear I had about eating myself into oblivion because the Diclectin was working too well appears to be unfounded. The dose is still working most of the time, but I find myself needing to take a "breakthrough" dose of 1-2 extra about 3 out of every 7 days, and I'm still definitely having regular, if not daily episodes of nausea and vomiting. The other night I ate a bowl of cereal and my stomach cramped up so badly I literally crawled to the bathroom curled around myself and started uncontrollably vomiting from the pain. I puked for 45 continuous minutes and it was so intense that throughout the experience my hands were shaking and tears were streaming down my face.
This is no different cereal (portion, type, and milk brand) than I've eaten any other day, almost every day, but since then I've been terrified to have any. However, just following that I think a pretty awful IBS-related blockage/bloating/attack resolved and I've wondered if it wasn't related to that. I hadn't been able to go in almost ten days. IBS and pregnancy have never mixed well for me.
Either way, it's resolved now and I'm no longer having those horrific stomach cramps… and on top of that the size of my abdomen has gone down quite a bit. I knew that a lot of the "showing" was bloat, but I didn't realize how much of it was until it was gone.
I received a letter in the mail today, telling me I had an ultrasound appointment on November 2nd. I'll be 12 weeks. I went looking for some images of ultrasounded babies at that stage and happened across the information that gender prediction is up to 98.7% accurate at that point. I am both shocked and curious. One because I had no idea you could tell the gender that early, I thought you had to be much closer to 20+ weeks, and two because there is actually a rather large part of me that REALLY WANTS TO KNOW. I went three babies without this shit – what is with my head?
Un/fortunately, in this province you can't find out the gender. Not unless you pay for one of those "souvenir" 3D baby visits that cost like $350 and bombard you with an hour and a half of heavy duty ultrasound for the sake of about 40 near-identical pictures. While kind of cool, it's also one of those things I can never see myself doing (then again, who knows with this pregnancy… everything's all turned on its head).
I put aside time this evening in order to (attempt to) take some belly photos, including a series of full nudes that I'm considering continuing. I promised myself back somewhere in the last four years that when/if I ever got pregnant again that I'd do a nude series of growing belly images for personal reasons. I want to have a record of how my whole body changed and grew over pregnancy. I don't know if I'd ever have the confidence to share them publicly, so it's a personal project until/unless I suddenly grow some self-esteem (perhaps right around the time I'm skinny again, which may or may not be when pigs fly).
One of the things I've been contemplating for months now is a photography-based self esteem project. My idea was to take time once a week to focus on one singular part of my body, capture it in an artistic and appreciative way (without retouching, obviously), and then talk about it. The idea was to try and give myself permission to put aside some time reserved solely for appreciating my body as a construction of different parts; to challenge myself to view each of these parts individually, recognizing their uniqueness and beauty. My hope is that by doing so it would allow me to see a value in each of these pieces, and gradually bring it all together to create a complete image that I can hold in higher confidence and esteem…. something which has never come easily for me.
There's a lot of reasons I've considered doing it, most of which I haven't spoken about publicly (or at all), and I'm almost at the point of taking it on. It sounds silly to say I've already spent over six months working myself up and I'm still not prepared to begin. It's a topic that's incredibly difficult for me; openly taking on the challenge of appreciating and photographing my body is a lot harder than I'd like to admit. Posting it publicly gives me an additional challenge, a motivation to keep going, and represents building my outer confidence.
And, of course one of the other hopes is that it might catch on with a few other women who feel that they're in the same place as I am, and maybe after a while I wouldn't be quite so alone (or vulnerable) while attempting it.
This entry was supposed to be a pregnancy update; it has really veered off course.
I am :
Still tender of stomach.
Still upset that I cannot have the babies of Diclectin.
Less tired.
Having amazing sex.
Having amazing sex dreams full of crazy shit like dancing in a club with some random guy and running off into a coat locker to have anonymous, sweaty sex for 15 minutes before coming back out to do the same thing to the next random guy that dances with me.
Enjoying rounder breasts
Not enjoying the return of that weird loose muscle twitch at the top of my belly that happened at the end of my pregnancy with Xan. It feels like a hernia (or at least like a little finger poking through my muscle wall and wiggling around) but when I went to a doctor to check it out, I was told it's probably just "loose muscle". Fuck I hate it. It is so intensely uncomfortable.
Craving spicy like my life depends on it. If it isn't making my eyes water just to smell it, it isn't hot enough. There's this super spicy, thick red sauce at all the Vietnamese places that I'm pretty sure is called "Sambucha" (spelled that way on purpose) and I crave it so bad I'm tempted to drink it. One teaspoon in a huge, huge box of take-out noodles was enough to set a five-alarm burn on my mouth for an hour. I NEED it.
Edit: found it, it's called [Sriracha]. Boy was I off. I WANT IT ON EVERYTHING.
Now as I was saying: belly pictures.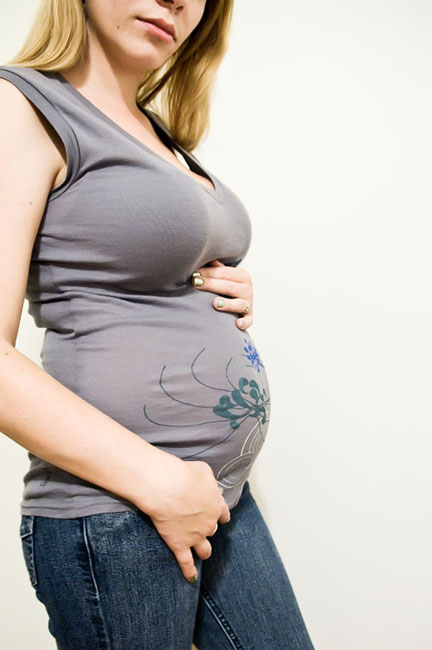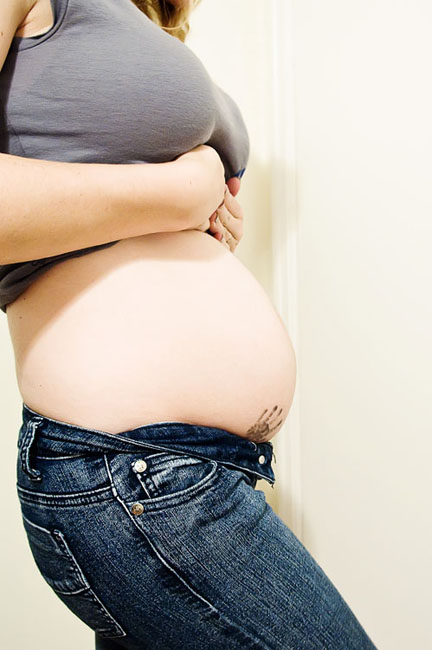 9.5 weeks with all the bloat gone.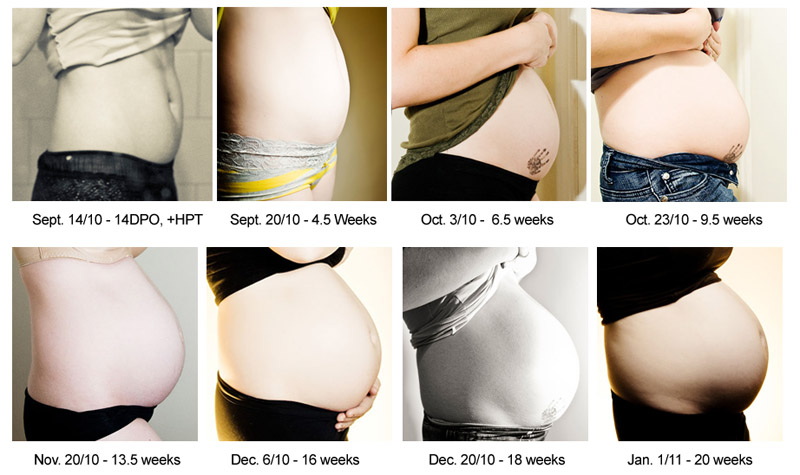 Links of the Day:
A modern U.S. President – An Obama spoof based off "the pirates of penzance" most famous number. More than a little hilarious.
The professor brothers: Bible history #1 Sodom and Gamorrah – Remember that whole "Washington" rap about motherfucking George Washington? This is Bible history done by the same guys. This is so my dad's kind of humour that I could practically hear his voice saying the lines.
Comments
comments