This evening at the grocery store we realized that, as a result of our child spacing, we'll be feeding 1-2 teenagers in our house for 18 continuous years. (Not including the years we're doing so now). This parenting thing is an expensive lifestyle.
Pregnant. PREGNANT. I really do not feel pregnant at all… and it's kind of freaking me out. Everyone rolls their eyes and says "Don't complain!" but it's really not that easy; I really need to feel pregnant to feel that this is going okay. I'm not asking for violent morning sickness or something (been there done that, barfed on the t-shirt), I mean even some sore breasts would help. I walk around feeling like this isn't happening at all, the baby must be dead, any minute now the bleeding will start… It's not like I'm sitting around shaking in my boots, more like I'm waiting to wake up.
I haven't felt this out of it in pregnancy since Tempest, and I was living some serious denial through that… which I suppose is probably what's happening here: this happened very fast and very unexpectedly and I really was not expecting it to work at all. Let alone get lucky enough to have my one of THREE yearly ovulations the month after we took out the IUD.
I've almost convinced myself to get an ultrasound, and that's a pretty big deal for someone who practiced self-care for her last two pregnancies. I think if I heard a heartbeat it would feel more real and I might have a bit more confidence that this is actually happening to me, but I don't know that I can wait 14 more weeks for the fetoscope to be able to pick up a heartbeat. I don't know. This is very disconcerting. I'm trying to focus on the tiny little symptoms that I think might be happening. Maybe. Sorta.
The only change I could really put my finger on is the fact that all my milk abruptly dried up. Xan hasn't nursed since he was 34 months old but I continued to have milk just sort of hanging around in there. I could easily hand-express an ounce if I wanted to. About three weeks ago it just…. disappeared! I can't get a single drop out. For the first time in over 8 years my boobs are completely milkless. I'm actually not sure how to feel about that; having breastmilk has completely changed the way I view and appreciate my breasts, and after nursing babies I have a real love for the way they look and feel. I love my breasts when they're swollen with milk: it's sensual in a nonsexual way, if that makes sense… I feel womanly and powerful. It's weird for them to return to their state of nonpowerfulwomanness and go back to being breasts. It's like they are superheros in their unassuming normal guy costumes.
Anyway.
I am definitely bloaty and "showy" in the way I get in early pregnancy. It's not that the baby is any larger than a coffee bean, but rather due to a combination of factors like lots of cesarean scar tissue, being multiparas, having high uterus placement from my tiny malformed pelvis, being bloaty, and so on… A lot of multiparas and VBAC moms in my DDC are showing a little bit, too.
That said, it doesn't seem pregnanty. More like fat and pouty that I can't suck it in. Although, today at the Baby Fair three complete strangers asked me when I was due, based only on the tiny little bump of my belly showing through my tank top. Apparently it has enough shape to it for experienced mums to know the difference, but I totally don't see it. I'm also not nearly brave enough to ask anyone when they're due unless they're massively huge and clearly wearing maternity clothes. I won't be caught dead making that mistake. Again.
Regardless of however this goes, I am enjoying the process of buying baby stuff. We're doing amazingly well with our funds lately, and have more than enough to start building a supply of stuff. I've already purchased a huge stash of cloth diapers, more maternity wear, a few baby items, shoes, a fantastic nursing bra from Japan, hemp velour nursing pads, lots of wool for knitting, and we managed to find a gently used Britax car seat (the convertible type that do 8-85lbs) FOR FREE!
I love this part. Shopping for baby has been elevated to a series of steps in a magical spell that brings forth your new child. It's awesome.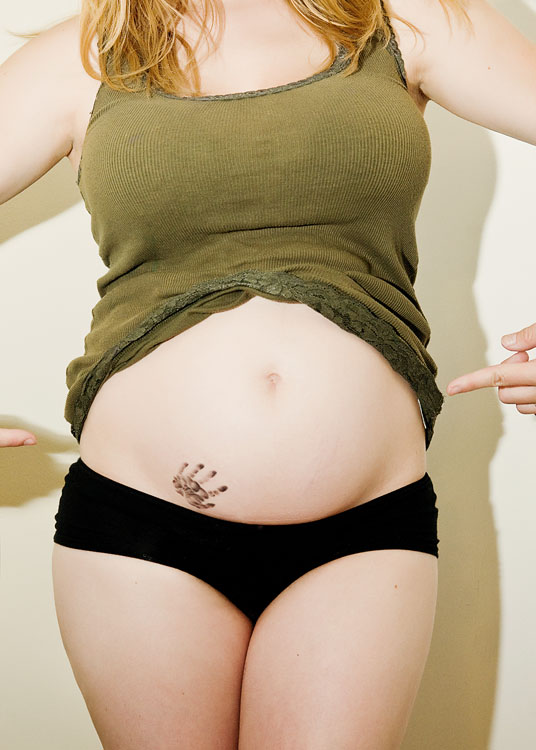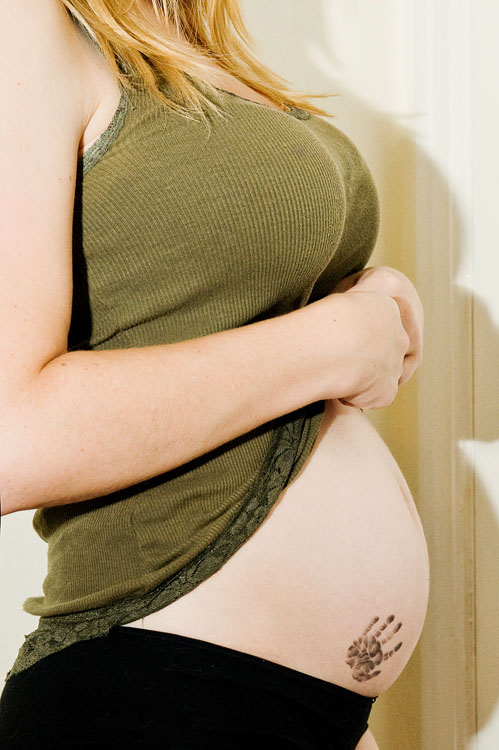 (I'm getting a weird shape to my stomach with this early pregnancy bloat/show thing. Is anyone else seeing this? It's triangular.) It looks huge there but it really isn't that big. I think it's barrel distortion.
As much as I'd love to say I was that fat before I got pregnant, it is a pretty significant jump compared to [
a little while ago
].
And a self-portrait for good measure. I've been trying to get a satisfying head-on shot for a longass time now, and I'm actually pretty okay with this one.

---
I've been getting some very strange spam mail lately. Today's edition was titled, "Public tradition remains silent" and contained only a short message reading, "When they reached Paris, the crowd remained silent. A b c d e f g h i j k l Ruppert, E". That's a piss poor excuse for spam, it didn't even try to sell me something.
The one before it was by far some of the best spam I've ever received. It was supposedly a death threat from an assassin, titled, "Your life at stake". The message said I would be offed unless I gave him what he wanted (probably bank information), which would be followed by him giving up all the information "someone that loves you" had given him about me. The letter warns me not to "outside" past 7:30pm.
I found this letter so hilarious that I wrote him back from another account and asked if he takes requests. So far, no reply.
---
Pictures!
This is a repeat family, I took their little girl's picture when she was three months old… and now she has a little brother who is three months old. Although he wasn't nearly as smiley as his sister was at that age. It took us over two hours to get a single grin out of him.
I think these are some of my best (and most favourite) family shots this year.

---
Quotes of the Day:
(Overheard at bedtime)
*CRASH* *thump* *runrunrun*
Xan: "NO YAYA! NOOOO!"
*crash bang crash*
Tempest: "Xan! STOP! Ghosts do NOT climb trees!"
*crash crash crash break shatter*
Xan: "Yaya I hate you!"
Tempest: "Let's play over here"
Xan: "Okay."
*laugh, giggle* — Siblings are fun, aren't they? Why are we doing this again?
Yesterday morning while sitting on the couch with Xan, watching cartoons, he suddenly lifted up my shirt and said, "I'm going to listen to the baby."
Me: "You can't hear the baby, it's too little. But when it's bigger you can feel it."
Xan: "No, I'm going to try anyway." He puts his ear down on my stomach and listens for a few moments, then acts all excited. "I heard baby grumbling noises! The baby is making baby grumbling noises!"
Me: "That's not the baby! That's just my tummy."
Xan: "Why does your tummy make grumbly baby noises?"
Me: "That's the noise of my food digesting."
Xan, clearly disappointed: "Oh."
And my favourite exchange of the week:
Xan: "I think the baby should be born in the livingroom."
Me: "Do you? That's a pretty good spot for a baby to be born."
Xan: "Wait. Where was I born?"
Me: "In the bath."
Xan: "Oh, yeah. The baby should be born in the bath! Because I was born in the bath, and I sure liked it! Definitely the bath."
Me: "We can do both: we can put a special birthing pool in the livingroom and then have the baby in the water… in the livingroom!"
Xan: "WOW REALLY? THAT IS SO COOL! Let's do that! Babies LOVE being born in baths and livingrooms!"
Me: "Are you going to be there when the baby is born? Do you want to watch?"
Xan: "Yes! I like seeing babies come out."
Me: "We'll watch some videos of babies being born so you can see how it happens. Sometimes there's yelling or crying, but it's okay to make loud noises. There's some blood–"
Xan, laughing and waving a hand dismissively: "What? There's no blood. C'mon mommy."
Me: "Yes there is! There's some blood when baby comes out."
Xan: "Why would the baby be bleedin?"
Me: "It's good blood. When the baby is in your belly it needs a nice soft pillow so it doesn't get hurt when your tummy gets bonked, or if you fall, so the blood is like a pillow. When the baby comes out, it doesn't need it anymore, so the blood comes out too."
Xan: "Oh, okay."
Later on, at dinner Xan decides he wants to impress my mom with his newfound knowledge and puts on his smart face, twirls a fork and says very casually, "Nanny, did you know that bloody pillows are very good for babies? Babies just love to have bloody pillows in their vaginas."
Links of the Day:
What you mean when you say "literally" – Oh noez! Gayroller!
Derailing for Dummies – My contribution was approved! "But it's true!" will be up on the site shortly. 😉
Why Cavemen were better parents than we are today – More literature about how breastfeeding, baby wearing and all that good stuff really improves brain development, and stuff like CIO harms. More and more research keeps coming out about this stuff lately, and it makes me wonder why it wasn't headline news back when I was having Tempest and trying to defend my parenting practices to people who thought it was psychotic.
Comments
comments