First off: those invasion-of-privacy ticky boxes on LJ's comment leaving things now… do you really want people to be cross-posting their replies to your entries (even friends locked ones, apparently) onto others' Facebooks?
I got this from jenrose
1. Be using Firefox.
2. Go here and install this addon: https://addons.mozilla.org/en-US/firefox/addon/748/
3. Go here and install this script: http://userscripts.org/scripts/show/85105
Voila. Fixed. Takes about 25 seconds.
However, this does not address the underlying grotesque privacy violation that is allowing people to crosspost their replies to locked posts to Facebook. But it does make the blood pressure stay down while you're replying to other people's stuff.
Feel free to promote.
---
Speaking of jenrose, I had a session with her daughter, and daughter's best friend some time ago and it was FREAKING AWESOME. They drove all the way from Oregon for this session.
Trufax: these teens are some of the most awesome teens who ever lived, and I love this session with my heart and soul. It was like steampunk Alice in Wonderland. They were all Dr. Who fans and we did nothing but jump around and talk about sci-fi nerddom for three hours. And lo, it was awesomesauce. I need more clients like this.

Aine

Kailea

Boomsauce.

My beautiful kids. I haven't taken many photos of them in the last month, at least not with the "big camera". I've been so overwhelmed with life crap that I just… don't feel inspired to bring it out. The other day we sat on the bed taking photos for a little while.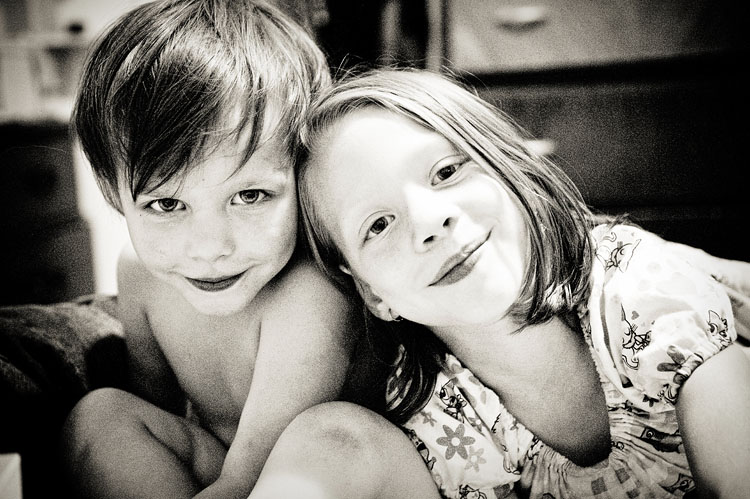 Tempest is too cool for school.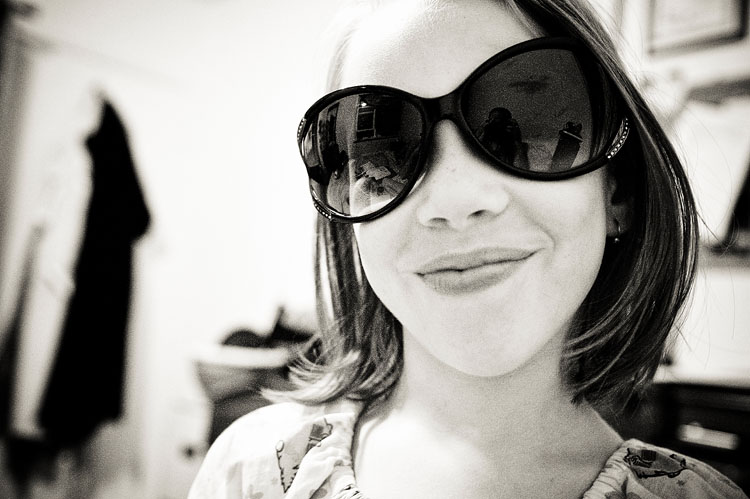 I have given up on getting normal photos of Xan anymore. He is a little stand up comedian. I mean, I've met lots of funny kids, but he is like a mini Robin Williams. He is ALWAYS FUCKING ON. And while lots of people say he's hilarious and must be a gas to be around… it sure can get trying. He never stops. He even does it in his sleep. Last night he curled into bed with us after waking up in tears over being hungry at 3:30am (he just had a tummy ache, he wasn't truly hungry) and as he fell asleep in Curtis' arms he ended up laughing until he couldn't breathe for almost 45 minutes. I couldn't get to bed because he would not stop laughing in his sleep. I had to put earplugs in. This happens all the damn time now. It's insane.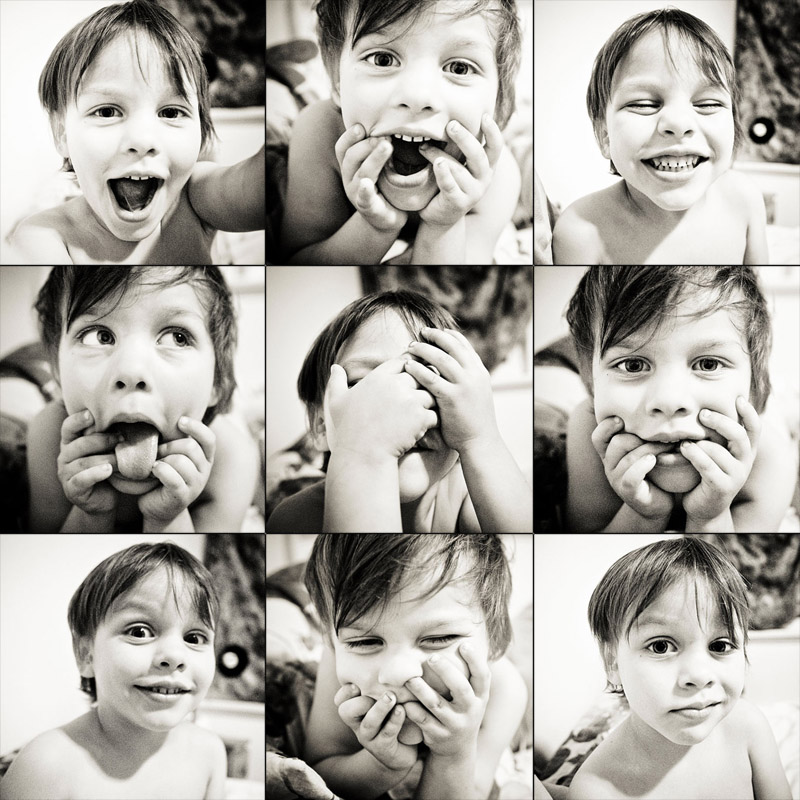 Biking girl has mastered the bike in record time.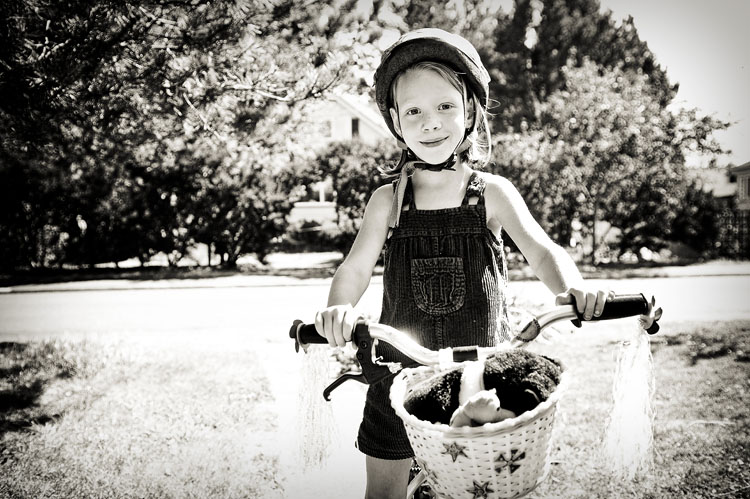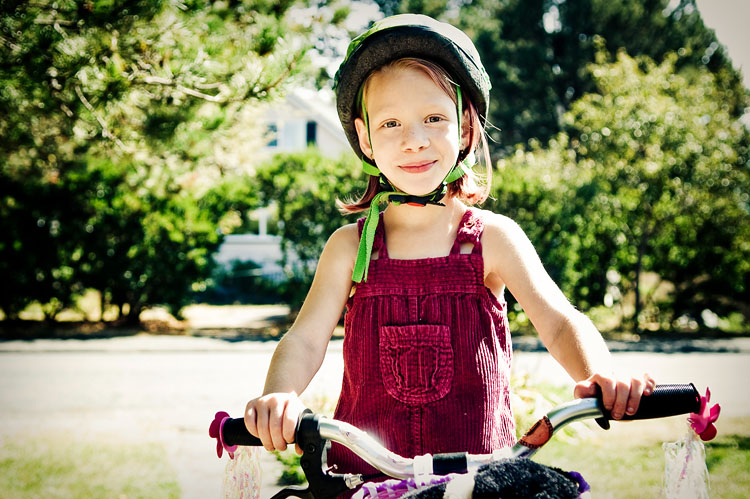 And a new set of self-portraits. Hurrah. One of my recent projects was a DIY beauty dish made of a plastic plant pot and a CD spindle. It works incredibly well considering the rig cost me less than $15. This works for an SB800 (Nikon) but could also work with a Vivitar 285. I haven't used the Canon lighting system, so I can't tell you if it would work as well with it, but given that it's just a gutter piece that makes it "for" one system or another I'm sure it's easily modifiable to fit whatever off camera system you use.
The instructions are [ here ] . Though I must give one warning: if you're a chronic procrastinator like I am, this may take you months.
Last night I set it up to take some self portraits as tests. These were all taken with the SB800 in the beauty dish at around 1/32 + 2/3 (manual), triggered by PW II's. Dish was at camera left, no more than 12 inches from my face and straight on. Shot at F/4.5 1/80 with my 17-55/2.8 lens. I can't remember the ISO but looking at these I'm going to say no more than 400.
This one got cut off but I actually kind of like it.

Links of the Day:
Day one in Hinche – A midwife's diary of her first night spent in a Haitian hospital, delivering babies and trying to make a difference. This is an incredibly intense and potentially triggering read… but it is important. When I read through this woman's experience I noticed there were no comments anywhere: not many are reading. This is something that needs to be seen.
Cartoon: street harassment – Something that every woman understands, but men almost never do. That last panel sums it up nicely. I can't count how many times I've been approached by random men, usually older men, and been asked to "smile". That's a subtle one, but just as offensive… and the problem with it is that men (and many women) don't seem to understand what that request really means.
Seriously amazing insect and reptile macros – Most are by the same photographer. This is one incredible and beautiful collection of images. Hat tip to breakableheart
Dancers in Motion – Photographer captures ribbons of movement through long-exposure shots of dancers performing. Truly stunning.
Comments
comments