(I don't have to tell you that there's a warning for boob and blood so don't be an idiot, open it up, and then whine about how offended you are. In one image you can see a baby's head emerging, but it's tasteful: there are no full spread pictures because that's not how I roll. Birth is the single most amazing thing I have ever been present for, let alone to be asked to photograph, so please respect the spirit in which these photos were taken and don't be that guy. Because that guy? Nobody likes him).
Kathryn's labour/birth photos and some baby photos, with my view of her birth story, posted with permission.
The contractions started the night before just after we did the belly cast, but weren't at all regular. 45 minutes, 5 minutes, 3 minutes, an hour, 30 minutes…
Belly cast, drying during a contraction to capture that "square uterus" charm: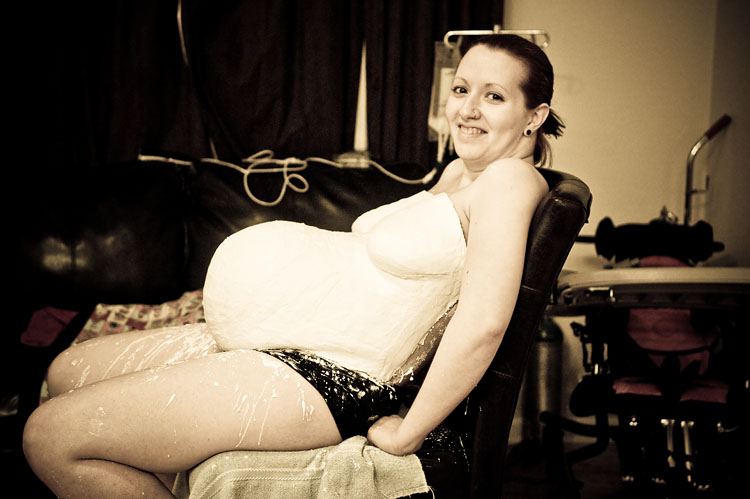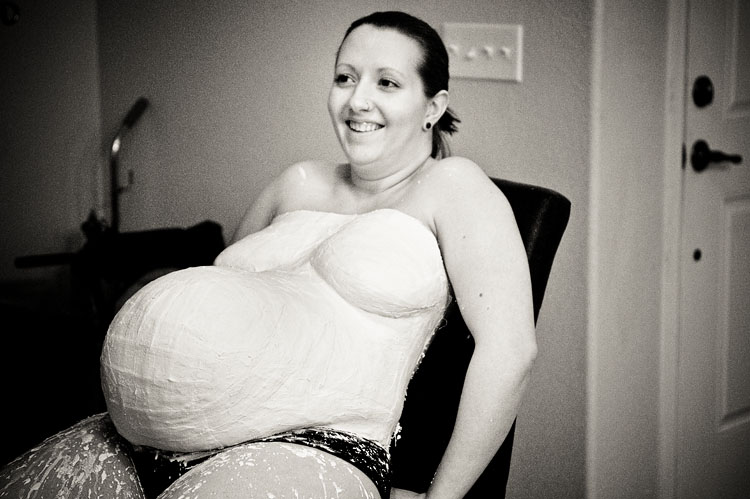 Prelabour continued like that until the following afternoon when we went to a block party that was apparently held by the lawn mafia. Once we got past the Chief Officer in charge of Shades of Green we gathered in the back with the giant bouncy castle. Once there, Kathryn had her first contractions that actually hurt…

… however, they were still pretty irregular. After a few minutes of watching this, and spending some time taking pictures of the kids, we started walking the block in front of the house.
Coy and Max

Originally we were going to go as far as Walgreens, a few miles away, but it quickly became apparent that the walk was working better than we planned and there was no way she was going to make it that far. Immediately after we started pacing, her contractions became two minutes apart and painful. The peak of the contractions were still only about ten seconds long, so in no way did we believe this to be very close to the end.
After about an hour her contractions changed abruptly to very intense, so I suggested we go back to the house. Jeremy started blowing up the pool and called the midwife while Kathryn and I picked up the bedroom.
It took the midwife only about five minutes to arrive, and she checked Kathryn and announced the baby was very low, but didn't give a dilation report. Being flat on her back during a contraction was the first time I actually saw her struggle with the pain. The midwife said there was no way she'd make it to the pool, and suggested we set up the bed for birth.
A moment later Kathryn said she had to pee, something she'd been trying to do for a while, and wandered into the attached bathroom. The midwife looked around and said quietly, "I think I'm going, too". I stayed behind in the bedroom and checked my lighting set-up again. About thirty seconds later I heard a scream, looked up and realized that the baby's head was out. It had been less than two hours since her first real contraction.
I ran into the bathroom and started clicking, then realized that my lighting setup didn't reach the bathroom, so I whipped off the pocket wizard, jacked up the ISO and kept going. To be frank I'm surprised I got anything usable at 3200 and 1/50 in the seven seconds it took for her to give birth (according to the camera's timestamp) but, I'm actually really pleased with the results.
Baby crowning and midwife supporting. While Kathryn has resigned herself to having a baby on the toilet, she adamantly refuses to have a baby in the toilet.

Arrival:

After a few moments spent in shock, the midwife transferred baby Auri to Jeremy's hands and helped Kathryn get to bed.

Max comes in for a peek at his new baby sister.

Stats are recorded.

So much hair.

One of my favourites

Coy and Dakota

The midwife sets her up to weigh… We all make our guesses at somewhere between 7.5 and 8.2…

But we were all wrong: she's a fatty. 🙂

Dakota watches quietly as the APGARS and reflexive tests are started.

Knees.

Baby love.

We let new baby and mom sleep for a few hours following such a rocketing birth. She was absolutely exhausted. Short, intense labours take way more out of you than a longer, more drawn out one. I've had a 44 hour labour, a 2.5 hour labour and a 3 hour labour and while having a precipitous labour is better in some ways… I think I'd honestly prefer one that's about 5-6 hours long so I at least have some prep time before baby comes rocketing into the world at the speed of sound.
Just before I packed up to leave home, I attempted a short photo session with the new baby. She was not having any of it, but I got a few images before she fussed too long.
Every time I hold a new baby I feel like it's been forever since I had one. 3.5 years seems like an eternity; I barely even remember Xan as an infant, and can barely recognize him from his newborn-era photos. Newborns are so soft and silky. I ache to have one again.

My new favourite:

If you came here from an off-site link, you can go back one entry (hit "previous" at the top of this entry, or simply [ click here ]) to see this mama's maternity pictures, or surf to another photo entry similar to this from many moons ago to view yet another incredible [ home water birth ] I photographed. 🙂
Comments
comments