Intimacy and sarcasm are my coping skills, though they oft don't play well together. We did this after Jericho died, too.
Fight weird, and fuck hard.
I'm finally getting over that weird feeling of having another person in the house who may or may not overhear us. Teenagers sleep like the dead anyway. She rarely even wakes up to her own alarm clock.
We go out for coffee and snacks at the bakery every two days or so. It's nice to have a morning walk, even if we're spending an extra $150 every month on it I'm at a point where I don't care… we just want the time. Just a stupid excuse for 20 minutes to hold his hand and walk in the rain. If not for just Curtis and I, then for Marika and I, or for all three of us. It's nice to have a half hour in the morning where we can be goofy and weird, bundle up in the cold and grab a good cup down the road and have the chance for a stroll and some conversation. I would say it was adult time, except we rarely act like grown-ups.
Earlier this week when she had a free block before lunch she came home early, so when she came home we took her out to the shop for a "breakfast" quesadilla and an iced mocha. Xan got on his push tricycle and off we went.
Somewhere in conversation Curtis made a crack about my valium tolerance and I mentioned the institution stay as a child in the context of a morbid joke.
"You were in there when you were little?" Marika asked. She knew about the stay when I was older, we'd talked about it once.
"Yeah."
"I didn't know that…"
"You weren't born yet. Your mom was still pregnant with you when I got out." No jokes now. She shyly asked a few questions, and as I answered I realized how detached I sounded from the experience. I feel detached. These all feel like stories: the institutions, the night of Jericho's birth, hiding under beds and flying into walls. I feel I have stowed them away in a box somewhere, in the back of a closet with a fading label. I take them with me like a box of broken toys I can't let go of.
I remembered my father once telling me how hardened I'd become as I got older.
"You're a hardass now," he told me several years ago. "No one can talk to you." I was hurt at the time; I didn't see myself that way. But, I think it is what I have become. I was never this person – I never tried to be. When did this happen?
Two nights ago Curtis regaled Marika of a story from the only time I was actually stupid drunk and the hilarity that ensued. She looked absolutely shocked.
"I just can't imagine you like that!" she said, astounded. I had a moment of wondering how on earth I got to be this hard-assed, cynical woman: in her eyes, in my family's eyes — to everyone but my oldest friends.
I was always the class clown.
This isn't strength – this is bullshit.
---
This week wasn't as bad as the last many have been.
Curtis and I downloaded the old Everquest so we could participate in Project 1999 – and it's just as awesome as we were hoping it would be. Frustratingly slow leveling and all. After a week of playing we've barely hit level five. Marika says we're nerds.
Marika is gone this weekend; she's visiting dad. He got back from traveling up in god-knows-where B.C. and is over his bout of H1N1. He was up doing workshops and teaching theatre, he's impossible to get ahold of when he's traveling because there's almost no cell reception up there.
Meanwhile, Marika is realizing what an amazing guy he is after spending her life not really knowing him… and she's finally getting what I've been talking about all these years: dad is a great guy for teenagers. He has raised two, taught high school and is just generally awesome with them. She's called him a few times in distress and he's been a fantastic person to talk to. It makes me beam with happiness that she finally has the freedom to experience having a good dad… even though it brings the sadness of realizing he was always there, and she was never able to know him before.
She took the train bright and early yesterday morning. After being harassed for days prior, she finally talked to her on the phone about needing respect. It ended unexpectedly well: she's meeting her for lunch this weekend. We have our fingers nervously crossed for a good, positive outcome and strong step forward. We practiced so much on communication, on needs, on asking for things that are fair and honest, on mending broken relationships and the importance of continuing to try even though it seems lost… it's enough to make me want to cry to know that maybe it's finally going to start working.
I wish it was that way for her mother and I. I wish it was as easy as just saying, "I want the same thing you do for her". It seems no matter what I do to help things go more smoothly, I'm always the bad guy who is fucking around where I shouldn't be. For now, I needed to step back, and temporarily give up, or maybe it's giving in…. I just can't be the punching bag right now. Maybe in a few more weeks I'll step back into the circle and try again, but for now I need to refocus everything to self-preservation and holding on to what little precious sanity I have left as I crawl toward this finish line.
Everything feels so close right now. The days that feel good are few and far between.
I had one today, at least.
Today I had a session that ended up being an incredible gift. I know you're not supposed to make friends with your clients; you will give them freebies, discounts you wouldn't, they might ask for more than they should… it can get complicated. But, if I could find a few people a year like this I'd be willing to bend all my rules; because people like this are worth the find. I tend to give more in the winter months when things are slow and I have the opportunity to get to know people more. Part of what I do is talk – a lot – and get to know people really well as I'm doing their session. I get more natural photos, I get more of an idea of who they are and how to reflect that, and I get to hear some really amazing stories.
On the way to location #3 we had an awesome conversation about the versatility of the word "fuck" after mama accidentally asked me if wearing a large bag would, "have your back fucked up" and didn't realize that even when used the "right" context (eg. not as an exclamation), fuck is still a swear word.
After I got home Curtis got the kids ready and we all walked/biked/strolled up to the mall for coffee, snacks and books. Curtis is trying to build up a collection of Arthur C. Clarke and Max Brooks for his hospital stay so he won't be bored. I'm kind of tickled that he plans on simultaneously reading "World War Z" and "2001" during recovery, because that's weird.
We got the kids some New York Fries for lunch, which is their favourite gorpy treat.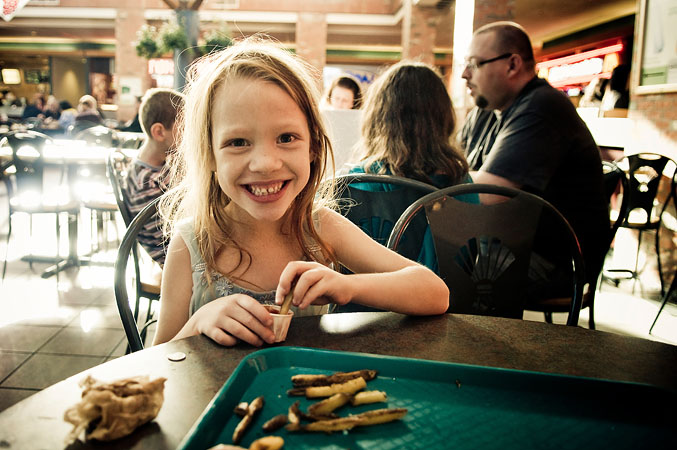 NO PICTURES.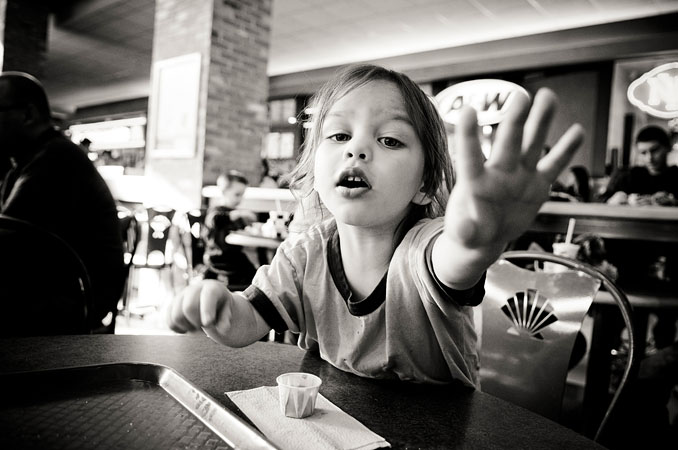 Okay, maybe a few.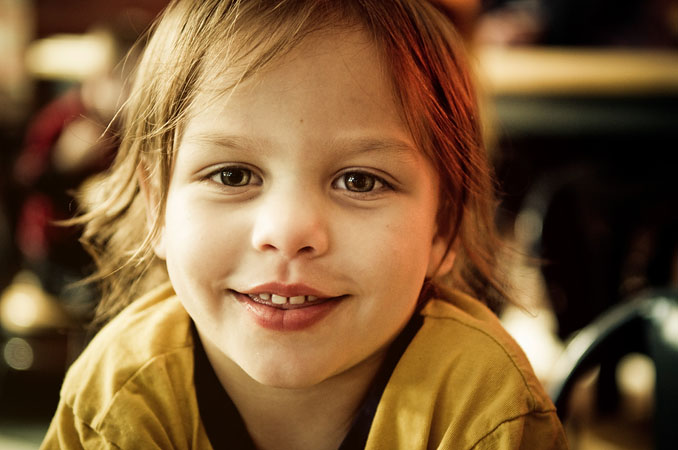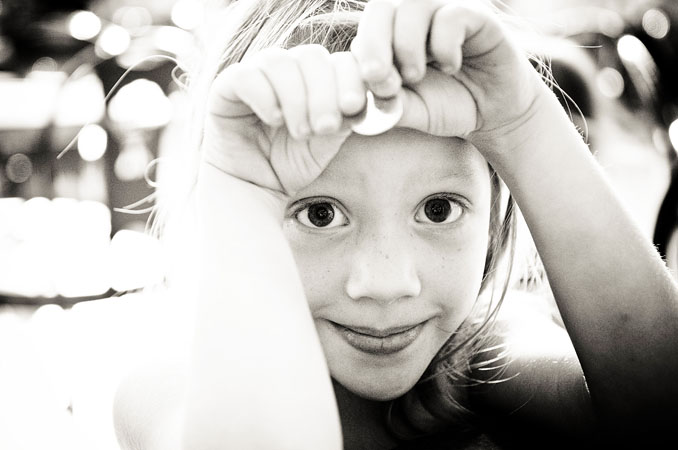 This about sums up their relationship at this point.
They hate each other about 99% of the time. Tempest even came out of her room the other day to tearfully tell me, "I REALLY hate Xan". Siblings.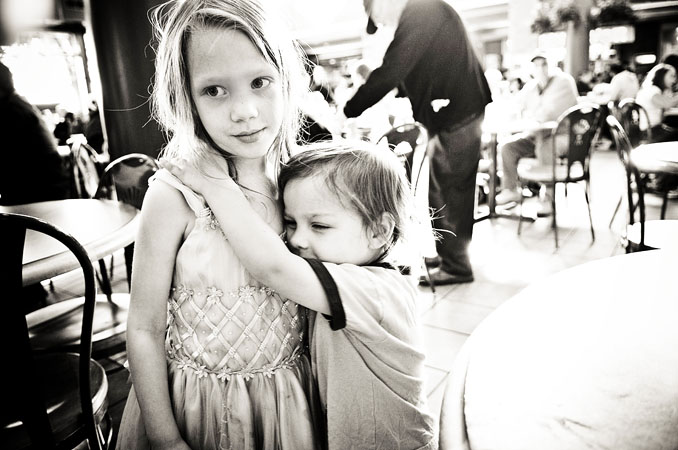 PS. My kids cannot keep their hair nice to save their life. We brushed their little sticky heads just before we went on the walk… that's what it looks like 18 minutes later.
Comments
comments