Today was "clean out the garden" day so we can try for the third year in a row to grow something other than weeds. I stayed inside with a naked and dangly Xan for the first 45 minutes, waiting for my medication to kick in before I went out for dirty work with Curtis and Tempest. By the time I went out, the two of them had already managed to pull all the weeds out of the main bed, tilled the soil and added a ton of topsoil that we'd purchased some months back.
Curtis found an alarming number of small potatoes deep in the bed.
Tempest helped out with everything she could before retiring to the sidewalk to draw hopscotch blocks. I sat with her on the front steps looking through our bags of seeds as she excitedly described how each would grow. She is disappointed that we won't be growing only flowers and actually want to have a vegetable garden.
I spent most of the morning taking pictures, which is something I've been doing less and less of lately, and I want to change that…
Curtis pulling weeds.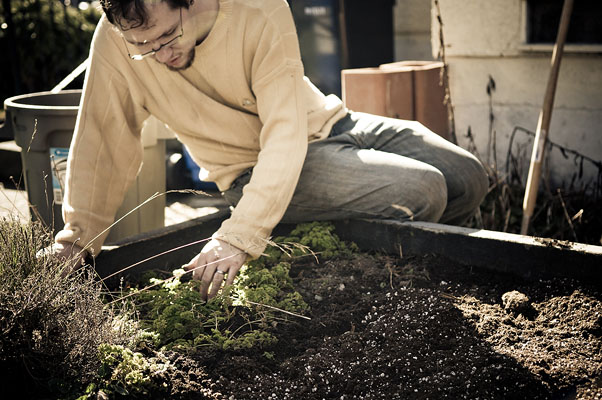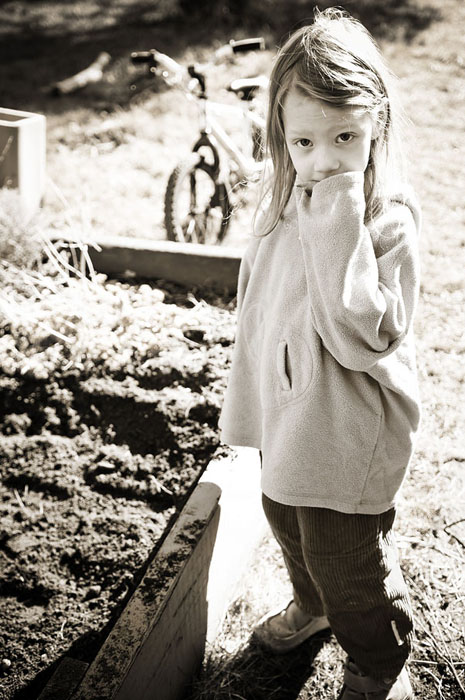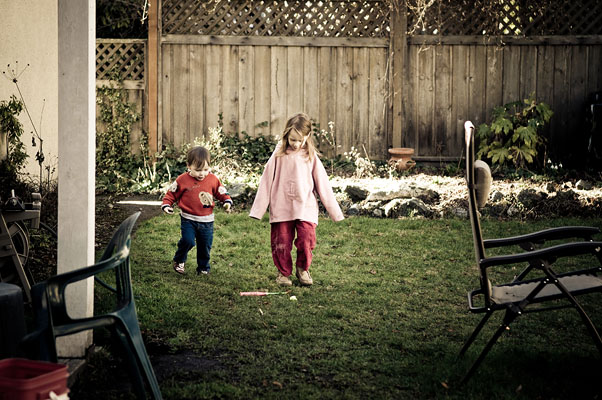 Later that day we went to the park, at sunset. I love the warm light at the end of the day; it's so great to take photos in.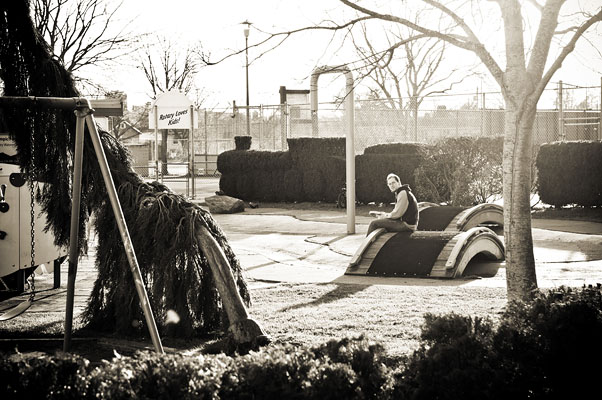 Curtis pushing Xan on the "blue ball" thing.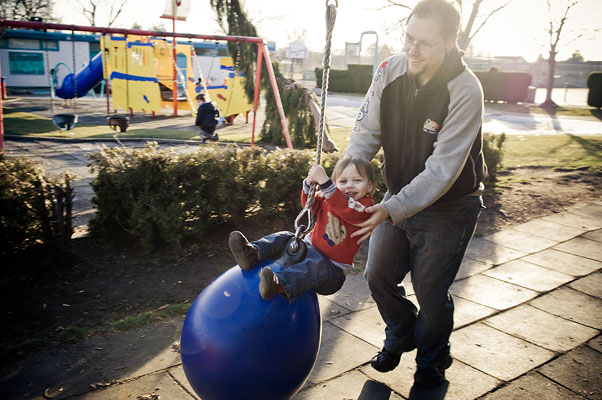 Tempest's turn.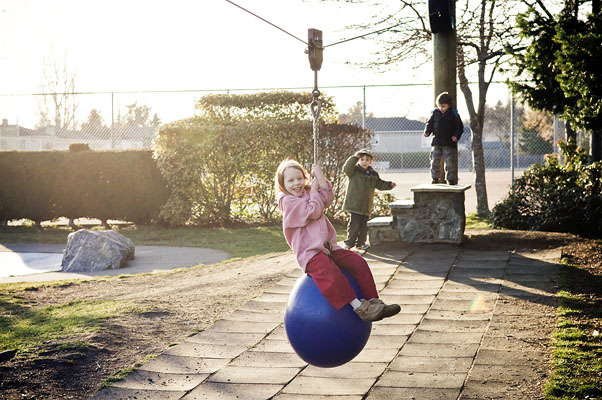 There's a daycare adjacent to this park, the back door actually exits right into it, and when we arrived today it appeared to be the end of a day for the kids there. Parents were coming to pick up their kids and the supervisors had put out a table with bubbles for kids to play with while they waited. Tempest only stopped there for a moment, she spent all her time on the ball swing thing, but Xan was determined to make the bubbles work for him. He spent the entire stay at the park at the bubble table, blowing raspberries at the wands, trying valiantly to make large bubbles like the other kids.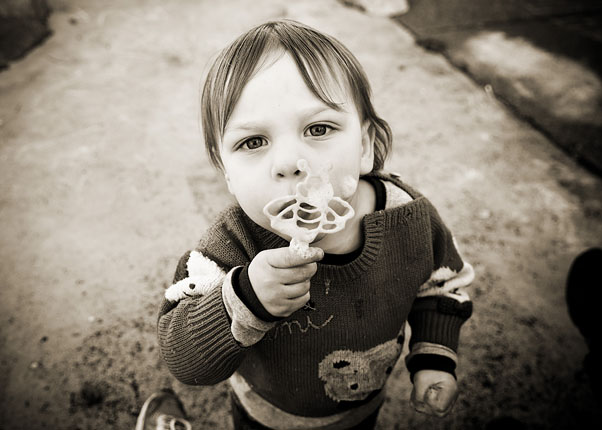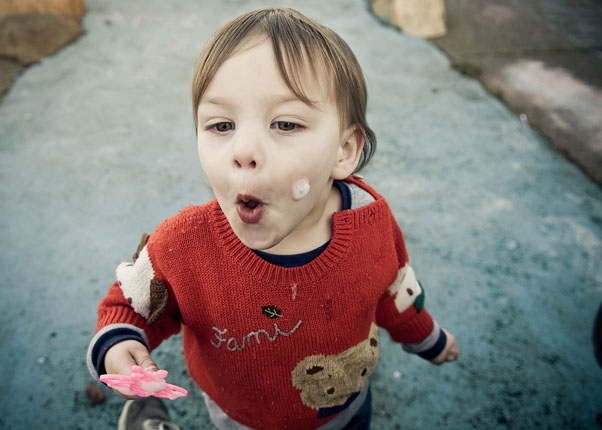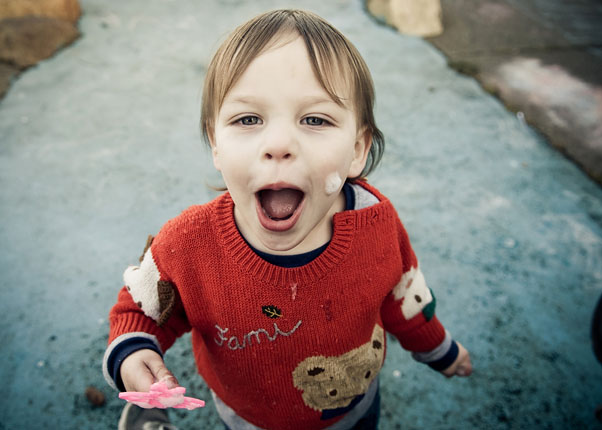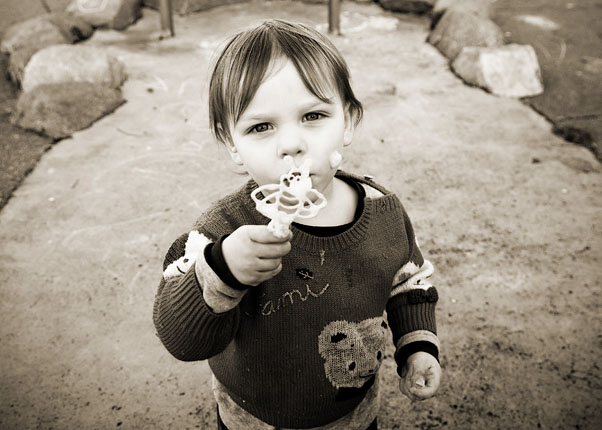 Finally, he got it working.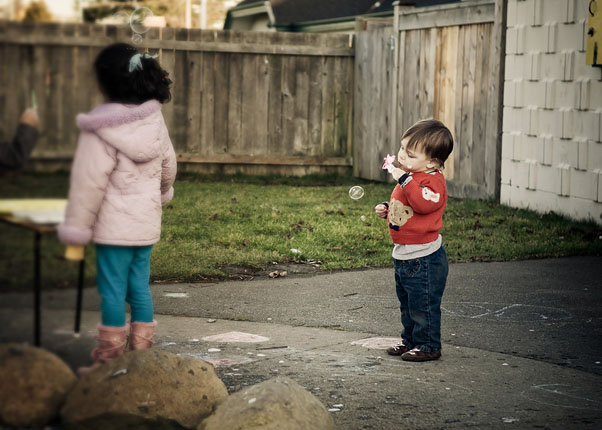 ---
For some reason the library we've inherited from my mother contains a lot of medical texts and very old, strange books. We have 150 year old Palmistry books, Merck Manuals, school workbooks dated to 1885, half a collection of science encyclopedias from the 70s, and so on… it's kind of a weird collection.
One of the larger books we have is called "ABC's of the human body", apparently through Reader's Digest. It sounds like a children's book, but it's supposed to be a 'family answer book' except that it reads like a medical text and is only slightly more interesting. It's incredibly thick, heavy, and hundreds of pages long. Tempest has become obsessed with it. She carries it everywhere and reads it day and night. As a result she has come out with the strangest questions, about 90% of which I just can't answer.
Like, "What are the layers of skin and why do they heal when you get cut?", "Why are red blood cells round?" and, "Where is your immune system?". The kinds of things I never really expected my five year old to come out with. Keep in mind that she has hyperlexia: she reads incredibly well but while she doesn't understand much of what she's reading, she is actually reading this book.
I forgot to post about this when it happened, but I need to if not just for the sake of having a record of this conversation for when she's older.
Some time ago now she read through parts about human sexuality and came to me for clarification. This was during the time I was sick and had been napping, so just as I was waking up she came up and asked me, "What does sex look like?".
"Well," I started, then stopped. I get what she's actually asking ("what is sex?") since she's just read about it and wants a second opinion. But I had to think of how I was going to explain it in terms she'd understand. The emotional parts of sex (arousal, love, orgasm, etc) are important to the explanation, but being an ASD kid means understanding emotions aren't exactly her forté. I explained the mechanics of 'penis into vagina', and how sperm meets the egg and so on. She interrupted me quite a few times for clarification.
"Eggs like chickens?"
"Do I have eggs right now?"
"Why would he do that with his penis?" (asked with particularly obvious distaste).
I ended with, "… and then the baby grows in your uterus. When the baby is done growing, you go into labour and have contractions that help move the baby down until he is born out of your vagina." That part she's already familiar with, having watched dozens upon dozens of birth videos (both human and animal) in preparation for being present for Xan's birth.
"Oh, okay," she says. She looks happy and satisfied. Then all of a sudden a realization hits her, instantly her expression turns pale, "Wait," she says, "Xan was born out of your vagina…"
"Yes, he was."
I can see it all coming together for her. The horror. "… Xan came from sex?!"
"Yes, he did."
Silence. She looks down, then cautiously asks, "Did I come out of your vagina?"
"Yes, you did."
Tempest quietly has an identity crisis and, with the utmost distain, demands to know, "When does daddy give you sex?! Why!?"
Trying to explain what lust and arousal are to a five year old is… impossible. And she would not take, "It feels good" as a real answer.
Disturbed and disgusted, Tempest finally left the room after being told that I have sex regularly and that it's likely one day when she grows up, she will, too.
About four minutes later she walked back in, "Wait, wait," she says, looking very skeptical. "How does the penis get in the vagina?" I didn't think she was actually going to think through the physical mechanics of it; she sees Xan run around all day with his waggly little penis and can't figure out how in the world that would work in the way I've described to her.
I tried again to explain what sexual arousal is, and how it changes the shape of a penis but she looked completely clueless. "Why would you want sex?", "Do you have to have sex?", "What does aroused do?".
She was cutting me off with new questions faster than I could answer them. None of my answers were satisfactory anyway, and eventually she gave up. She delved back into her book and hasn't brought up the subject since.
I think I ruined her life a little bit.
Comments
comments