December 20th:
Chloe went missing for three days, in the midst of AJ's death, and was finally found two days back in the crawlspace of our garage. When she finally came in she ate for 20 minutes straight, and slept on our bed the next two nights in a row. I had hung posters and gone door to door looking for her.
After AJ, I could take no chances with a missing cat.
Today has been a bust. Too much stress, too much nothing… tonight is a little bit of silence and a little bit of cider to make up for it.
Tomorrow I shoot a three hour "emergency" wedding as a second, but it will give me enough to pay into some of the holiday debt we all accumulate this time of year.
Today is the first day of Yule. Tempest and Xan unwrapped a parking garage playset with circular tracks through a structure half their size. It included a dozen new cars to go with it. After Curtis and I hurriedly (and with much frustration) set it up, they played with it all evening. We had to drag them to bed, and Xan stayed awake until nearly 11pm to explore every single track another 20 times, or more.
With such a stressful day beneath me, I put everything into finishing Tempest's dress this evening and having those moments of pride and joy when she received it… but after screwing up fatally, twice in a row, I collapsed into tears and spent the rest of the night on the couch. It was the breaking point of a terrible afternoon; I was done.
Curtis offered to get my supplies tomorrow morning while I sleep in. He's too good to me sometimes, and I think I don't deserve someone as wonderful as he can be.
---
December 21st:
Curtis birthday was the 19th, and I presented him with [this apron] and we went out by ourselves for a delicious and romantic evening with sushi.
It seems like it's been forever since I gave a real update. I fail miserably at DePhoMo, but I'm still doing what I can. I have a little back post, but I missed a few days in there, so there will be much photo-love included in this entry.
The last few days we've spent completely snowed in. Today it started up again at just past noon and continued into the night. We're in the midst of a massive, massive blizzard. In two days we're going to drive up to spend Christmas with my dad, and I'm starting to get a little concerned over the trip up the mountain. Tuesday and Wednesday is supposed to get warmer, and even rain, and if that happens then the roads will be clear on our drive up – so here's hoping.
I left the house today a bit past 12, picked up by Karen who was the main photographer for a winter wedding. Her husband was driving today, as it was very snowy, with more coming, and she's terrified of driving in the snow after a few very bad incidents some years back.
The drive there took about 45 minutes when it normally would have taken 20 tops, the roads were in rough shape but he did fine having grown up in Northern Ontario. The couple was 40 minutes late for their wedding, but somehow we managed to get out of there on time. They got married on the shortest day of the year, in a blizzard, in the darkest venue I have ever seen. Half the time we were there was spent doing set-up for lighting rigs, because otherwise we couldn't get a single portrait done – really, it was that dark in there.
We did take the bridal party outside into the snow for a little while when we still had light. The men all made snow angels in two feet of snow. Kudos to them, I was freezing in my thick coat and two layers of pants and wouldn't be caught dead laying down, stuffing snow into my sleeves and pants by rolling around on the ground.
After the bridal party was done we sent them inside and went out into the snowy path with the couple to get some photos of them. The bride was wearing a sort of ivory yellowish dress so the colour wasn't too bad next to the overwhelming white.
We stepped out into what we thought was about 10 inches of snow, but it turned out to be thigh-level. Trudging through that for half an hour was ridiculous. Thank god one of the guests, an experienced camper, thought to bring "hot shots": little bags that you can put in your boots, pockets or mittens that generate heat and last for seven hours (I have no idea how they work, they feel like they have sand in them). He handed them out to the entire wedding party and the two of us photographing them while we worked outside. It was a life-saver (or a finger-saver, at least).
As soon as I got home Tempest wanted to know if they could have another present. Sigh.
She opened up a Littlest Pet Shop set from Nana, and Xan got another set of Hotwheels cars for the parking garage set from the night before. We discreetly threw out all the broken or oversized broken up cars that he'd been hanging onto while he freaked over all the new cars.
Also this evening I gave Tempest her sunflower dress. While the pettiskirt still needs to be done (tomorrow), the actual knitted dress is now entirely done. I'm so proud of it, it turned out so beautifully.
I explained to her about the pettiskirt delay, but said I wanted to give it to her anyway. "Yeah yeah yeah!" she said, promising not to mind about the missing fluff. I presented her the dress and she squealed in delight. She tried it on immediately and it was a perfect fit. Her shoulders are a little thin for it, so I think I may have to pin it in the back until the summertime (or perhaps even a little past), she's a skinny girl, but the good part about that is that this dress will fit her for a long while.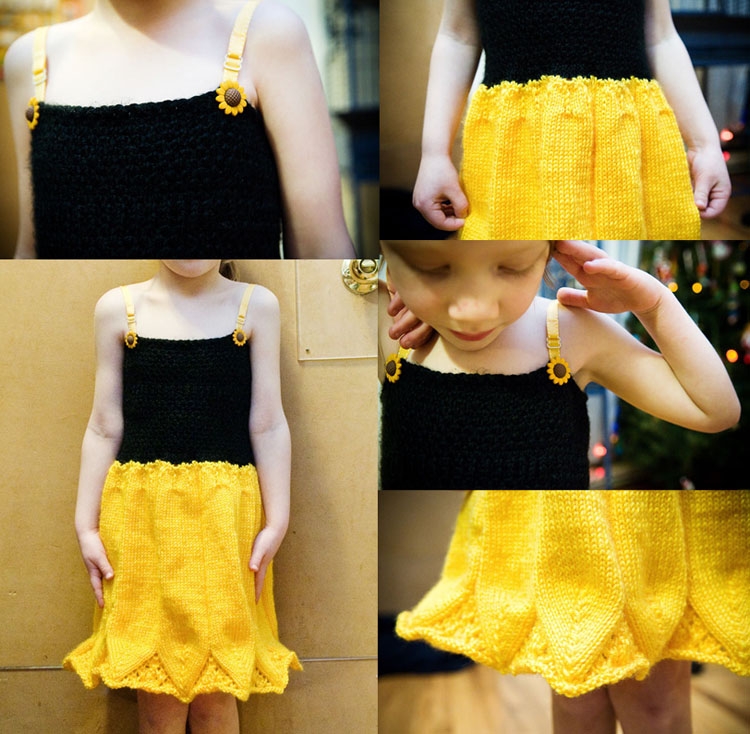 DePhoMo 21: "All made up"
Testing the twirl.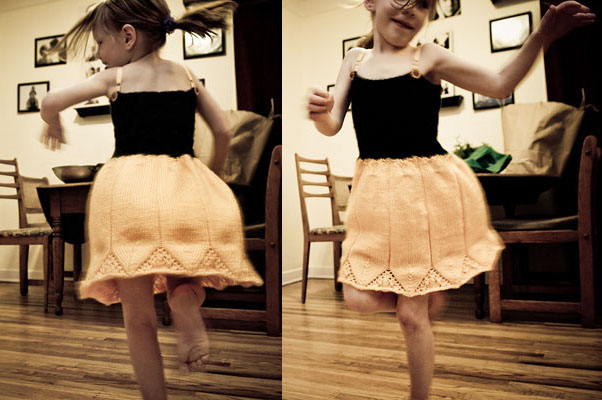 It balloons into a perfect bell shape, just like a flower. I <3 it.
---
A few DePhoMos to fill in the blanks.
16:
A Macbook "photobooth" photo of Xan nursing while I was knitting the skirt of Tempest's dress. He was very attached to this photo, and it's one of the few I have of him nursing (for some reason I have taken very little this time around).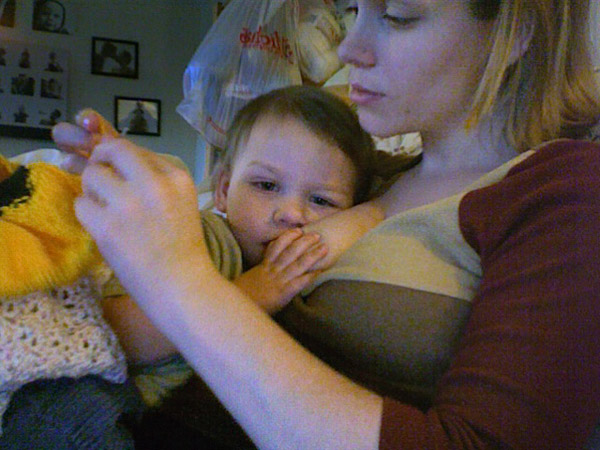 Behind me is not garbage, but bags and bags and bags of yarn from the many projects Curtis and I are making.
There is no 17, 18 or 19. Boo.
20: "Clouds or Skies"
I don't know how cloudy or sky-y this is, but it's the first thing I thought of. I'm about mid-way through editing this session from some days back, I've been slow for sake of being busy and exhausted.
This was the most fucking adorable little girl ever. She was born and raised so far Indonesia, and has never had a chance to see snow before today. This family flew in literally the night before I arrived for photos, and she'd been sleeping since she came in. So after some photos indoors we bundled up and went outside to explore something new. The sun was bright and shining; it was a gorgeous winter day.

On the 23rd we drive for hours up to dad's place – I'll update once I get there, hopefully with photos of our way up, provided we survive it.
Links of The Day:
Avatar: The Last Airbender fan? Check out this link and do your part. I sent my letter in a few days ago.
Racialicious – "A blog about the intersection of race and pop culture". This blog is absolutely one of the best, most continually mind-expanding reads I have ever had the fortune to come across. Every time a new article comes up, I eagerly read it as if it's chocolate to eat. In the beginning I wasn't sure I agreed with much of what was posted, and I'd walk away, think, and come back and read again to find myself realizing the depth of the words more seriously. Everyone should be reading this.
Comments
comments