I'm finally starting to get a little relief from my tooth, either that or the pain medication combos are beginning to work, although that's less likely. I actually felt mildly useful today, and can hopefully suck it up by tomorrow when my father comes to visit, and I have a photo shoot. I'm doing family shoot with a woman who is a referred client from the family in the last entry. This is probably one of a dozen bookings I've received from letting my clients post their (watermarked) proofs on Facebook. Most photographers don't like this, it seems, but I've always encourage clients to email, share, blog, Myspace and Facebook their entire proof album before they order prints.
This has always resulted in higher sales and lots of referrals. Photography is built on word of mouth, I don't get why you'd want to discourage that. Besides, having all of your friends and family yell, "Get that one! Get that one!" is much more likely to have you buy it, right?
With car insurance payments coming up, and holiday bills already piling because I cannot stop buying gifts for the Tempest, please someone stop me – I was beginning to get afraid we'd be way into debt. With the few last-minute bookings at least now I know I'll break even.
I feel like I might realistically get to a point where I'm actually making a profit, and have no more debt. I keep myself looking forward by imagining that within three years I'll be making enough to support us… even if it's a little delusional. I guess in the long run we have very little to make up for, it's just a lifestyle of poverty since infanthood that has me permanently believing that I will never see enough cash to justify things like buying several items of brand new clothing from a store in a mall. It's kind of weird considering that I may have actually found something that will eventually change that, and my kids may not grow up like I did.
---
Curtis broke his six year record… today he has a fever.
Think about that for a minute. This man, with two little children, has only had a fever twice in six years.
He felt a little rough around the edges last night, but not quite enough to deter him from my rather awesome powers of seduction. However, by the time I got into bed after him (no more than 30 minutes after he'd gone to lay down) his whole body was burning up. He usually runs hot at night but I figured he was extra warm from all the 'activity', so I didn't think about it.
Around 4am he woke up feverish and delusional, I vaguely remember him getting up to turn off the heat in the bedroom, and then he apparently stripped off Xan's diaper and put it on the floor next to the bed, then started chatting with him about me. I fell asleep while he talked quietly, thinking that Xan was awake and he was singing to him. Curtis doesn't remember this, except waking up thinking the bedroom was hot.
He woke up in the morning for his work alarm and went to take his temperature. The thermometer was broken and told him it was 97, then 100, then 98. He figured this must mean he was normal, and then biked to work in pitch black, in the freezing cold, at six in the morning. It's a wonder he isn't dead.
When he got home this afternoon he was still burning away at 101. He almost never gets sick, so he has a right to pout for the next few days.
The two of us have taken the last week to furiously craft. I've finished more projects in the last few weeks than I have in the year before it. Some I can't post… but others I will. Like this set I made for Frankie:
Lion pants:

Lion mits: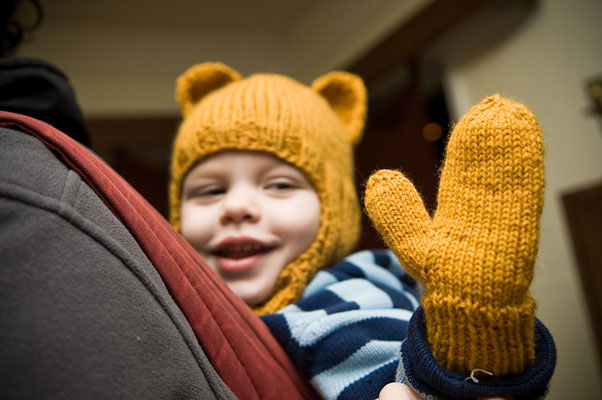 Lion hat (the best picture I could get while he was constantly tearing it off while laughing. It looks way better than this):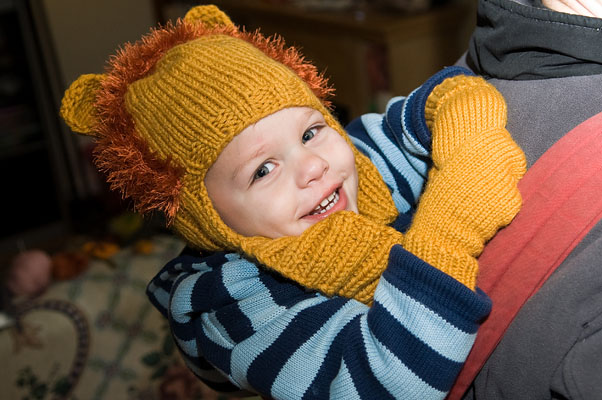 A picture, sans mane, that gives a little better idea of the shape: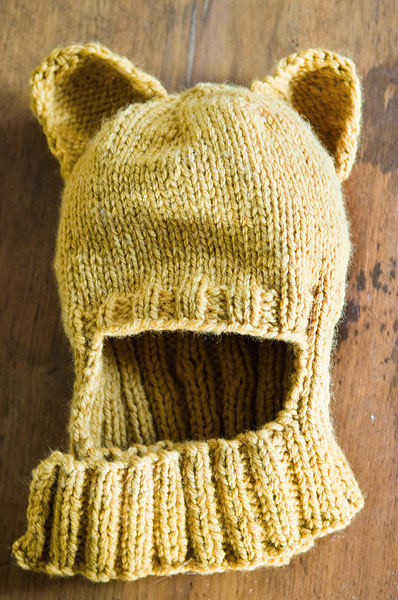 Model: Xan.
The pants went to her on her birthday, and the rest went to her last week in the mail. I eagerly await photographic evidence.
Curtis finished Tempest's spiderweb blanket this evening.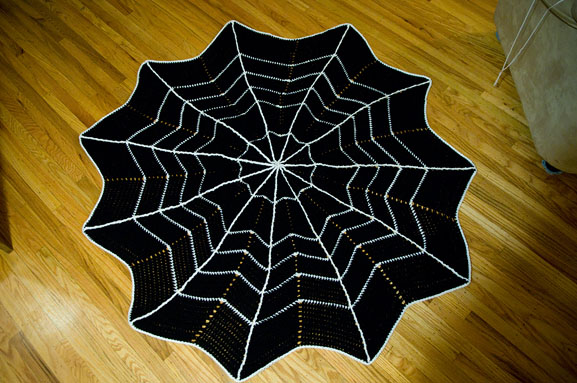 His hand in the corner, for size comparison: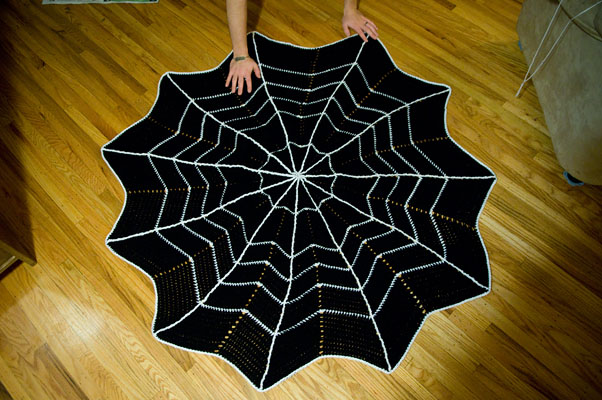 He lay it over her while she slept, and tomorrow morning she'll wake up to find it finished. She's been dying for it for days now.
An older project of mine: Yorick scarf for my dad, also mailed out last week: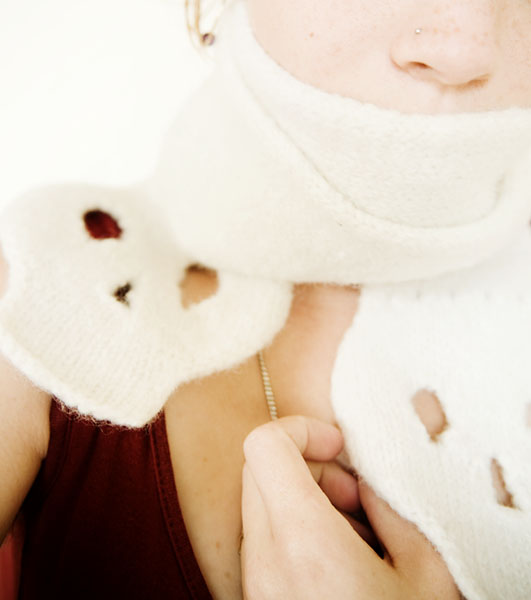 I'm currently working on a sunflower dress for Tempest, and I'm a few inches down the bodice now. It's taking forever to knit, which makes it difficult for it to be a surprise. If I kept my knitting only to the evenings it may never, ever be finished.
But if I knit during the day Tempest notices it, and every single day she asks me what it is. "I don't know, we'll see when it's done" is an answer she is beginning to become suspicious of.
The mix of mouth pain + medication makes me unwilling to write about anything important. Other than photographs or craft pictures, I will probably not be that active until after the 8th. Ugh.
Links of the Day:
Babywearing coat – Make your own! These instructions make it sound so easy even I could do them, and I suck with a sewing machine. This is brilliant. Hat tip to Keyboard Revolutionary.
Comments
comments