Tempest woke up this morning at 8am, crying her eyes out, telling me her throat and tummy hurt. She kept holding her mouth. "Do you have to throw up?" I asked her. She nodded and I ran her to the bathroom where she coughed a few times at the toilet before telling me she didn't think she was nauseated.
I tried to peek into her throat but it's almost impossible without a tongue depressor. Her fever was around 102 and she was incredibly unhappy so I gave her some ibprofun to help with the pain.
She sat on the couch for three hours, unmoving, clutching a glass bowl that she had put her entire head in because she was afraid she might throw up.
Last night I finally figured out how to put three movies on one DVD, with a menu and scene selections, so I burned all of the Unico movies I found online and tested it on our TV this morning; letting her watch the first movie while she zonked out and sipped on cool water. It worked perfectly, so now we have a DVD of all of the Unico movies.
Once Tempest was settled in and watching TV, I made some Malt o' Meal muffins and coffee for myself. My mother has a huge thing for Malt o' Meal and you can't get it in Canada, so she has Curtis' parents buy her boxes upon boxes and ship them up, sometimes a dozen at a time, so she can get her fix, then she reimburses them for any cost. They don't seem to care as apparently the boxes are quite cheap. I can't stand the stuff, but Curtis and the kids love it just as much as my mother does – and it makes good muffins.
Just as they came out of the oven, Xan pulled at me to tell me he had to poop.
"Do you want to poop on the potty?" I asked.
"Potty! Potty!" he said, as he ran toward the bathroom. Pooping has been an issue for him because he was constipated pretty badly a few weeks back and has been terrified to have a BM ever since. Diapered or not, he'll fight it sometimes for days. He's pretty good at peeing on the potty now though, and hasn't had a pee accident in about two weeks.
As soon as he came within sight of the toilet, he flipped out and started screaming. "Do you want a diaper, then?" I said, not really meaning for it to be a question: it's either potty or diaper, dude.
He screamed, "No!" then took a few steps toward the bathroom, screamed, took a few steps toward the bedroom, screamed, then dropped to the floor in tears.
I wrestled him into the bedroom and got a diaper on him, after about five minutes he finally calmed down and seemed to accept it.
After some time playing with his car I heard him start the grunty noises, but almost immediately he shrieked in pain and screamed, "Potty!". Figuring that this meant he was trying to hold it in for the toilet, I ran him in, took off his diaper to see the teeniest little stain and put him on the pot. We don't have a kid seat so I have to hold him onto it.
He was fine for about 20 seconds, then shrieked in pain again. "No! No!" he said, and arced his back.
I was about to take him back off and then realized he had a bit coming out, so I couldn't really remove him. I softly explained to him that he had to finish before I moved him and started tickling his back. He was shrieking and crying, becoming hysterical and screaming, "Ow! Ow poop!". His whole body was shaking.
I tried massaging his tummy and giving it gentle pushes, but it didn't help. I leaned him forward and peeked at his bum to see that his anus had become distended an inch or more from trying to push out an incredibly massive poop. He was in incredible pain. I tried to move his legs, push his tummy and gently tell him to push but nothing was helping. Another moment with no change and I had to intervene. I wrapped my fingers in toiletpaper and had to physically pull it out of him. He stuck his head between my knees (I was standing at this point) leaning forward with his hands wrapped around my legs for support.
As soon as it was over, he passed out. At first I thought he was just taking a moment to catch his breath, and remarked at how suddenly he had stopped screaming… but after waiting over three minutes while he was limp with his eyes closed, I realized he actually fainted.
He stirred, and I whispered, "Do you need to poop more?"
"Mm-mm," he mumbled for 'no'.
"Do you need to pee?"
"Mm-mm."
"Are you all finished?"
"Mm-mm." Quieter this time. I waited another moment before telling him I would clean him up, and did so without any protest.
"You're all finished now, do you want to get down?" He sat up and let me lift him onto the floor. He looked into the toilet, seeing what he'd done, and was just about to cheer for himself when he caught sight of his diaper on the floor with that teeny tiny stain in it.
He looked completely crestfallen, pointed at it and said with a pout, "Oh no. Poop. Diaper poop."
"No, no! You pooped in the potty! See?"
"No," he said sadly. "Diaper poop."
"You didn't!" I picked up the diaper and shook it upsidedown to show him. "Nothing inside! You pooped in the potty, Xan!"
"Potty?" He gave one, cautious clap and said, "Yay?" as though it was a question.
"Yaaay!" I cheered, clapping.
"YAY!" he cheered back. "POOP POTTY!" He excitedly went and flushed the toilet, then went out to brag to a very sick Tempest about his accomplishment.
He didn't seem at all upset about it once it was over, wasn't bleeding or injured, but damn that was traumatic. The size was intense.
I distinctly recall my early toddlerhood, leaning over my mother's knee and screaming while she inserted laxative suppositories. My sister had the same problem when she was a toddler, too – it seems to run in the family. Starting today we're going to put him on a high fiber diet with a regular dose of prunes to try and control the symptoms, because today was awful. It doesn't seem to plague him all the time, but every so often he goes through periods where it's terrible like this – and the strange part is the BMs aren't* hard, like being constipated, they're just incredibly fucking huge. My poor boy.
*(Edited: at first I wrote, "are hard", when I mean't "aren't", so that completely changed the meaning of that sentence)
Before all of this went down, Tempest and I spent the last few days decorating. I mentioned in my last entry that we made snowflakes and paperchains, and last night I finally got the supplies ready to make a wreath. We went out for a long walk collecting fallen tree branches and I was very clear that we would not pick anything that was alive, because it disrespected the celebration of Yule. Every so often we'd pass a few trees with perfect wreath branches, hanging low down and she would matter-of-factly say to me, "Those are beautiful branches, but we will leave them on the tree so we respect it."
As we walked I explained what Yule was, and what it meant to me. I talked about the ways we celebrate and pay tribute, and some of the things we'll do in the month of December.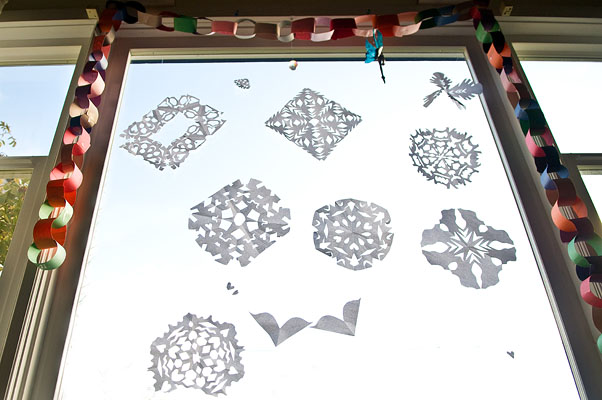 We talked about what beliefs and spirituality are, how other people believe different things and that it isn't fair to say what they believe isn't true because it is true to them and makes them happy. I talked about how Curtis believes different things than I do, but we all celebrate together, and how she might find she believes different things as she gets older but we'll still celebrate together in all the different, special ways we can.
When I referenced religion, and beliefs that we may not share, she piped up, "Like Santa Claus?" – we've never done Santa so from her point of view it's something some other kids seem to believe in, and is unsure why some people take the story so seriously. It was a perfect, albeit probably blasphemous, way to explain how other people believe in God while Curtis and I don't.
For the point of that explanation, belief in God was exactly like belief in Santa Claus: you may not share it but it's very special to other people, and it makes them happy like our celebrations make us happy, so we need to respect them and be happy for them, too. She was very satisfied with that explanation, and hopefully it will avoid the drama that I caused in my family at her age when I invited my cousins over, very concerned about what my aunt and uncle had "done", feeling it was my solemn duty to give them the news that they'd been duped.
At home we crafted a wreath with branches, a message she crafted the night before from block bead letters, and some flair that she picked up from Michael's like a few sparkling branch things, some holiday decor and a little white dove. She was so incredibly thrilled with it.
When a client came by the house later that night to pick up her package of photographs, Tempest ran ahead of me to the door to greet her with, "Did you see the wreath? It's a beautiful wreath. Did you know I helped make that wreath? You saw it, right?".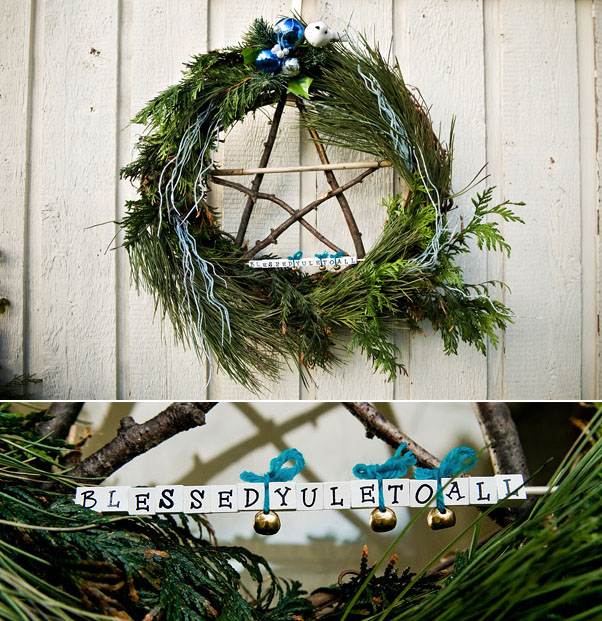 Comments
comments