I'm at that point where I think if someone said, "Hey, if you dropped pea gravel in your baby's ear, he'd sleep" I'd probably do it. Last night was the first time in a month that he's slept for a two-hour stretch. He did it twice in a row. Well, almost twice.
Do you know how I spent it? Fighting with Curtis. Fighting one of those pointless fights where by the end of it you're just pulling crap from two years ago back up just to keep on fighting.
I am so sleep deprived and irritable. I feel sick during the day from lack of sleep and when I wake up in the morning I can't remember what happened the previous day. I'm really not that great at the "fourth trimester" stage of life.
I think the real insult came when I went back over my old journal entries and realized that while Tempest screamed more, Xan is now sleeping less than Tempest did at this age. Less! Sure, he doesn't scream for 6+ hours in a row on a daily basis, but I'm weighing the two back and forth and wondering if, in the end, one is actually worse than the other.
Tonight after three hours of fussing he's finally asleep. He did the mostly-asleep-but-still-making-whining-sounds thing for almost a half an hour. At first I stayed next to him, then sat on the floor, then eventually left the room once I realized he actually wasn't awake and my itching around being bored was probably going to wake him back up.
I refused to let Curtis go to bed, so it's midnight and he's asleep on the couch. If anyone or anything wakes Xan up right now I think I'm going to have to get homicidal.
Curtis got off work a little early yesterday so we could attend an open house for a school that we're considering getting Tempest into. It's a tiny sort of semi-private (but no uniforms and non-denominational) school that focuses on self-directed learning and sign language. The largest class is the kindergarten, with 13 kids and three teachers. The smallest is the 3/4/5 which has 12 kids in total and three teachers. The cost is really affordable, too. We picked up the application package: there's a $30 fee to hold your "place" when you pre-register, so I think we're going to do that.
There were a lot of parents and students there so that you could talk to them and see what the feel was like. I was happy to see that no one had the preppy attitude. There were examples of student work out for parents to see. The oldest class had hand-written letters to "Mr. Harper" (the prime minister) about global warming and climate change. That was cool.
As soon as we entered Tempest ran for the wooden kitchen set in the kindergarten and didn't look back. I noticed that the other children in the kindergarten age group freely interacted with her, even when she was loud and hyper. They didn't seem afraid or put off by her personality at all. One kid, even after she had just finished throwing a classic 3-year-old tantrum over a ball, freely offered to share and invited her to play catch with him. I think that alone makes me want to do whatever I can to get her involved.
The teachers also felt that being "spirited" and "very high energy" were positive things that make eager learners.
I really like this place.

February 24th:
I put on my glasses because my eyes were strained at the computer, and when I went to take care of fussy Xan he laughed uproariously at them. He didn't stop for twenty minutes. Every time I made eye contact he'd laugh, sometimes until he choked. All I had to do was blink. Obviously I look very silly with glasses on.

February 25th:
During the tour of the school I noticed signs like this one just inside the exit door of all three classrooms.

February 26th:
Traffic was backed up badly, in part due to crews cutting down trees on the side of the road that were too close. They topped most instead of uprooting them entirely. The large pieces that were left were marked "No cutting" or "do not cut". Curtis commented as we passed them, "They're relying on the honour system? In winter? In Canada?"
"In the middle of an unsupervised residential area?"
Yeah those trees are gone tomorrow.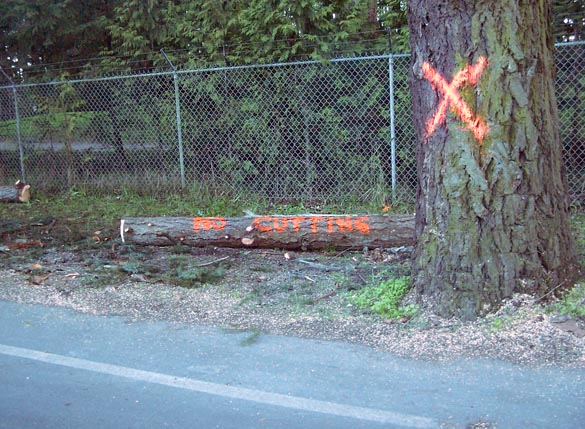 Comments
comments