Tempest came up behind me and hugged my neck saying what sounded exactly like, "You're a bitch."
O_O;
I know that's not what she said, because as much as I use the word 'fuck' I almost never say 'bitch' around her.
I asked her to repeat herself. "You're a bitch," she said, as if I should know.
I looked at Curtis, he heard the same thing. "One more time?"
"YOU ARE [the] BESSSSHT". She sounded it out very slowly for me.
"The best?" Curtis tried.
"Yes!" she said.
It's one of those moments where I was really tempted to ask, "Did you just say bitch?" But then she'd say 'yes' and start saying that instead. Like when she was two and on the ferry, sitting next to a childless couple and pointing out the window saying, "Ocean! Ocean!". In toddleresque it sounds a little like "oh shit". The couple giggled and repeated that back to her: "Oh shit? Oh shit? Tee hee! Oh shit!". Way to teach my kid to swear.
When she says "sit" it sounds a lot like "shit", too.
Xan was crying/screaming for over two hours straight. I couldn't get him to stop. I hate teething. Please someone kill me, or at least give me earplugs that can block 120 decibels. I eventually handed him to Curtis, at which point he projectile vomited three times in a row and was happy for twenty minutes. In the daze I'd come into the only thing I could think was, "well fuck, there goes the Hylands".
Earlier I was making him laugh hysterically by flipping his legs up to his shoulders. Not 30 minutes later he started screaming and then wouldn't stop.
He actually slept alright, though I'm not entirely sure why (by alright I mean he only woke up 4-5 times and didn't screech until about 9am).
Project 365 for February 22nd:
Ziyal has started spending more quality time with us instead of my mom. She slept next to Xan when he was passed out on the couch last night.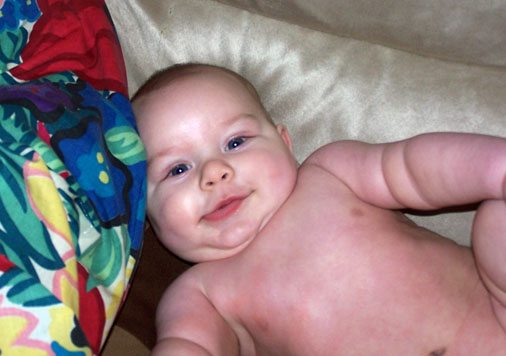 I love baby lips.

Comments
comments