Yesterday I hosted an ICAN meeting at my house. It was fantastic, and I think the change will be permanent. My leader wants me to write something up for the ICAN newsletter about how ICAN helped me in my pregnancy with Xan, too. I want to do whatever I can for them.

I have rising asthma symptoms today and yesterday from this cleaner that I used in the shower. The first time I thought it was a fluke but the second time it triggered asthma quite badly that is still going today. I took my inhalers and that is making a little difference, but not a ton. The first time it took 2-3 days for this to go away.
Originally Curtis was going to have a 'daddy daughter' day with Tempest and take her to a Bug Zoo. He had money saved for the admission. I told him I would just walk around downtown because the idea of being that close to spiders kind of freaks me out, but when it turned out the admission was much less than I thought it was going to be I decided to come too.
When I first entered and saw plate sized tarantulas in a box I backed up toward a wall of spiders, looked behind me (which seemed clear) and backed up into another glass case with a massive fucking spider in it. I felt completely trapped and started to hyperventilate. I stood in the middle of the room and asked Curtis to very quickly find me a corner where there were no spiders so I could crouch in it. After about ten minutes in the clear I felt better, and a little more confident that they were all behind thick glass. It also helped that none of them moved the entire time we were there. They just sat there like dead lumps. I'm also afraid of dead spiders, but not as much.
Once I felt better we caught up with the tour, which was totally awesome. The tour guide took out most of the bugs and held them, let others touch or hold them (except the ones that are too delicate) and had fascinating things to say about them. She pulled out tarantulas (I stayed way back for that one, but we actually had to drag Tempest kicking and screaming away from the woman's LAP while she held it), scorpions, cockroaches, praying mantis', leaf bugs and stick bugs and this horned beetle that was so strong she claimed it could push a small toddler on a skateboard around. She held one jet black scorpion under UV light to show us that it fluoresces bright white. It was actually very cool.
I had some change so I bought Tempest a little plastic emperor (king?) scorpion, praying mantis and a realistic spider under the condition that it is never funny to scare mommy with it.
She loooooooooooves the cockroaches, but her absolute favourite was the "assassin bug". The guide explained in detail how they kill, liquefy and suck up the insides of their prey through a 'straw' and Tempest was absolutely fascinated. After the guide was done and a little boy walked in and Tempest grabbed the boy, dragged him over to the case, struck a pose and carefully explained in gory detail how the bug kills. She pointed out the carcass of a cricket in the corner saying, "That one is very, very dead." He oohed and aahed and then walked away. She yelled after him, "Wait! You haven't seen the other dead ones!".
She was also very attached to the scorpion the guide said was able to shoot this vinegar/acid out it's tail. She claims her toy scorpion also shoots acid and repeatedly tries to make it "shoot" me or climb up my shirt and bite.
Today she came in from the backyard with a massive earthworm in her hand and said, "Look! A worm!". When Curtis had showed her one earlier she put it with the large one and said, "Oooh, they're friends!". She now loves worms.
Are we entirely sure I have a daughter?
She went totally nuts at one point in there because we wouldn't let her climb into the guide's lap while she held things like brown recluse spiders or that gigantic beetle that has jaws so powerful it could bite through your finger. We took her away from the scene twice so she could focus on what we were saying before she started listening.
She loved on the little boy (who looked maybe 1-2 years older than her). At one point he held a stick bug for a few seconds and shuddered as if terrified of it. Tempest came up behind him and rubbed his back. "It's okay," she said.
Then she accosted this little blonde girl with her grandmother. Unfortunately, like most little girls her age (it seems), she was incredibly shy and quiet. She never said a word and was absolutely terrified of her. Tempest tried to say hello by hugging, grabbing her hand, stroking her arm – we reminded her over and over not to actually touch another person without permission so she just stands there and bounces like a bottle rocket, fighting the urge to hug new people. Eventually I had to resort to telling her not to go anywhere near the little girl. Tempest and shy kids just don't mix. At all.
The lighting in there was bad and my camera freaked out just a little bit until I realized you were allowed to use flash photography, so I did get some pictures but not as many as I'd hoped.

Cockroaches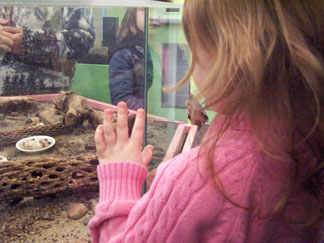 Tempest touching a leaf bug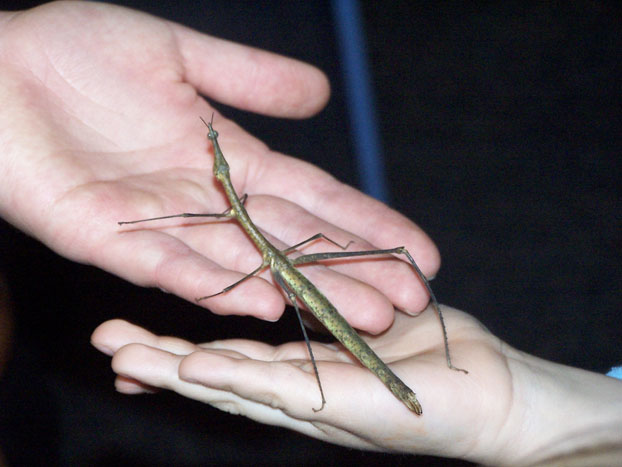 Leaf bug. OMG huge!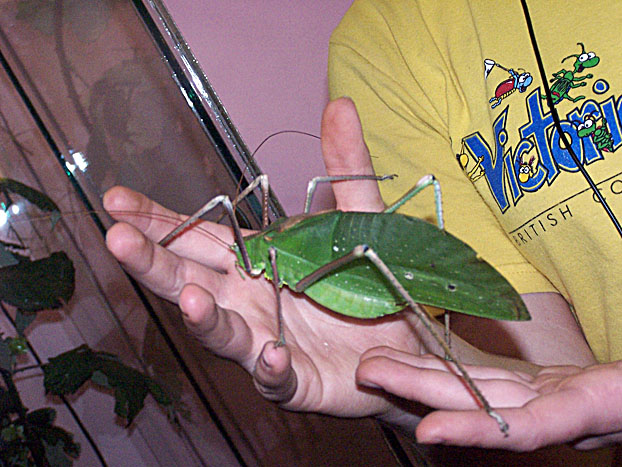 This guy actually offered to hold the millipede the "silly" way: on his FACE.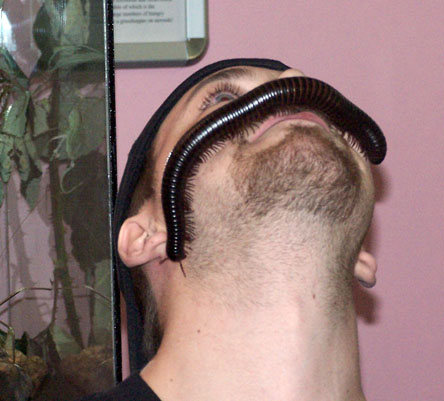 Tempest and the little boy waiting for the bird-eating tarantula to move. It never did.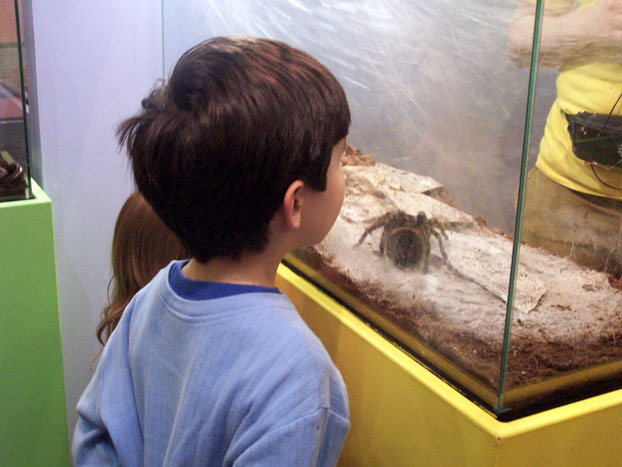 That super strong bug that could push a toddler. She had to hold it carefully because of the jaws.

There were about 17 of these beautiful bugs in the case and the guide could only find ONE that wasn't screwing.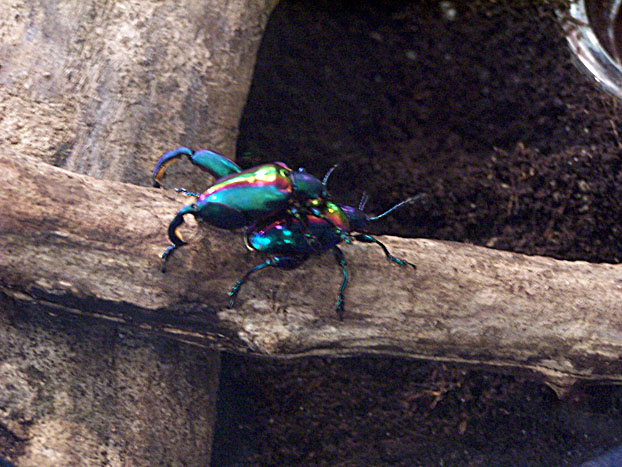 That one was eating and eating and eating in the corner. Poor thing. Probably Ben&Jerry's.
Tempest holding a stick bug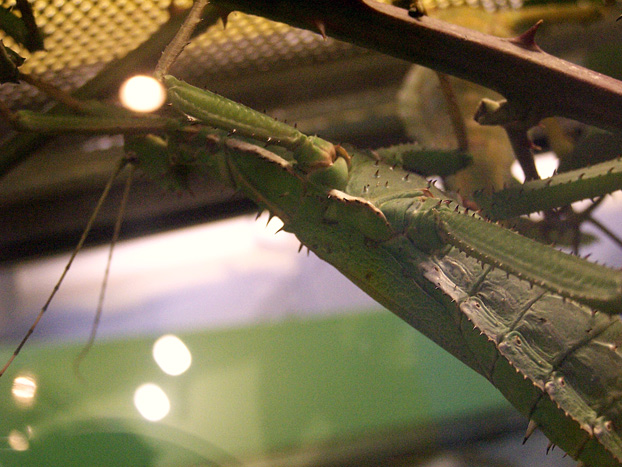 Comments
comments