Okay, I lied. There was no more later. I have stuff to write, I just haven't had the time.
I'm going to get up at obscene o'clock in the morning tomorrow for SUPERSECRETSTUFF that will bring me out and back before Curtis wakes up. He's suspicious, but I don't think he knows what he's suspicious of. And it's not like I've waited to the last minute, here – "maybe Fridays" is the best I can go on, and the last Friday mom had to work.
So far for yule I've scored:
Funny looking 'only for decoration' scarf (in-laws)
$100 (estranged aunt and uncle)
PostSecret
Knitted Embellishments (!!!)
The damn fine coat at Old Navy that I was drooling over but refused to buy.
Curtis and I bought my mother an hour long full body massage and foot (diabetic specialized, they have a consultant and everything) spa treatment and massage. It's the first real gift I've been able to give her for many years.
She already had the full body massage and came out smelling like lavender and having the giggles for the next three hours; it was adorable. Her foot treatment isn't scheduled until January even though we went to book the appointment in the first week of December – she was totally full until then. Craziness. I guess there are a lot of diabetic people with… feet.
Tempest has scored much Disneyland stuff from the in-laws. Her room looks like the catalogue for the Disney Princess selection. Death by pink. Last night she opened what looked like a tiny circular net.
"What is it?!" she asked excitedly.
"I don't know!" I said.
"I don't know either!" she screamed, shaking from the sheer joy.
I started to pull one end up and the thing EXPLODED from a tiny 8-inch disc to a three-foot high clothes hamper. I shrieked and jumped a foot off the ground. Tempest laughed uproariously, "Do it again!". Yeah. No.
This evening she opened her "stocking", which had a few little bite-sized dolls in it. One is a baby in a stroller, and two are from Curtis' parents (Arial and Cinderella?). Arial came with two wooden blocks with prints of Sebastian and Flounder. The only reason I knew the Cinderella doll was indeed Cinderella is because one of her two blocks had the mice on it. The other block has a rat dog with a pink collar. Cinderella didn't have a pink frilly lap dog, and it looks nothing like Lady and the Tramp so I'm totally lost.
Tempest set up her three dolls all together and announced that her baby has two mommies. Curtis was thrilled and pondered over how he should tell his parents that they've successfully introduced her imagination to lesbian marriage.
The other point of this entry was to say that I have added an oft-requested item to my store: bunny hats.
10 available: 5 pink and 5 blue.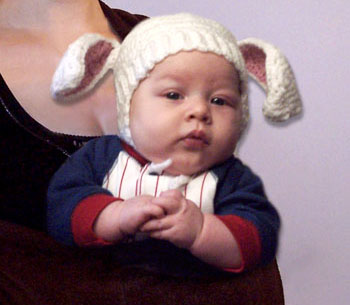 http://hyenacart.com/BebeLoco/
Comments
comments