My skin, that is.
43cms, 44 inches around; two children, one who went overdue. I thought I was huge then but I've way surpassed my biggest point with her – and I still have weeks to go!
I now have stretch marks on my stomach. Alas.
I feel vain and pathetic because my heart actually sank a little when I saw them in the hand mirror and realized Curtis wasn't joking when he said I had six or more on the bottom of my stomach where I can't see. He was just palpating my stomach two days ago and didn't notice any, so they all popped up at once either yesterday or today. The ones on my hips, which never bugged me, have broken open and started bleeding and peeling.
If this baby isn't 10lbs or more I'm going to feel very cheated.
Baby is definitely lower, still doesn't quite feel engaged though. I can see (and surely feel) the crease over my hip from my belly being so low and heavy.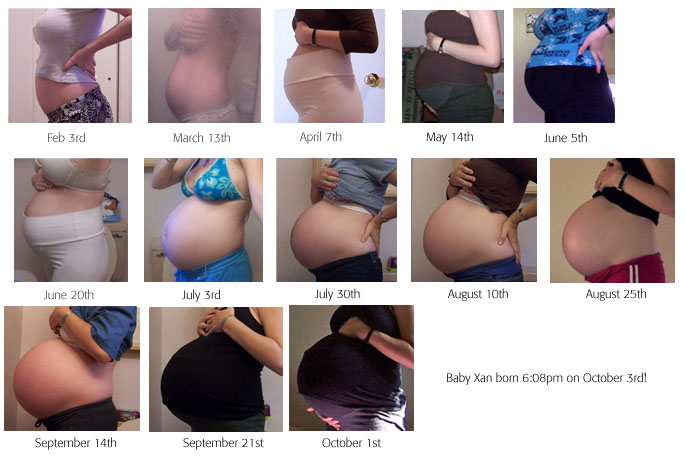 Despite the fact that I appear to be smaller from the last progression pic, I'm actually measuring bigger. I think I've just changed shape.
For the record: I'm spending way less time online now, under orders, because of my back spasms and now a pelvic injury (anyone remember about midway through my pregnancy with Tempest? Yeah, like that). I'm trying to hold onto the hope that by some miracle I'll actually not be wracked with spasms when I go into labour.
Comments
comments