There are good days and bad days. Sometimes the bad days last a lot longer than I want them to, and I can't stop thinking about it. Being spread and washed in my room and humiliated in front of my friends, seeing him in the warmer and feeling trapped or how many hours I spent just staring at the fog out the hospital window.
I felt better yesterday after I napped. We went out to a street dance because my mother's old friend was performing with his brass band. They played swing and ragtime. Tempest danced and posed until 10 o'clock, when she asked to go home. She almost fell asleep in the car on the drive back, and didn't get up this morning until almost 10am. I couldn't find my camera before we left, so I didn't get any pictures.
I had a coffee at Starbucks when we arrived, and three hours later I could still feel it at the top of my throat. I could stomach coffee for all of two and a half months and now it's a big no-no again. It's not that it makes me sick, it's almost like I don't digest it. It just sits there, for hours upon hours, and doesn't go anywhere.
I went to bed sitting up for the third night in a row. Between being completely unable to sleep from heartburn, or waking every 35 minutes so I can pee, I'm not sure I really have the choice of "sleep" anymore. When I do sleep, I have strange pieces of dreams that don't seem to connect to anything. I had another dream last night about having twins, but I kept it a secret and birthed the second baby in a closet so that Curtis and Amber wouldn't know until it was over and I could jump out and yell "Surprise!". I just told them I was going to go get dressed. They respond, "We are so surprised!" in the way you tell a two year old you love her gift of crushed flowers and plucked grass.
Half the images and ideas in my dreams about having an affair with Curtis after we've split up. It's always torrid and passionate; we keep it a secret because everyone thinks we're divorced and we hate each other. I sneak around and lie about going out so I can run to his apartment and have incredible sex.
I'm never quite sure what to make of those dreams.
I haven't posted belly pictures in a while; I keep forgetting to. I finally pulled them off my camera this afternoon, it was MIA until just a bit ago.
I can't get half my jeans on over my butt. I have a few new stretch marks on one hip. They look like tiny little blue veins. My hips are now 37 inches around, which is three inches smaller than the biggest they got while I was carrying Tempest – so why the hell am I getting NEW stretch marks and can't pull on my jeans?! I have yet to be as big as I've ever been – what gives?
From July 18th: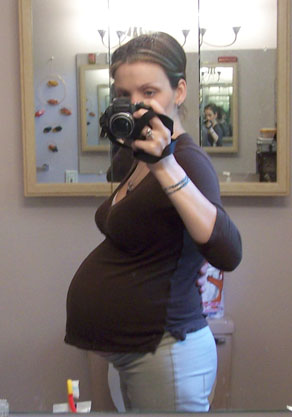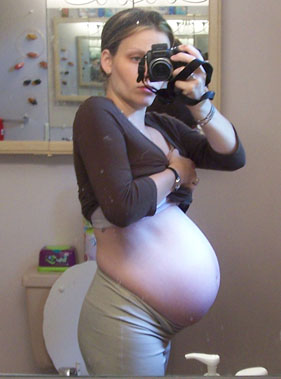 Those pants are supposedly 3rd trimester pants.
From today, July 30th: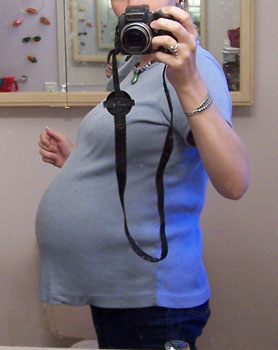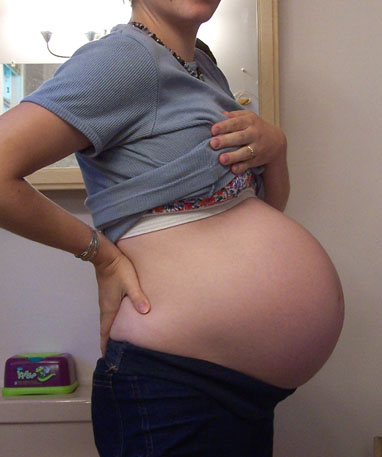 Peeking out is my brand new Bravado nursing bra that I scored at an outlet store that was, for some reason, mixed in with bathing suits from The Gap. The price tag read $5 and still had the creases where it was folded in the plastic packaging. It was an M++, which fits up to a G-cup. It's like… fate. I pulled it out and announced, "A nursing bra?!" and I saw three heads pop up and one women appeared next to me, "Really?!"
You can't have it, it's mine! See my belly? That means boobs! ALL MINE!
My progression so far: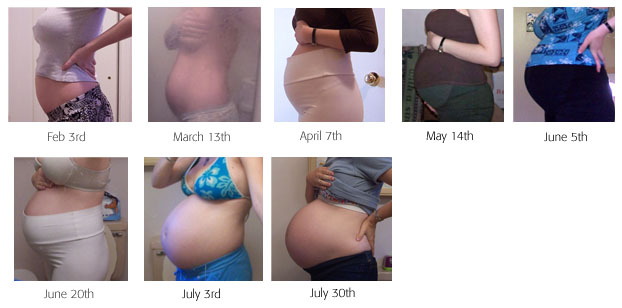 Comments
comments