In all the huff about children accompanying their parents to R-rated movies like "Passion of the Christ" and "Brokeback Mountain", I can't help but ask myself if anyone has watched any children's programming lately. Sure, those movies have buttsecks and violence but some of the things designed for kids these days are like your worst (or best) LSD experience in scripted form. Watch Boobah one day and tell me there's no sexual innuendo in those brightly-coloured martians. Go on, I dare you.
I don't know how many people on my list are Canadian parents, but if you are, you've probably seen at least a smidgen of Treehouse. Treehouse is "worry free" preschool programming, meaning it has no commercials and the shows are aimed at age three and under. I'm told that there's a similar channel in the USA that is some sort of off-shoot of Nickelodeon.
I watch Treehouse all by myself, after everyone has gone to bed. In case you were wondering. Sometimes I like to piss myself off – I feel rightous.
All the programs on this channel are 10-15 minutes long, so if you watch it for an hour's time you'll probably see about 75% of what it has to offer. This includes gems like "This is Daniel Cook", a show about a rude red-headed boy with aspirations of world domination. Every time I see this show come up on my programming guide I ask, "How did this child get his own television show?!". Throughout each short, he interviews various people, tries things, looks at stuff and plays narrator by occasionally freeze-framing and superimposing text over the screen that tells you exactly what he's doing. You know, in case you're blind and watching the show.
Every episode is jam-packed with television gold like, "This is Daniel Cook eating an ice cream cone", "This is Daniel Cook getting a candy apple" or, "This is Daniel Cook licking cookie dough" which I'm sure will be shortly followed by, "This is Daniel Cook taking insulin".
Don't miss out! You too can purchase the exciting adventure: This is Daniel Cook making Gingerbread from Amazon.com.
Taking bets: how likely is it that a Daniel Cook will be watching these DVDs in his basement with some popcorn when he's 40 and still single?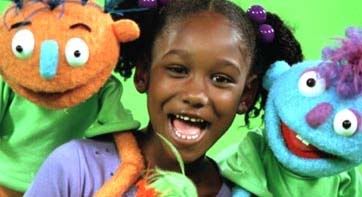 Or, what about "4 Square"? A show for choir school dropouts. The Four Tones are three women and a man who pretend they can harmonize better than the singing schizophrenic on the metro, humming tunes to equally absurd gibberish like "Celebrate the little things, life will see you through. Think about the little things you do, ba do, ba do wah doo waaaaah". They interact with four neon muppets called the "Do-wahs", for All You Watching At Home™, who look like they ride the short bus due to severe FAS and were treated with a bad hair transplant.
Each time they introduce a new song, they say in unison, "Remember: Do what the Do-Wahs do!", and the muppets say, "Do what we do!".
I attempted a google search for the Do-Wahs in hopes of capturing an image of their hideousness, but Google responded with: Did you mean: "do what they do what do"
*Google explodes*
They are followed by acts like the Beat Team who appear to be four teenagers with smiles unnaturally huge who attempt to beat-box with all the style and grace of a non-verbal three year old. Their masterpieces include, "Scritchy, scritch, scratch, scritchy! Zip, zip, zip, zippy!" Then they smile, showing glaring white teeth and haunted eyes that plead with viewers to support physician-assisted suicide.
But one of my all-time favourite features has to be "Deko Boko Friends". This is some sort of series of Japanese shorts, and by short I mean 20 seconds, where one of a few lovable characters like Man With Glass of Iced Tea For a Head walks out into a stark white screen, sings off-key about how he jiggles when he walks and ice cubes falls out of what would be his brain if he were human, and then leaves. That's it. I'm always left feeling like I've missed the point.
According to the creator:
"The twelve characters represent 12 types of personality traits. Each character is an amalgamation and condensation of traits found in a variety of people. The creators would like to see children develop tolerance and a broad-minded outlook that would enable them to accept each person they encounter. The concept uses the element of surprise to introduce this series of animated short stories."
Yup, definitely missed the point. Probably missed it somewhere around the time I played the "Belly Boing Game" on their website where you bounce donuts and jellybeans into the mouth of an angry looking kid whose stomach hangs over the hem of his pants. Yay tolerance!
Max and Ruby. Now there's a show I just don't get. Despite my misgivings about it's ethics, Tempest adores this show and I time her lunch to when it comes on so she can catch 15 minutes of it. When I turn it off, she cries "BUNNAH! Mo' bunnah!". Mo' bunnah, mo' problems, my dear.
Ruby is an eight year old white rabbit who is left in charge of her younger brother Max, who seems to be about two years old with a short term memory worse than my own. Hilarity ensues. Their biological parents appear to have been tragically killed in a lab experiment, and their grandparents, who live just down the road, don't love them enough to want to adopt them. Instead they make brief cameos in holiday episodes, and spend the rest of their time locked inside their humble home making doilies. Because that's what old people do.
Ruby is the sole caretaker of her toddler brother, and while it can't be said that he gets into that much trouble… Ruby is a nightmarish automaton who never displays any emotion aside from "Amphetamine Happy" (which I'm sure will be added to LJ's mood scheme any day now) even when pushed to the limits of her freakishly endless patience.
When I angrily squeeze my pilates ball for bicep curls, I'm thinking of Ruby.
The Big Comfy Couch is one of my least favourites. It's formulaic to the point where I have to check my chin for wads of drool from the lobotomy I unknowingly received when it came on. Wake up and play with doll; do aerobics; go outside and interact with Major Bedhead, Communist Grandmother and Token Ethnic Character who is somehow blood-related to Loonette the White; go back inside, exclaim that there's a big mess, realize it was you who made it and clean it up with "ten second tidy" which almost always takes 15+ seconds to complete; go to bed. Even my day is more interesting.
The "little girl" Loonette makes me uncomfortable the same way the two adult hosts of the station itself do. Adults, dressing up like teeny children and over-emoting to a point that would make five year olds exclaim "What the fuck?", wearing an inch of makeup that is supposed to make them look like the toddlers they only wish they could be. I had a conversation with my friend a bit back where we wondered if their husbands ever ask them to "turn it on". Adult-Baby-Fetish airs every day at 12pm and for five minutes between each short, don't miss it!
My fears regarding Alyson Court's creepyness were confirmed when I realized she did voice acting in the Resident Evil games. When she's not entertaining small children by dressing up like a five year old clown she's giving nightmares to teenaged boys. Now that I think about it, she's talented enough to do both at once.
The Toy Castle. My mother caught a little bit of it the other day and said, "That's sad."
"What?"
"Some of these dancers are actually really good. Can you imagine spending a decade at a dance academy only to end up on this crappy television show enjoyed by two year olds?"
"… maybe they're getting paid well?"
"You really think so?"
"Well, no."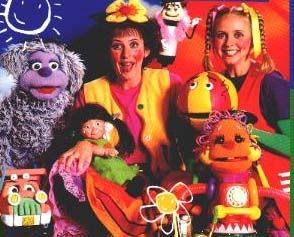 Between the shows is a feature called "Treetown", hosted by the adults-as-babies I mentioned above: Rosabelle and Tansy. They play with dolls, talking Jewish Basketballs and identity-confused dogs while we wait for a new show to start. Sometimes they have singing guests on, like Sharon Lois and Bram. That was the highlight of my motherhood; seeing SLB perform again. Unfortunately they were accompanied by the frightening two as backup singers. Ow, my childhood. At least they didn't ruin Raffi for me.

I think the only two shows I actually enjoy on this station are Pocoyo and Dragon. Both are done in claymation and are mind-numbingly cute. I've actually looked online for downloads of Pocoyo, and came up empty. Well, aside from finding out that apparently he's some sort of a "thing" in the gay community. I want a Pato of my very own.
– Babs
Comments
comments