My sister sent me a forward with a video I already have of funny cats. I was CC'd along with two or three of her friends. It's the first email she's sent me in over a year. She's not very good at responding to mine.
She opens emails with "yo yo yo" and signs her name like this: «´¨`•.°MaRiKa°¤.•´¨`»
She's 11. I keep remembering the little girl who used to tell people her name was "Meeka Feenee". Where did that one go? It's hard for me to imagine her as a pre-teen. I haven't seen her in a long time, and she's grown a lot just in the last year or so.
I've started to feel a little more creative, but have no real outlet. I'm dying to design something, or make something, or be productive in some way. I made two bunny hats, which are almost finished. One sized for an older child (3+) and one sized for a younger one. (The person who asked me to do those, please remind me who you are because I have short term memory loss and have completely forgotten). I want to make something in lace, but have never attempted anything that intricate before so I'm hesitant to start into it. It has hundreds of rows and requires 3'500 yards of crochet thread just for size 0-3 months.
I went to a sewing center that sells Babylock and tried to ask about discounted models of sergers. The lowest one he had there was $1400, which is so far out of my budget that I doubt I'll ever have that much money to spend. I need one strong enough to get through several layers of very thick fabric (but not necessarily cut it) – anyone have a recommendation?
Curtis asked me earlier if he could borrow the camera for a function. I hadn't installed the software on the computer yet, and when I got the camera out Tempest ran in front of it yelling, "Tease! Tease!" (Cheese), so I sat on the couch and took pictures of her and I to delete moments later so she could see herself on the preview screen. One didn't turn out so bad, so I kept it. I think this is probably the first picture I've moved into her image folders in months. I'm not taking enough pictures.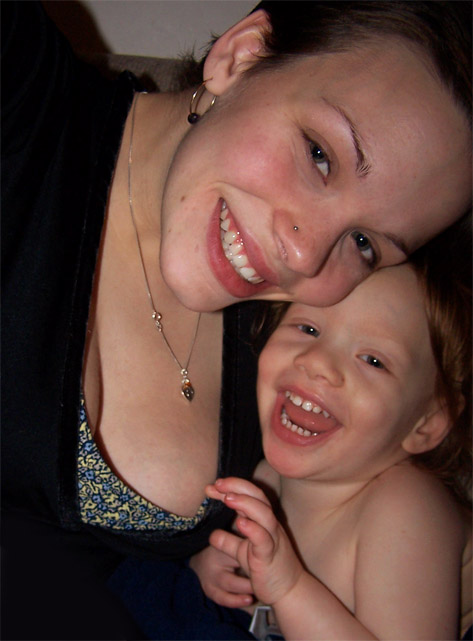 Comments
comments